About MnModel
MnModel is a set of GIS-based tools that help the Minnesota Department of Transportation avoid impacts on archaeological sites throughout Minnesota. MnModel uses GIS-based statistical models that map the potential for pre-1837 surface archaeological sites in Minnesota. 
MnModel is significant because it is the first archaeological predictive model to:
These models are used by MnDOT for site avoidance and survey design. This helps MnDOT meet the mandate of Section 106 of the National Historic Preservation Act.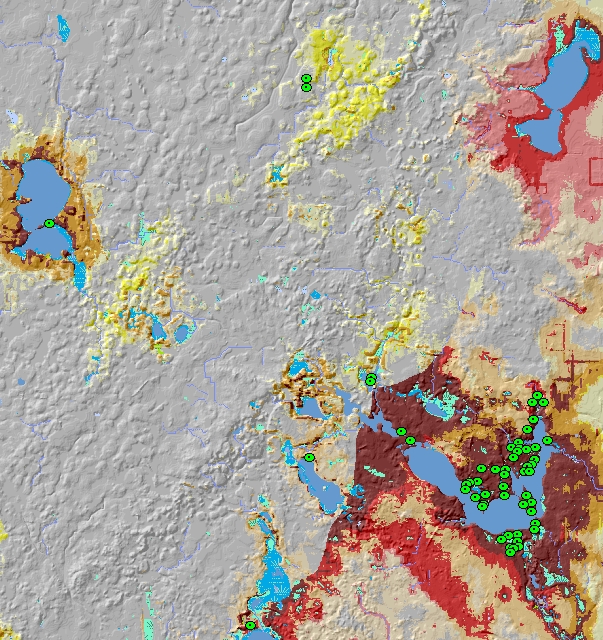 Project Background
MnDOT initiated MnModel in 1995 as part of a major environmental streamlining project. The project was made possible by funding from the Federal Highway Administration's (FHWA) Intermodal Surface Transportation Efficiency Act. The Phase 3 models were released in 1998 and were used for 20 years. Over that time period, the archaeological database grew, more high quality, high resolution GIS data became available, and PC-based computing and GIS and statistical software improved. All of these made it possible to conceive of improving the predictive models.
Work on Phase 4 of MnModel began in 2007 with a project to find improved statistical procedures.  FHWA funding for data development was obtained in 2012, and models were completed in February 2019.  Documentation of Phase 4 data, procedures, and models is in preparation and will be posted on this web site as it becomes available.  Archaeological data developed for MnModel, including the predictive models, will be shared via the Office of the State Archaeologist (OSA) Portal.  Environmental data will be made available via the Minnesota Geospatial Commons.