Quick Links
External Links
Implementation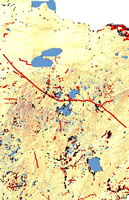 Mn/Model has been fully implemented in the Section 106 process by the MnDOT Cultural Resources Unit (CRU). When reviewing FHWA and State-funded highway projects for impacts to archaeological resources, Mn/Model is consulted to determine where resources are likely to be present.
Implementation Plan
The storage, distribution, and use of Mn/Model data and models were initially governed by the Mn/Model Implementation Plan. Since it was published in 2001, advances in GIS technology and data updates have necessitated some changes in the particulars of data maintenance and distribution specified in this plan. These are documented here.
Implementation Tools
To facilitate the implementation of Mn/Model, MnDOT developed an ArcView extension that made it easy for users to access the data and models they needed for their area of interest. When new GIS technology made that extension obsolete, a second extension was developed. MnDOT is now using a third extension, developed by the Minnesota Department of Natural Resources. This should be replaced within the next year or two by a web-based application that will be used by both MnDOT staff and clients outside the Department.
To implement the third dimension of Mn/Model, improved discovery and preservation of deeply buried archaeological resources, MnDOT developed a field protocol for testing for deeply buried archaeological sites. This protocol evaluated a variety of methods for detecting deeply buried sites and recommended the
Data Distribution
When Phase 3 of Mn/Model was completed, GIS data were not readily available on-line. Data that were delivered on-line were usually tiled by counties or by USGS 7.5 minute quadrangles. As a service to Federal agencies who were licensed to use Mn/Model, MnDOT provided them with CDs containing all of the environmental and archaeological data used to develop the models. Now that better data are easily downloaded from state agencies' web sites, we no longer provide that service. Links to data sources are found on the GIS page of this website.
License Agreements
Mn/Model archaeological predictive models have been provided to four federal and two state agencies under terms of a data license. The license specifies that the models be used only by professional archaeologists employed by the agencies and that these archaeologists first take training in the use of the models. Data and models were provided to these agencies on CD-ROM. This program has ended and MnDOT now plans to share Mn/Model data and models with qualified agencies via an on-line application that is now under development.

Acknowledgements
Mn/Model was financed by the Minnesota Department of Transportation using funds set aside by the Federal Highway Administration's Intermodal Surface Transportation Efficiency Act.
Copyright Notice
The Mn/Model process and the predictive models it produced are copyrighted by the Minnesota Department of Transportation (MnDOT), 2000. They may not be used without MnDOT's Consent.