Project Summary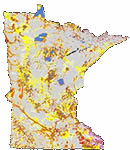 MnModel consists of a series of high-resolution digital maps (archaeological predictive models) alerting planners and cultural resource managers of the potential for precontact archaeological resources. These models are used by MnDOT for site avoidance and survey design. These maps were developed using a combination of GIS and statistical modeling procedures, which allowed for the efficient, cost-effective, and repeatable generation of scientifically testable models. Because high, medium, and low site potential assignments are based on correlations between known archaeological site locations and a number of environmental variables, the models can be improved as new archaeological and environmental data become available. Consequently, MnModel is dynamic.
MnModel, through its geomorphological paleo-landscape component, incorporates the third and fourth dimensions of time and buried Holocene landscapes/surfaces for areas with higher potential for buried cultural resources. These geomorphic models (Landscape Suitability Models) address the potential for archaeological site preservation at the surface and at three depths below the surface. MnDOT uses these models to determine whether subsurface archaeological survey is necessary. This is a unique aspect of MnModel that has not been previously attempted by other modeling efforts on this scale.
Since 1998, the results of MnModel have been incorporated into the earliest phases of project planning at MnDOT, making transportation planners aware of the possible locations of precontact archaeological sites. MnModel allows planners to prepare alternative avoidance design scenarios, when possible, and to budget for survey and mitigation costs and time when avoidance is not possible. MnModel also helps prepare budget and schedule estimates allotted for individual projects and longer range management activities. It has been an important factor in streamlining the review of MnDOT projects under Section 106 of the National Historic Preservation Act.
Phase 4 of MnModel, an ongoing effort, has included development of Landscape Suitability Models for more river valleys; updates of baseline environmental and archaeological data; developing a field protocol for testing for deeply buried sites; collections of higher quality GIS data from archaeological and historic architecture surveys; development of new statistical methods for modeling; and development of a model for mapping pre-contact and contact surface hydrologic features. These elements will all contribute to an updated and improved set of predictive models.