MnModel Statewide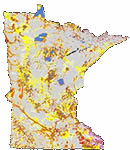 MnModel is the first archaeological predictive model to be developed and implemented for an entire state. Minnesota's statewide archaeological predictive model is actually a composite of 20 regional models
Regionalization
Minnesota is climatically, geomorphologically, and ecologically diverse. Hunter/gather economy, transportation modes, seasonal activities, and preferred village or camp site attributes most likely varied across the state. To capture this diversity, MnModel was developed as a set of regional models. Phase 1 and Phase 2 models were regionalized by Archaeological Resource Regions. Because this system in part relied on political, rather than natural, boundaries models did not match well at their edges. The Phase 3 models are based on the Ecological Classification System (ECS) subsections or groups of subsections, which had just become available in GIS format. Each region has a separate and distinct model. A discussion of these different regionalization schemes is found in Chapter 4 of the MnModel Final Report (2002).
The final (Phase 3) models were based on analysis of a set of 44 environmental variables. The variable set was the same for each region, although the statistical analysis ultimately selected different combinations of variables for each region's model. Stepwise multiple logistic regression was the only statistical method utilized. When the composite statewide model is evaluated, 86 percent of all modeled sites in the state, excluding single artifacts, occur in high and medium site potential zones that constitute only 23 percent of the state's area.
Refer to the Phase 3 ECS map to determine which model includes your area of interest. The sidebar on this page provides links to a discussion of each regional model.