MnModel History
Project Background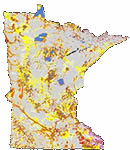 MnModel development began in 1995. The $4.5 million project was funded by FHWA. The goal of the project was to use Geographic Information Systems (GIS) and statistical analysis to produce archaeological predictive models that could be replicated by anyone using the same data and following the same procedures. The aim was that these models be accurate enough to predict 85% of known archaeological sites without designating more than 33% of the state's area as high and medium site probability. The Phase 2 models, completed in 1997, achieved this goal. The Phase 3 models exceeded it.
MnModel was developed by spatial modeling and stepwise logistic regression using Geographic Information Systems, statistical software, and a variety of geographic data. Seventy spatial environmental variables were analyzed to find the most effective combination and weight of predictors for archaeological sites in each of 24 modeling regions in the state. In the survey implementation model, which is displayed as a map, each 30-meter cell is classified as having a low, medium or high probability of containing an archeological site. Areas that have not been adequately surveyed, and therefore lack sufficient archaeological data to model accurately, are classified as "unknown."
Statewide, the Phase 3 model's high and medium probability zones occupy only 23 percent of the state's area. At the same time, they predicts 85.5 percent of Minnesota's known archaeological sites, indicating that MnModel performs about 73% better than by chance alone. Limited tests conducted on individual MnDOT projects indicate that MnModel performs somewhat better than archaeologists' intuitive models.
Since late 1997, Phase 2 and 3 MnModel results have helped MnDOT determine where surveys are needed, or not needed. They have also been used to suggest project alignments or modifications that reduce the potential for impacts on cultural resources. These applications of MnModel have expedited project clearance, reduced costs, and done a better job of protecting cultural resources.
Since the completion of Phase 3 in 2001, MnDOT has acquired better GIS data and developed better modeling procedures in anticipation of updating the predictive models. With funding now secured from FHWA, development of Phase 4 models will begin in late 2011 and continue through 2017. Updated information will be posted on this site.