Background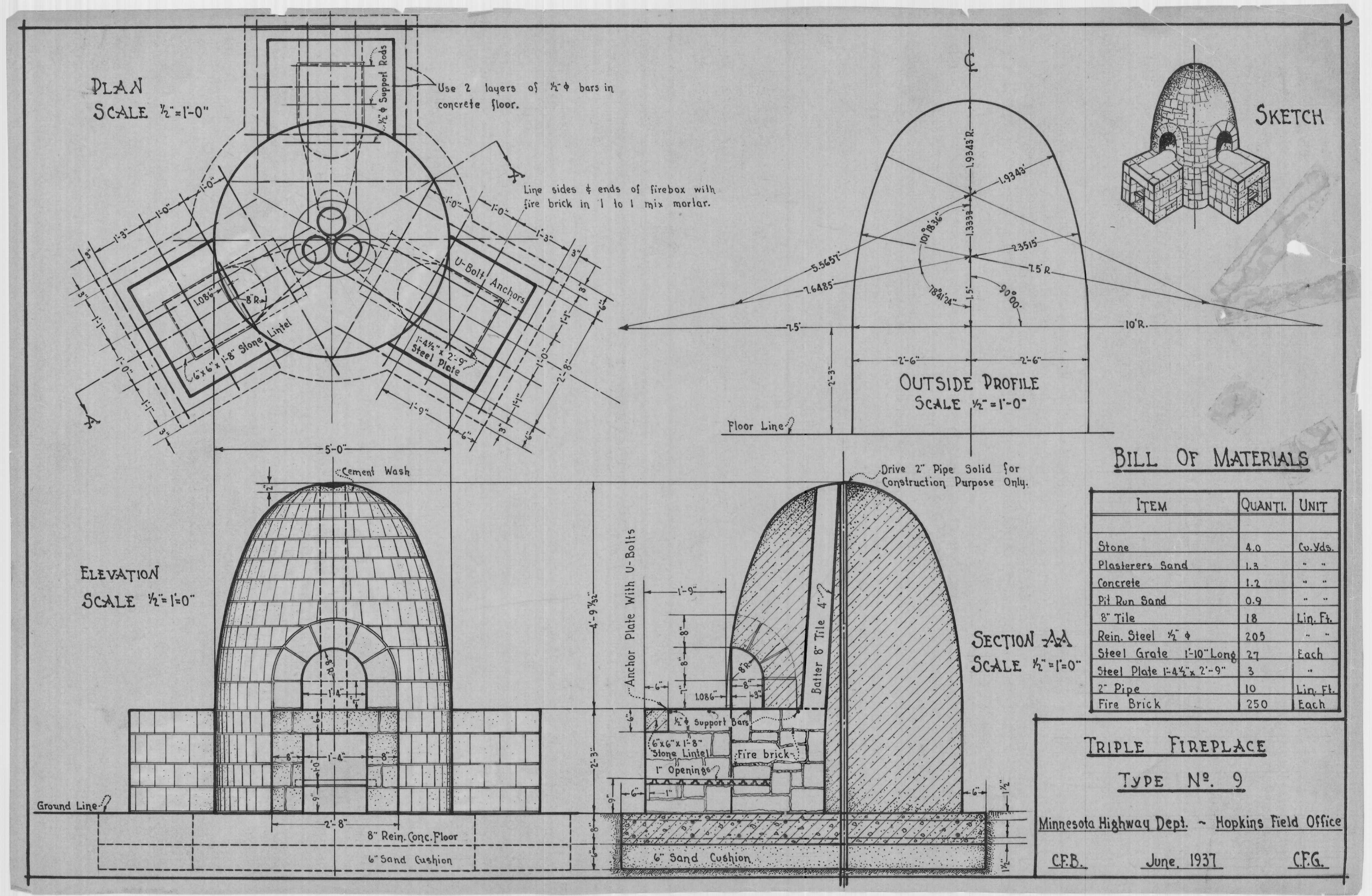 Between July 1996 and December 1998, MnDOT conducted a statewide inventory of its wayside rests on Minnesota trunk highways. The purpose was to identify roadside structures that were eligible for the National Register of Historic Places. The initial research report, Historic Roadside Development Structures on Minnesota Trunk Highways, was published and distributed in September 2000; a supplement that adds eight new properties and updates was completed in 2005.
Most of the historic roadside facilities were built during the 1930s and early 1940s by unemployed Minnesotans under the federal relief programs of President Roosevelt's New Deal, in cooperation with the Minnesota Department of Highways as MnDOT was known at the time. The partnership produced roadside facilities built to meticulous standards with local materials. Many of these properties are state, regional, or local landmarks and are important to regional tourism services. They include features such as scenic overlook walls, wayside parks, stone picnic tables and fireplaces, interpretive markers, and small bridges.
Original historic plans
Historical roadside development sites are ranked by factors of historical and design significance, such as quality of craftsmanship, important designer, integrity of setting, outstanding scenic value and other criteria. This ranking process enables MnDOT to make more informed decisions about the long-term management of these resources.
Setting priorities
Fifty-six of the original 110 identified historic roadside properties were considered eligible for the National Register of Historic Places. Where to begin bringing these deteriorated but important historic sites back to their original condition for the benefit of the traveling public and future generations?
An important part of the site inventory process was first assessing historical significance for each eligible site, then ranking each site based on this significance. The total ranking score is comprised of sub scores of 1, 2 or 3 points for each of 10 factors within the broader categories of National Register of Historic Places Eligibility, Historic Significance and Design Significance. This ranking of the originally inventoried sites based on total scores has been used to determine priorities for restoration and to make informed decisions about the long-term management of these important cultural resources.
Next steps
The MnDOT Cultural Resources Unit has recently contracted to complete a new study defining the historic context for historic properties in the 1955-1975 era.
Original historic plans
For many years, MnDOT cared for original linen and vellum plans for historic roadside properties. Many were signed originals by Arthur Nichols, Landscape Architect and Harold Olson of the Minnesota Department of Health, who worked collaboratively on some of the most important projects during the New Deal era. In 2013, these fragile originals were sent to the Minnesota Historical Society library for archiving and public access. Examples of these drawings are shown below.
| | |
| --- | --- |
| Details of the Pine Bend Historical Marker - November 1939. (Click to enlarge.) | Mille Lacs Lake pedestrian underpass, dated 1937. (Click to enlarge.) |