An update on Inspiration Point construction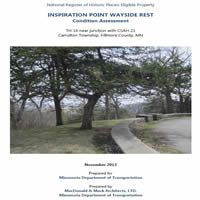 Inspiration Point is one of only a few of MnDOT's historic roadside structures constructed using dry stone masonry technique. Please check back often for the latest construction updates!
Week 2: June 11-19, 2015
Construction activities this week included disassembly of east overlook stone walls, salvage of sound historic stone, deliveries of large new stone slabs to be broken into wall stones, color matching, stone shaping ("dressing"), clearing of stone outcropping on south edge of the site.
A lot of progress was made this week.