What is the Research Steering Committee?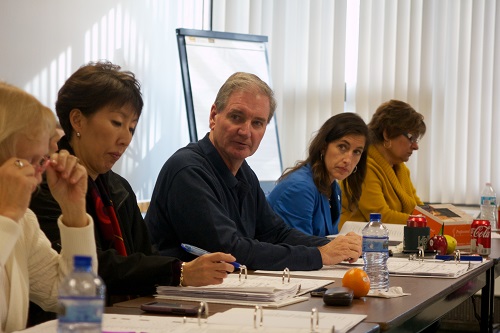 The Research Steering Committee is the governing board for the Minnesota Department of Transportation State Research Program. The committee is composed of 14 voting members, 2 non-voting members, and MnDOT Research & Innovation support staff. Voting members represent 10 specialty offices and 4 districts within Minnesota.
Committee members work to ensure research conducted throughout the agency supports MnDOT's Research Strategic Planning and Priorities. For more information on its role, see the Research Steering Committee Charter.
Roles and Responsibilities
Committee members are responsible for actively participating in and supporting MnDOT's state and federal research programs. Through organization, direct researcher and practitioner collaboration, and information sharing, the committee directly affects the efficacy of transportation research in Minnesota.
The committee meets four times per year to review and select new research proposals and implementation proposals. Future and past research is highlighted for review, and is prepared for future meetings. Committee members follow important key steps to ensure that research, from proposal to implementation, is conducted with full support between researchers and the state and federal bodies.
Committee member roles and responsibilities are outlined in the Research Steering Committee Member Orientation Guide. To access the guide contact MnDOT's Office of Research & Innovation.
Funding
Committee members help allocate some of the $10 million that MnDOT administers to transportation research annually. Funding sources include:
Federal Highway Administration State Planning and Research (SP&R) funds
MnDOT's State Research Program (SRP)
Cost-share with the Local Road Research Board (LRRB)
Various other sources
Research is conducted to address transportation issues within multiple disciplines and topic areas including: Materials and Construction; Planning and Policy; Traffic and Safety; Environmental; Maintenance Operations; Bridges and Structures, and Multimodal. Funding allocations to these topic areas varies from year to year, depending on state, national, and local needs and priorities.