How it works
E-ZPass Minnesota provides a more reliable travel option during busy weekday commuting hours, 6-10 a.m. and 3-7 p.m., Monday through Friday. Most routes have E-ZPass hours only one direction at a time depending on where and which direction you are traveling. Outside of these hours, the E-ZPass lane in Minnesota is a general lane and open to all motorists—which is nearly 90% of the time. The goal is to move more people during busy commutes by providing a dedicated lane that is free for HOV and requires a fee for single occupant vehicles.
During peak weekday hours, Minnesota E-ZPass is free for buses, motorcycles, and vehicles with two or more people including children and infants (HOV 2+). Solo drivers with an E-ZPass account and tag pay the posted fee when using the E-ZPass lane in Minnesota. E-ZPass hours are Monday-Friday, 6-10 a.m. and 3-7 p.m., depending on the route and direction of travel.
Non-peak hours
During non-peak drive times, all motorists can use E-ZPass lanes in Minnesota. When the overhead sign says, "open to all traffic," the lanes are FREE for all drivers—no tag required.
How the tags work
Once you establish your E-ZPass account, you receive an E-ZPass tag to use in your vehicle. A tag is an electronic device placed horizontally on the inside of the windshield near the rear-view mirror and is used to transfer information to readers on the roadway.
The Minnesota E-ZPass tag is a switchable tag that allows you to switch between driving alone (single occupant), or those times when you have two or more people in the vehicle (HOV). You can also transfer your switchable tag to other vehicles. Be sure to slide it to the "single occupant" mode before driving alone during peak hours to avoid getting a ticket.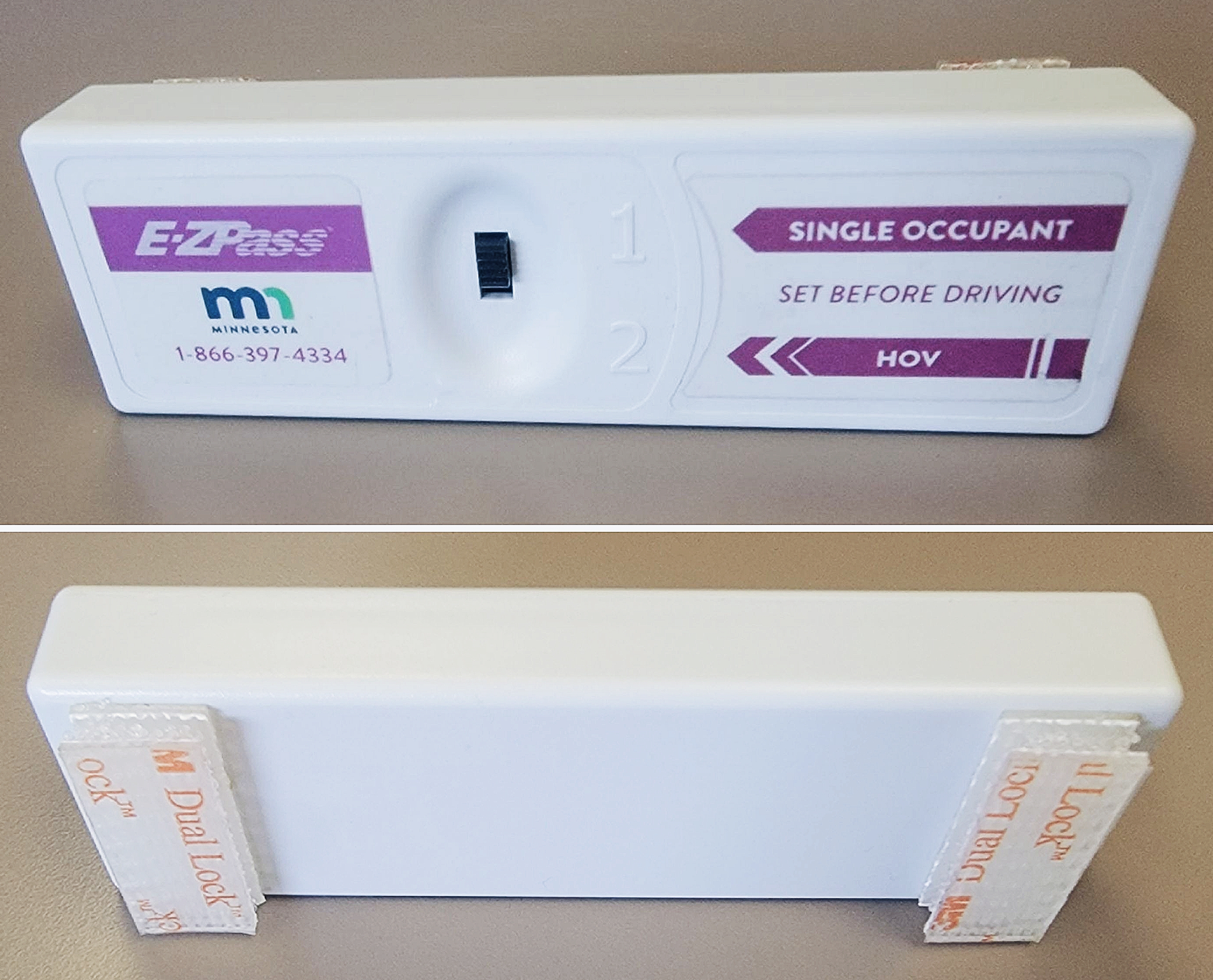 When you drive in the E-ZPass lane, overhead antennas and readers detect the E-ZPass tag in the windshield. The reader records the tag ID and determines the length of trip and price. This information goes to the E-ZPass Minnesota customer service system where the tag ID and the associated price are linked to a prepaid customer account.
Understanding pricing
During E-ZPass Minnesota hours, solo driver fees are based on traffic levels in the E-ZPass lane and can change every three minutes. Fees increase as traffic in the E-ZPass lane increases, and they decrease as traffic decreases. Fees range between $0.25 and $8.00 to keep traffic moving at 50 to 55 miles per hour in the E-ZPass lane. The heavier the traffic, the higher the price. Note: an $8 fee can also indicate a crash or incident in the E-ZPass lane.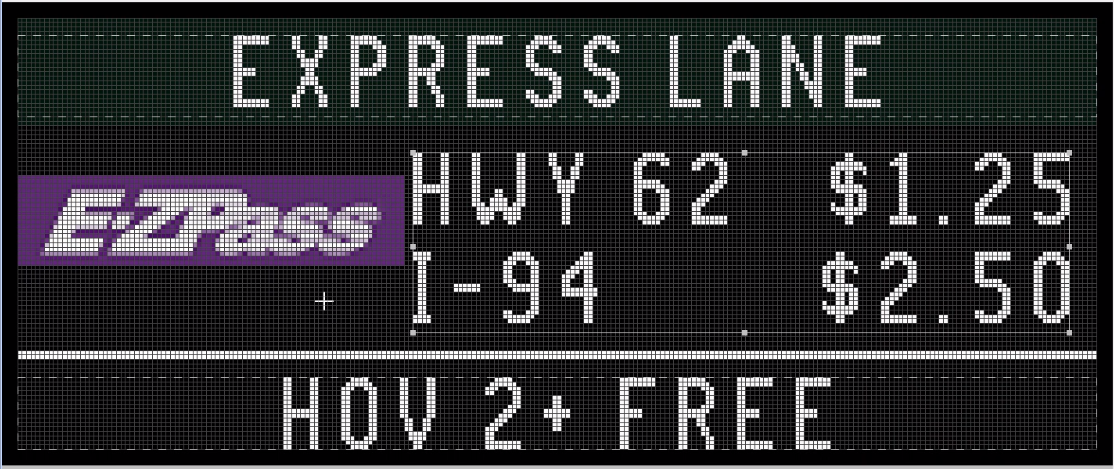 E-ZPass routes are broken into two pricing segments. Overhead signs show two prices indicating the fee based on the length of the trip.
You choose when to use E-ZPass. The price you see when you enter the lane, is the price you pay for your trip. The posted amount is deducted from your prepaid E-ZPass account balance. In Minnesota, the lanes are free and open to all motorists during non-peak drive times—which is 90% of the time.
How to pay for using E-ZPass lanes
An E-ZPass account is like a debit account; the initial prepaid amount required to open an E-ZPass account is $25. Your account balance pays the fees when you use the E-ZPass lane as a solo driver during peak hours in Minnesota. When your account falls below a set threshold amount, the system automatically replenishes your account for a set amount.
When you enroll in the E-ZPass program, you can choose to leave your replenishment and threshold at the required minimum amounts, or you can choose amounts of your own. When your account balance falls below the set threshold amount, your credit or debit card on file is automatically charged the set replenishment amount.
Examples
Janie opened an account and indicated every time her account drops to $20 (minimum threshold amount), she wants E-ZPass to automatically add $60 (replenishment amount) to her account using her credit or debit card on file so she will always have money in her E-ZPass account.
John opened an account and did not indicate a threshold or replenishment amount. When John's account drops to $5 (default E-ZPass minimum threshold amount), E-ZPass will automatically add $25 (default replenishment amount) to his account using his credit or debit card on file so he will always have money in his E-ZPass account.
Customers are emailed a detailed monthly statement (or can request a mailed statement for a small mailing fee) showing the dates, times, and locations they used E-ZPass and the tolling rates. Customers can review their accounts and balances online anytime. If you want to change your low threshold or replenishment amount, please contact E-ZPass customer service.
HOV bypass ramps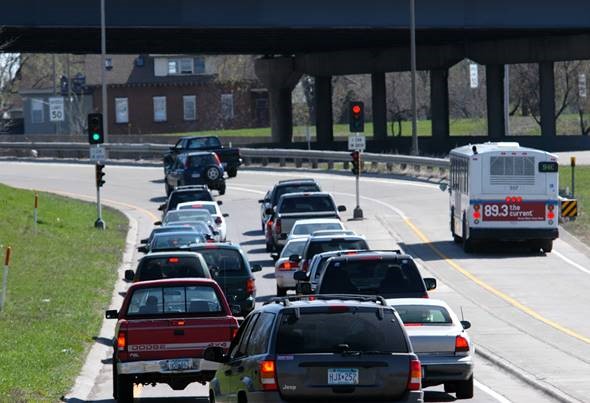 High Occupancy Vehicle (HOV) bypass ramps/lanes are restricted to carpools, buses and motorcycles only. Solo motorists with or without an E-ZPass tag are not allowed to use the lanes and are subject to a citation if caught using the lanes.