Driving in the E-ZPass lane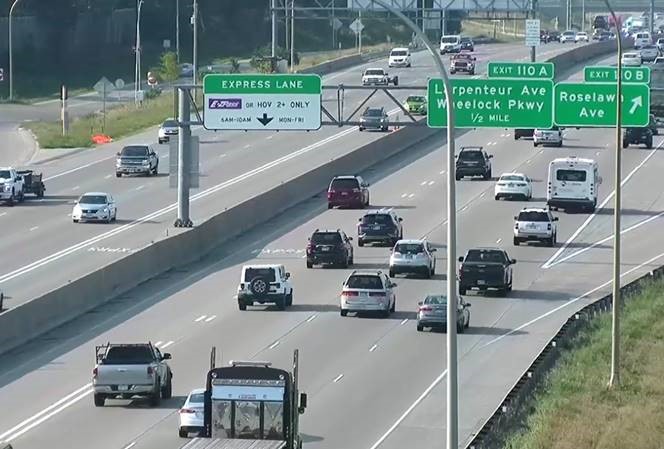 E-ZPass Minnesota is a strategy to move more people during busy weekday commutes. E-ZPass lanes move more people by providing a designated lane that is free for buses, motorcycles, and vehicles with two or more people including children and infants (HOV 2+). Solo drivers pay a fee when they choose to use E-ZPass during peak hours in Minnesota.
Outside of peak hours, all motorists can use the E-ZPass lanes. When the overhead sign says, "open to all traffic," the lanes are free for all drivers—which is 90% of the time.
How to use E-ZPass lanes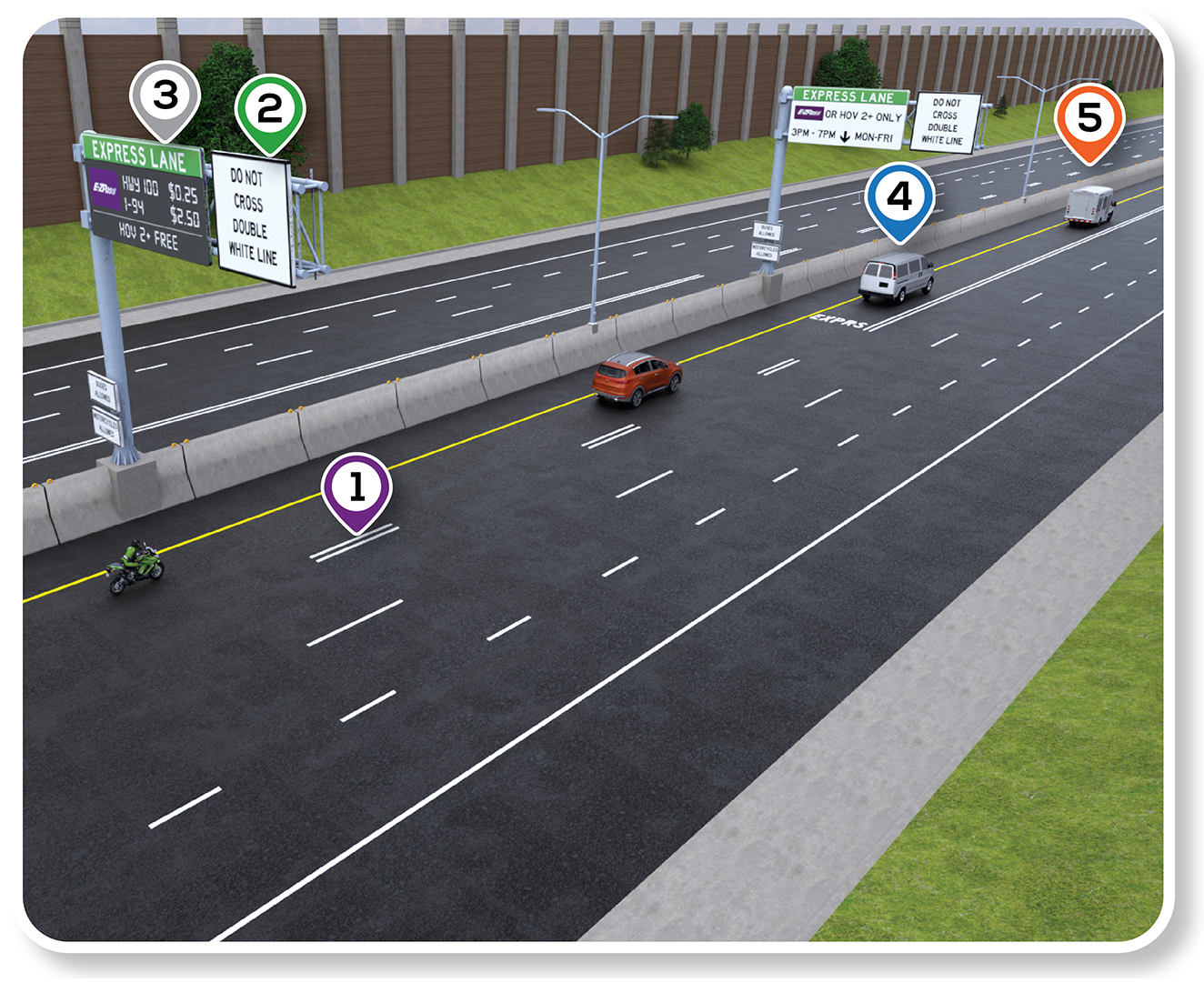 Solid double white lines, and dashed double white lines, separate Minnesota E-ZPass lanes from general lanes. It is always illegal to cross solid double white lines.
NOTE: HOV bypass entrance ramps are restricted to carpools, vanpools, buses, and motorcycles. It is illegal for solo motorists with an E-ZPass tag to use HOV bypass entrance ramps.
Overhead signs alert you to the entry and exit locations for E-ZPass lanes. You may only enter and exit E-ZPass lanes where there are dashed double white lines.
Overhead digital signs display the current fee—the price you see is the price you pay for your trip.
Your E-ZPass tag is read electronically, and the posted amount is automatically deducted from your E-ZPass account balance.
You enjoy a reliable, easy commute.
Minnesota E-ZPass hours
E-ZPass express lane

Direction
Location
Morning commute
Afternoon commute

I-35E

Northbound
Cayuga St. to Co. Rd. J
Open to all traffic
3-7 p.m.

Southbound

Co. Rd. 96 to Cayuga St.
6-10 a.m.
Open to all traffic

I-35W south metro

Northbound
Crystal Lake Rd. to Hwy 62
6-10 a.m.
Open to all traffic
Northbound
Hwy 62 to 26th St.
6-10 a.m.
3-7 p.m.
Southbound
26th St. to I-494
6-10 a.m.
3-7 p.m.
Southbound
I-494 to Hwy 13
Open to all traffic
3-7 p.m.

I-35W north metro

Northbound
Co. Rd. C to I-694
Open to all traffic
3-7 p.m.
Northbound
I-694 to Lexington Ave.
Open to all traffic
3-7 p.m.
Southbound
Lexington Ave. to I-694
6-10 a.m.
Open to all traffic
Southbound
I-694 to Co. Rd. D
6-10 a.m.
Open to all traffic

I-394

Eastbound
Co. Rd. 101 to Hwy 100
6-10 a.m.
Open to all traffic
Westbound
Hwy 100 to I-494
Open to all traffic
3-7 p.m.
Reversible lanes*
Hwy 100 to I-94
6 a.m. to 1 p.m.
2 p.m. to 5 a.m.
*The I-394 reversible lanes are tolled any time the lanes are open. The reversible lanes are closed to all traffic during the transition from one direction to the other. Weekend hours of operation vary depending on events in the community. All hours of operation are subject to change due to routine maintenance activities.
HOV bypass ramps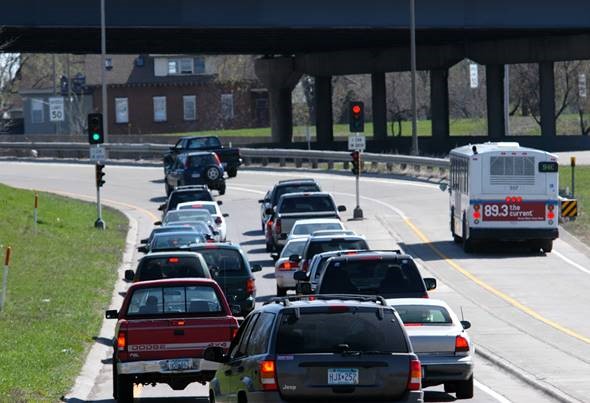 High Occupancy Vehicle (HOV) bypass ramps/lanes are restricted to carpools, buses, and motorcycles only. Solo motorists with or without an E-ZPass tag are not allowed to use the ramps and are subject to a citation if caught using the lanes.
Ramp meters reduce traffic congestion by controlling the number of vehicles that enter the freeway at a given time. If several vehicles enter at once, traffic on the freeway slows down and causes congestion. The HOV bypass ramps are typically at locations that serve a Park and Ride lot or a transit route entering from the local road. The bypass ramps are meant for high occupancy vehicles only.
Commercial vehicles
Large commercial vehicles that have more than two axles and weigh more than 26,000 pounds are discouraged from using the E-ZPass lanes during peak hours and will not be assigned an E-ZPass tag.
Small to medium sized commercial vehicles weighing less than 26,000 pounds and have two or more occupants in the cab, can use E-ZPass lanes for free during peak hours. Single occupant small to medium commercial vehicles with a valid E-ZPass account and tag can use the lanes during peak hours.
Outside of peak hours, all commercial vehicles may drive in the E-ZPass Express Lanes. Overhead signs will read OPEN TO ALL TRAFFIC when the lanes are open to all motorists.