Current and Past Construction Reports and Research
2011 Construction
MnROAD 2011 Reconstruction and Repair of PCC Mainline Cells 5, 6, 63, & 96
Four test cells on the MnROAD Mainline were in need of reconstruction or substantial repairs
in 2011. This opportunity allowed us to enhance the research program at MnROAD by
evaluating and demonstrating the following materials and methods:
the performance of three gradations to optimize paste content, workability, and
durability;
longitudinal tining as a quiet surface;
the use of drainable, stable aggregate bases to enhance pavement life; and
roller compacted concrete on the shoulders.
Also, a thin (5") unbonded concrete overaly using a non- woven geotextile interlayer was
constructed on half a cell, and, repairs were made on a thin whitetopping cell to evaluate
best practices to maintain concrete overlays.
Stabilized Full Depth Reclamation on Cell 28
With budgets being stretched and local sources of pavement materials being depleted,
reconstruction of low volume roadways is becoming difficult for local agencies to fund.
Cheaper methods, such as the use of gravel material, have been adopted to try and
alleviate these costs.
The construction on Cell 28 explored alternative methods of paving that are both renewable
and relatively inexpensive in overall costs. The plan attempted to utilize in situ materials of
the previous Cell 28 construction to repave the cell in a sustainable manner using 100%
of the existing materials. The cell consisted of 100% recycled pavement that has no
transportation costs, material costs, and relatively inexpensive operating costs providing for
a better quality road. This cell has the potential to serve as a model for maintaining thousands
of low volume road miles.
2011 Engineer's Weekly Updates
---
2010 Construction
Three new test cells were constructed on the Mainline to investigate the design,
construction, and performance aspects of composite pavements. Construction
began in mid-April and was completed by the end of May.
---
2008 Construction
Reconstruction began in April 2008 and was completed in November. Over 20
test cells were either reconstructed or rehabilitated with asphalt or concrete surfacing.
MnROAD staff installed over 1400 sensors in the various pavement layers during construction.
---
2007 Construction
MnROAD reconstruction on the Low Volume Road in 2007 included fly ash stabilized
full depth reclamation, polyphosphoric acid modified asphalt, and two new cells to
evaluate the impact of implements of husbandry vehicles on low volume roadways.
Two Cells on the mainline were diamond ground with an innovative grind for quiet pavements
---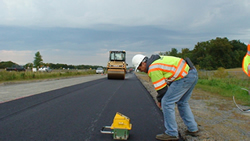 2006 Construction
In 2006 Cell 1, 27, and 28 were reconstructed by MnROAD. There were three significant
aspects of research behind the test cell reconstruction: field validation of Geocomposite
Capillary Barrier Drain (GCBD) for limiting moisture changes in pavements, Intelligent
Compaction (IC) research performed on the unbound base and subgrade layers, and
accelerated testing of PG 52-34 binder to support a Local Road Research Board (LRRB)
project. These reports document the previous pavement condition, pavement structural
and mixture designs, instrumentation plan, field construction activities, material sampling,
and laboratory test results.
Pervious concrete helps to divert polluted and excess water from local water sources.
In 2006 MnROAD and its partners collaborated on a pervious concrete sidewalk project
to help study how to effectively use pervious concrete to best limit negative environmental
factors.
---
2005 Construction
In 2005, MnROAD continued to study the effectiveness of pervious concrete in its test cells.
MnROAD was researching the pervious concrete's inherent sustainability during the varying
environmental factors that come with each season especially safety during the winter seasons.
---
2004 Construction
2004 marked several different construction and research projects for MnROAD. Cells
60- 63 were constructed using whitetopping technique to replace earlier whitetopping
cells constructed in 1997. The report below contains the relevant information about the
reconstruction and the
data attained through the seven years research.
Mesabi Hard Rock aggregate began to be tested during 2004 resulting in several reports
and studies. The purpose of the research was to see the utilization possibility of a new
and Minnesota based resource.
Cell 26 was reconstructed to replace a test cell that had failed prematurely.

---

2000 Construction

Several DOT's from around the US have considered the use of thermoplastic piping to

inlay within pavement. This report describes the development and implementation of

field tests conducted for this project, extends the findings of the field tests, and makes

recommendations for design and installation of thermoplastic pipe under shallow cover

and highway live loads.
The purpose of the report below is to document the forensic investigation and to record
observations and conclusions as to the construction, historical performance and subsequent
deterioration of Cell 26
This report describes the results for physical characteristics of new PCC test cells 32,

52, and 53.The report also summarizes the results of various material tests performed

during and immediately following the construction of the test cells.
---
1999 Construction
This paper's purpose is to provide an update on the pavement condition of MnROAD's
three low volume road (LVR) SuperPave test cells constructed in 1999 with different
asphalt binders. These cells were built to field validate the current low temperature
performance grading (PG) system currently being used at MnDOT and many other
agencies around the world.
---
1997 Construction
This report presents the results of the research project to investigate the design and
performance of thin and ultra-thin whitetopping.
The Construction of US-169 and I-94 Experimental Thin and Ultra- thin
Whitetopping Sections in Minnesota
---

1996 Construction

This report focuses on the second construction phase of the Minnesota Road Research

facility (MnROAD) and evaluates three typical, locally available, surfacing aggregates

along with a rollover section from the initial phase for performance.

---

1990- 1993 Construction
These are initial reports released by MnROAD during its original construction.