Rules of the Fly Minnesota Airports Passport Program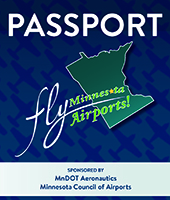 Fly Safe! Always conduct adequate pre-flight activities to ensure your flight can be conducted safely.
The program is open to all FAA licensed pilots. Participants are not required to be Minnesota residents.
Participants must obtain an official Fly Minnesota Airports! Passport to participate.
When flying to or attending a qualifying airport, museum, or FAA safety seminar, participants must obtain a stamp in their passport.
All stamps must be made in the appropriate location in the booklet.  No stamps may be made on any other document and later placed in the passport. Each participant may only receive one airport stamp per visit.
We encourage you to attend FAA safety seminars in person and the FAA will have stamps available at qualifying events. Pilots may also attend FAA Safety Seminars online or in person.  Find events, stay informed, register and login on faasafety.gov or contact the Flight Standards District Office for more information.  If a course is taken online, fill in the course name, date, and instructor's name in the appropriate block.  You may also be asked to provide a copy of your FAA Safety Team Accredited Activity history.
Upon completion of any level, the passport and your logbook must be submitted to the Minnesota Department of Transportation, Aeronautics for review.
There is no deadline for completing the passport program as long as the program remains in operation.
The program maybe adjusted as necessary to accommodate changes.  For more information, visit our website at mndot.gov/aero.