Registration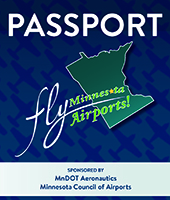 The Fly Minnesota Airports Passport program is open to any FAA licensed pilot. Participants are not required to be Minnesota Residents. To complete the registration process, please submit the following information. Once you register, we will send you the Fly MN Airports! Passport.
The information provided will not be shared, published or otherwise distributed.

If you have any questions about Fly Minnesota Airports! Passport Program, please contact Darlene Dahlseide at darlene.dahlseide@state.mn.us.