How to Participate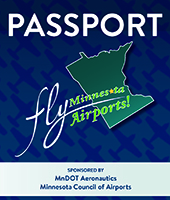 Register for the Fly Minnesota Airports Passport Program online. When you receive your passport, be sure to fill in the page at the front of this passport with your name and contact information.  When you visit a public use airport in Minnesota, an aviation attraction or participate in any FAA Safety seminar, have your passport stamped or signed in the appropriate space. 
Check for a full listing of participating airports for the location of the stamp. If you are unable to get a stamp at a Minnesota airport due to it missing, ask an airport operator (if available) to sign and date your passport and/or take a digital photo in front of the airport sign or the arrival/departure building.  Upon completion of an award level, a MnDOT Aeronautics representative will stamp the appropriate airport box by verifying the flight in your logbook.
When you have obtained the proper number of stamps for the level of recognition you're aiming to achieve, contact us to redeem your award.
Submit your passport
Upon completion of any level, copies of your Fly MN Airports passport and logbook must be submitted to the Minnesota Department of Transportation, Aeronautics for review. At this point, our office is closed for visitors, so please scan and email all the pages of the passport, logbook, and FAA Safety Team Accredited Activity history to darlene.dahlseide@state.mn.us.
Happy Flyin' and Landin'
Some airports may have vehicles to borrow to enable you to explore the community, please check with the airport manager about availability.  Check:  www.exploreminnesota.com or call: 888-VISITMN to get help from the experts to plan your adventure.  You may want to make a note of the date of your flight, weather conditions, and any other memorable details of your flight in the airport box.
Contact:  aeroinfo@state.mn.us