Participating Airports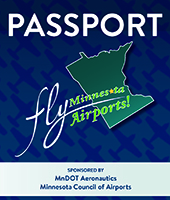 Locations of stamps may change. Please email aeroinfo.dot@state.mn.us if you encounter a changed location.

If you visited a Minnesota Airport and wasn't able to stamp your passport (couldn't locate the stamp or stamp location is inaccessible).  What should you do?  You have 2 options:
Insert the date you flew to that airport in the appropriate airport box in your Fly MN Airports! Passport and take a photo of yourself in front of the airport sign or arrival/departure building.  Upon completion of an award level, a department representative will stamp the appropriate airport box by verifying the flight in your logbook.


Contact by email the MnDOT - Aeronautics to report the unavailable stamp to aeroinfo.dot@state.mn.us with the date of your airport visit.
Airport Stamp Locations
Fly MN Airports Passport Program Stamps Locations (PDF, 79 KB)