Non-National Highway System bridge projects
MnDOT District 7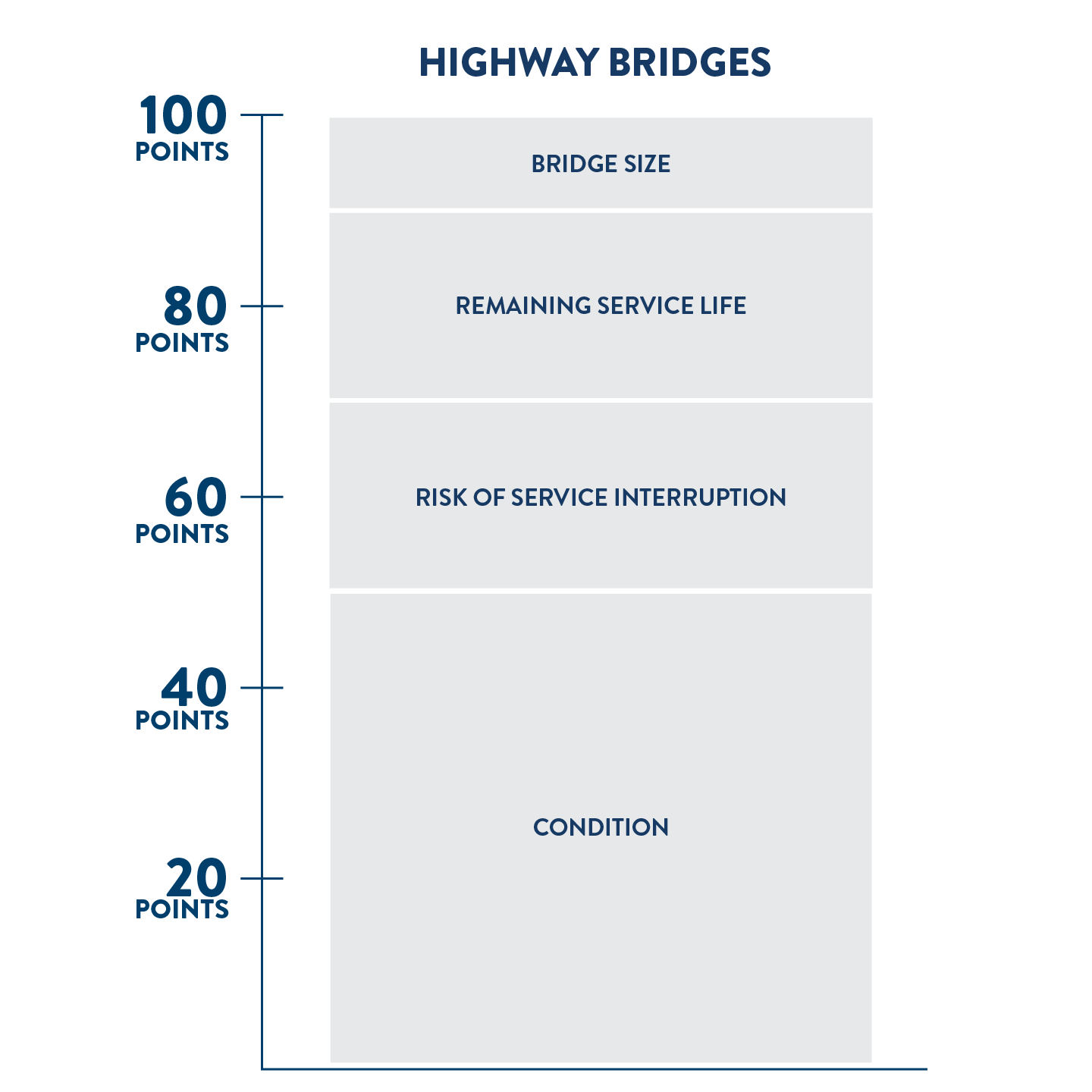 MnDOT scores bridge condition needs when selecting projects to include in the 10-year Capital Highway Investment Plan. Bridges that carry roads on the National Highway System (NHS) are scored and selected separately from bridge needs off the system. MnDOT's approach to managing bridge condition follows the guidance and targets in the Transportation Asset Management Plan and the planned outcomes in MnSHIP.
Non-NHS bridges are scored statewide, but prioritized within each district. The selection of bridge projects is informed by district staff, experts from MnDOT's bridge office and the Bridge Replacement and Improvement Management System (BRIM).
Once selected, MnDOT then identifies and evaluates alternatives and other needs, legal requirements, issues and opportunities in coordination with local partners, and considers public input. In the process, non-bridge work may be added to a bridge project or a bridge project may be combined with a nearby pavement project. The department follows a context-sensitive complete streets approach, which considers the needs of all users. The final project may address a substantial number of needs beyond the bridge need that precipitated the project. Projects may move years based on local coordination, project delivery, timing of other nearby construction projects, and funding shifts.
What's been selected?
Related links
How the projects scored
The construction costs shown on this list represent a very rough estimate based on limited information available at the time selection decisions were made. Actual construction and delivery costs will change over time as projects go from a concept through the project development process and are eventually constructed. View more detailed scores (Excel).
Last updated October 2021
| Total score | Bridge number | Route | Key Intersection or Closest Landmark | Work Type | Year planned | High level cost estimate for planning purposes | Comments |
| --- | --- | --- | --- | --- | --- | --- | --- |
| 98 | 07042 | MN 860D | Minnesota River | Replace | 2025 |  $25,400,000 | |
| 80 | 53824 | Nobles County Road 60 | I 90 | Overlay deck surface | 2026 |  $200,000 | |
| 80 | 40007 | MN 19 | US 169 | Reoverlay deck surface | 2029 |  $500,000 | |
| 70 | 22819 | Faribault County Road 31 | I 90 | Overlay deck surface | 2025 |  $600,000 | |
| 70 | 22813 | Faribault County Road 221 | I 90 | Overlay deck surface | 2025 |  $400,000 | |
| 70 | 22809 | Faribault County Road 13 | I 90 | Overlay deck surface | 2025 |  $400,000 | |
| 70 | 53809 | Nobles County Road 15 | I 90 | Overlay deck surface | 2026 |  $200,000 | |
| 70 | 53812 | Nobles County Road 9 | I 90 | Overlay deck surface | 2026 |  $200,000 | |
| 70 | 53811 | Nobles County Road 61 | I 90 | Overlay deck surface | 2026 |  $200,000 | |
| 70 | 53810 | Nobles County Road 13 | I 90 | Overlay deck surface | 2026 |  $300,000 | |
| 70 | 53822 | MN 264 | I 90 | Overlay deck surface | 2026 |  $500,000 | |
| 70 | 67001 | MN 270 | BNSF Railroad | Overlay deck surface | 2030 |  $500,000 | |
| 70 | 46801 | Martin County Road 7 | I 90 | Overlay deck surface | Not Selected |  $600,000 | Not a district priority. Will continue to monitor bridge performance.  |
| 70 | 46832 | Martin County Road 23 | I 90 | Overlay deck surface | Not Selected |  $700,000 | Not a district priority. Will continue to monitor bridge performance.  |
| 70 | 67809 | Rock County Road 55 | I 90 | Overlay deck surface | Not Selected |  $600,000 | Not a district priority. Will continue to monitor bridge performance.  |
| 65 | 6757 | MN 4 | Big Cottonwood River | Replace | 2023 |  $2,300,000 | Replace bridge due to poor condition.  |
| 55 | 5965 | MN 4 | Watonwan River | Replace | 2023 |  $1,500,000 | |
| 55 | 22812 | Faribault County Road 19 | I 90 | Replace | 2025 |  $2,400,000 | |
| 45 | 5076 | MN 4 | Butterfield Creek | Replace | 2023 |  $700,000 | Scour critical, deck, abutment in poor condition. |
| 35 | 9774 | Rock County Road 6 | I 90 | Replace | Not Selected |  $2,000,000 | Not a district priority. Will continue to monitor bridge performance.  |
| 20 | 22811 | Faribault County Road 17 | I 90 | Redeck | 2025 |  $1,400,000 | |
| 20 | 22810 | Faribault County Road 109 | I 90 | Replace | 2025 |  $2,400,000 | |
| 10 | 46003 | MN 4 | Ditch near Jay Township | Overlay deck surface | 2023 |  $100,000 | |
| 10 | 22820 | Faribault County Road 23 | I 90 | Reoverlay deck surface | 2025 |  $600,000 | |
| 10 | 22805 | Faribault County Road 6 | I 90 | Overlay deck surface | 2025 |  $500,000 | |
| 10 | 53821 | Nobles County Road 3 | I 90 | Overlay deck surface | 2026 |  $300,000 | |
| 10 | 6497 | MN 22 | Le Sueur River | Replace | Not Selected |  $2,200,000 | |
| 10 | 32801 | Jackson County Road 5 | I 90 | Overlay deck surface | Not Selected |  $600,000 | |
| 10 | 32813 | Jackson County Road 34 | I 90 | Overlay deck surface | Not Selected |  $1,100,000 | |
| 10 | 32805 | Jackson County Road 17 | I 90 | Overlay deck surface | Not Selected |  $600,000 | |
| 10 | 32814 | Jackson County Road 85 | I 90 | Overlay deck surface | Not Selected |  $800,000 | |
| 10 | 32816 | 400th Ave | I 90 | Overlay deck surface | Not Selected |  $600,000 | |
| 10 | 32818 | Jackson County Road 67 | I 90 | Overlay deck surface | Not Selected |  $700,000 | |
| 10 | 46813 | Jackson County Road 130 | I 90 | Overlay deck surface | Not Selected |  $700,000 | |
| 10 | 67811 | 200th Ave | I 90 | Overlay deck surface | Not Selected |  $600,000 | |
| 0 | 72005 | MN 93 | Rush River | Replace | 2023 |  $2,500,000 | Coordinated with another MnDOT project |
| 0 | 83012 | Watonwan County Road 3 | MN 15 | Redeck | 2023 |  $1,600,000 | |
| 0 | 6504 | MN 4 | Elm Creek | Replace | 2023 |  $1,600,000 | Coordinated with another MnDOT project |
| 0 | 40003 | Le Sueur County Road 45 | MN 22 | Overlay deck surface | 2024 |  $100,000 | |
| 0 | 22806 | Faribault County Road 11 | I 90 | Preventive maintenance | 2025 |  $200,000 | |
| 0 | 22814 | MN 22 | I 90 | Redeck | 2027 |  $1,500,000 | |
Previous years