Bridge projects
Bridges over state highways carrying railroads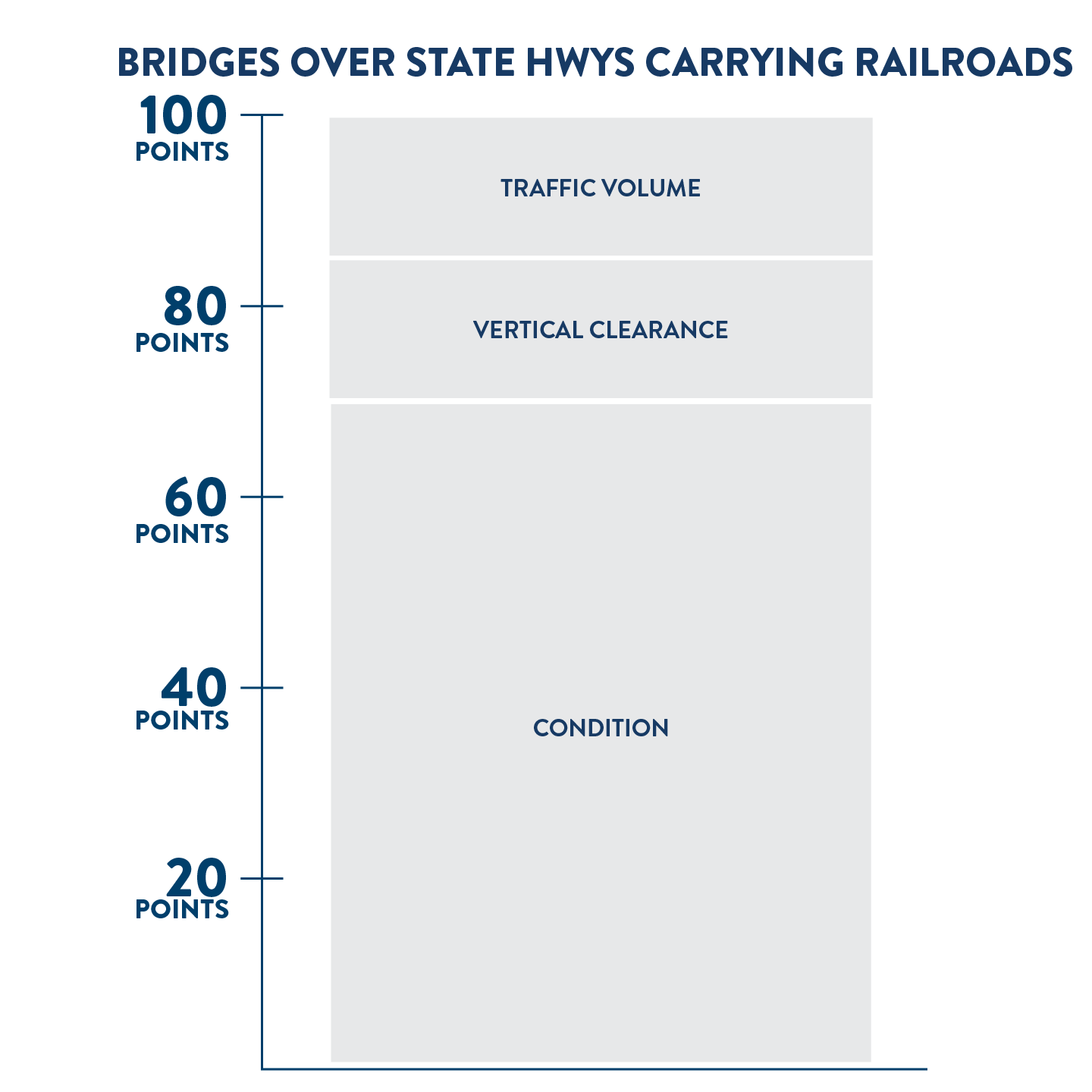 MnDOT scores bridge condition needs when selecting projects to include in the 10-year Capital Highway Investment Plan. Bridges over state highways that carry railroads are scored and prioritized statewide with input from district staff. The selection of bridge projects is informed by district staff, experts from MnDOT's bridge office and the Bridge Replacement and Improvement Management System (BRIM).
Once selected, MnDOT then identifies and evaluates alternatives and other needs, legal requirements, issues and opportunities in coordination with local partners, and considers public input. In the process, non-bridge work may be added to a bridge project or a bridge project may be combined with a nearby pavement project. Projects may move years based on local coordination, project delivery, timing of other nearby construction projects, and funding shifts.
What's been selected?
Related links
Non-National Highway System bridge projects
How the projects scored
View more detailed scores (Excel)
Last updated October 2021
| Score | District | Bridge number | Railroad | Facility Crossed | High level construction cost estimate for planning purposes | Year planned (FY) | Comments |
| --- | --- | --- | --- | --- | --- | --- | --- |
| 100 | Metro | 9592 | CP Railroad | I 35E | Unknown | Unknown | |
| 98 | 01 | 9481 | DM&IR Railroad | US 53 | Unknown | Unknown | Miscellaneous repairs completed in 2019 |
| 85 | 04 | 9698 | OTV Railroad | I 94 | Unknown | Unknown | |
| 85 | 04 | 9025 | BNSF Railroad | US 10 | Unknown | Unknown | |
| 85 | Metro | 9578 | MC Railroad | I 35W | Unknown | Unknown | Substructure and pier strut repairs completed in 2018 |
| 85 | Metro | 9357 | CP Railroad | I 35W | Unknown | Unknown | Substructure and pier strut repairs completed in 2019 |
| 85 | Metro | 62814 | CP Railroad | I 94 | Unknown | Unknown | |
| 85 | Metro | 5199 | CP Railroad | MN 7 | Unknown | Unknown | |
| 85 | Metro | 27544 | CP Railroad | US 169 | Unknown | Unknown | |
| 85 | Metro | 62846 | CP Railroad | I 94 | Unknown | Unknown | |
| 85 | Metro | 6581 | CP Railroad | I 694 | Unknown | Unknown | |
| 76 | 07 | 5154 | UP Railroad | US 169 | Unknown | Unknown | |
| 65 | Metro | 27746 | CP Railroad | I 394 | Unknown | Unknown | |
| 65 | Metro | 19821 | CP Railroad | I 35E | Unknown | Unknown | |
| 65 | Metro | 27999 | BNSF Railroad | I 35W | Unknown | Unknown | |
| 54 | 07 | 08005 | DME Railroad | US 14 | Unknown | Unknown | |
| 50 | 04 | 9479 | OTV Railroad | I 94 | Unknown | Unknown | |
| 50 | Metro | 9532 | CP Railroad | I 35E | Unknown | Unknown | |
| 50 | Metro | 6582 | CP Railroad | I 694 | Unknown | Unknown | |
| 50 | Metro | 9520 | CP Railroad | I 35E | Unknown | Unknown | |
| 50 | Metro | 9212 | CP Railroad | MN 36 | Unknown | Unknown | |
| 50 | Metro | 9390 | MC Railroad | I 694 | Unknown | Unknown | |
| 50 | Metro | 27990 | BNSF Railroad | I 35W | Unknown | Unknown | |
| 50 | Metro | 27821 | CP Railroad | I 94 | Unknown | Unknown | |
| 50 | Metro | 19829 | CP Railroad | I 494 | Unknown | Unknown | |
| 50 | Metro | 62842 | MC Railroad | MN 280 | Unknown | Unknown | |
| 50 | Metro | 27286 | BNSF Railroad | TH 100 | Unknown | Unknown | |
| 50 | 07 | 40004 | UP Railroad | MN 22 | Unknown | Unknown | |
| 30 | 01 | 69888 | CNRR Railroad | I 35 | Unknown | Unknown | |
| 30 | 03 | 86011 | BNSF Railroad | US 12 | Unknown | Unknown | |
| 30 | 03 | 86021 | BNSF Railroad | US 12 | Unknown | Unknown | |
| 30 | Metro | 27303 | CMSTP Railroad | MN 100 | Unknown | Unknown | |
| 30 | Metro | 27W34 | CP Railroad | MN 100 | Unknown | Unknown | |
| 30 | Metro | 27V34 | CP Railroad | I 494 | Unknown | Unknown | |
| 28 | 01 | 69080 | Abandoned Railroad | US 169 | Unknown | Unknown | |
| 27 | 03 | 86010 | BNSF Railroad | US 12 | Unknown | Unknown | |
| 27 | 07 | 46830 | UP Railroad | I 90 | Unknown | Unknown | |
| 27 | 07 | 32809 | Soo Railroad | I 90 | Unknown | Unknown | |
| 26 | 07 | 53008 | UP Railroad | MN 60 | Unknown | Unknown | |
| 15 | 01 | 31017 | BNSF Railroad | US 169 | Unknown | Unknown | |
| 15 | 01 | 38006 | DM&IR Railroad | MN 61 | Unknown | Unknown | |
| 15 | 03 | 9480 | BNSF Railroad | US 169 | Unknown | Unknown | |
| 15 | 04 | 9477 | BNSF Railroad | I 94 | Unknown | Unknown | |
| 13 | 08 | 34010 | BNSF Railroad | US 71 | Unknown | Unknown | |
Previous years