About this project

Traffic Impacts
Hwy 40 is closed from CR 55 to CR 5 (red on the map).
Hwy 40 traffic is detoured on CR 55, US 12, CR 5.
All US Hwy 12 traffic is now using the realigned route (yellow on the map).
Old Hwy 12 closed May 17-28 to reconstruct the old Hwy 12/CR 5 intersection. NB/SB traffic only at the intersection - see attached map for local business access. One-way flagging operation during daytime hours.
Project Update
June 21, 2021: on the construction site this week
Asphalt paving

Hwy 40
Old US 12 and CR 5
Old US 12 and CR 55
Old US 12 between CR 5 and old CR 55
New 45th Street connection with US 12

Aggregate shoulders and topsoil

Hwy 40
Old US 12 and CR 5
Old US 12 and CR 55
New 45th Street connection with US 12

Pavement marking
Installing signs
Guardrail on Hwy 40 bridge
Electrical lighting on CR 5 at old US 12
Construction of curve on 45th Street, southwest corner of intersection with old US 12
Repair and install erosion control measures, place topsoil, and final stabilization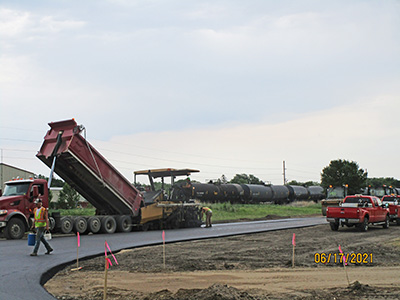 Photo above: crews pave the intersection at old US 12 and CR 5.
Project Summary
Construct a new rail line on the west side of Willmar. The project includes the realignment of US 12 and the reconstruction of Hwy 40, including two new bridges. The rail line will connect the following two existing main track subdivisions. The Morris subdivision parallels Hwy 12 west of Willmar. The Marshall subdivision parallels Kandiyohi CR 55/CR 15 and Hwy 23 to the southwest.These subdivisions serve local, regional and national rail customers in the Northwest, Midwest, and southern United States.
Project Timeline
Start of road construction: summer 2019
Estimated end of road construction: fall 2021
Start of rail construction: summer 2021
Estimated end of rail construction: fall 2022
Contractor
Design-Build Contracting Process
Roadway will use Design-Build contracting process
Design-build is a contracting process that brings designers and contractors together early in the detail design portion of a project. Willmar Wye is a design-build project. For more information visit the links below.
Railway final design and construction will be carried out by BNSF
Project Purpose
The Minnesota Department of Transportation and its partners Burlington Northern Santa Fe Railway (BNSF), City of Willmar, Kandiyohi County and the Kandiyohi County and City of Willmar Economic Development Commission will add a rail connection between two existing BNSF railway lines and modify surrounding roadways to better move freight through the city of Willmar.
The Willmar Rail Connector and Industrial Park Access Project (Willmar Wye) will provide a direct connection between the Marshall and Morris Subdivisions of the BNSF rail network. Providing this direct connection will decrease the number of trains that need to pull into the rail yard in downtown Willmar. The project also includes a rail spur that will provide access to the city of Willmar's industrial park.
The purpose of the Wye project is to:
Provide a direct connection between the Marshall and Morris Subdivisions of the BNSF Railway freight rail network
Provide freight rail access to the City of Willmar's industrial park
Project Benefits
Improve safety for travelers by reducing at-grade crossing exposure
Increase multi-modal opportunities for shippers
Encourage economic growth
Improve quality of life
Delay and emissions savings for travelers (e.g. drivers, pedestrians and bicyclists) by reducing wait times for crossings to clear.
Reduce the number of trains traversing through downtown Willmar and the accompanying noise.
Regional Demands
Rail shipments of oil have grown sharply in regions, such as North Dakota's Bakken energy fields, that lack sufficient pipelines as alternatives. Investments in the network are needed to allow network capacity to "catch up" with the new demand. Production is reported to be approaching 1 million barrels a day with roughly 72 percent of that fuel transported by rail. These trains are bound for refineries in the Gulf and locally within the Midwest region, while coal cars are bound for export terminals located both in the Great Lakes and on the West Coast.
Grain trains are also frequently delayed, reducing a farmer's ability to manage market fluctuations and tempering profit margins. By easing this choke point in Willmar, the project would add much needed capacity in this portion of the rail network.
The Minnesota Comprehensive Statewide Freight and Passenger Rail Plan (MnDOT, 2012) identified the Marshall Subdivision as a corridor that will need investment due to volume and capacity issues.
Project Partners-Contributions/Commitments
| Project partner | Contribution/commitment |
| --- | --- |
| BNSF Railway | $16 million |
| MnDOT | $17.5 million |
| Kandiyohi County | $459,000 commitment |
| City of Willmar | $336,000 commitment of estimated right of way costs |
| Kandiyohi/Willmar EDC | $35,000 (for economic development) |
| Local Road Improvement Program | $3.77 million |
| TIGER Grant (U.S. Department of Transportation) | $10 million |