About this project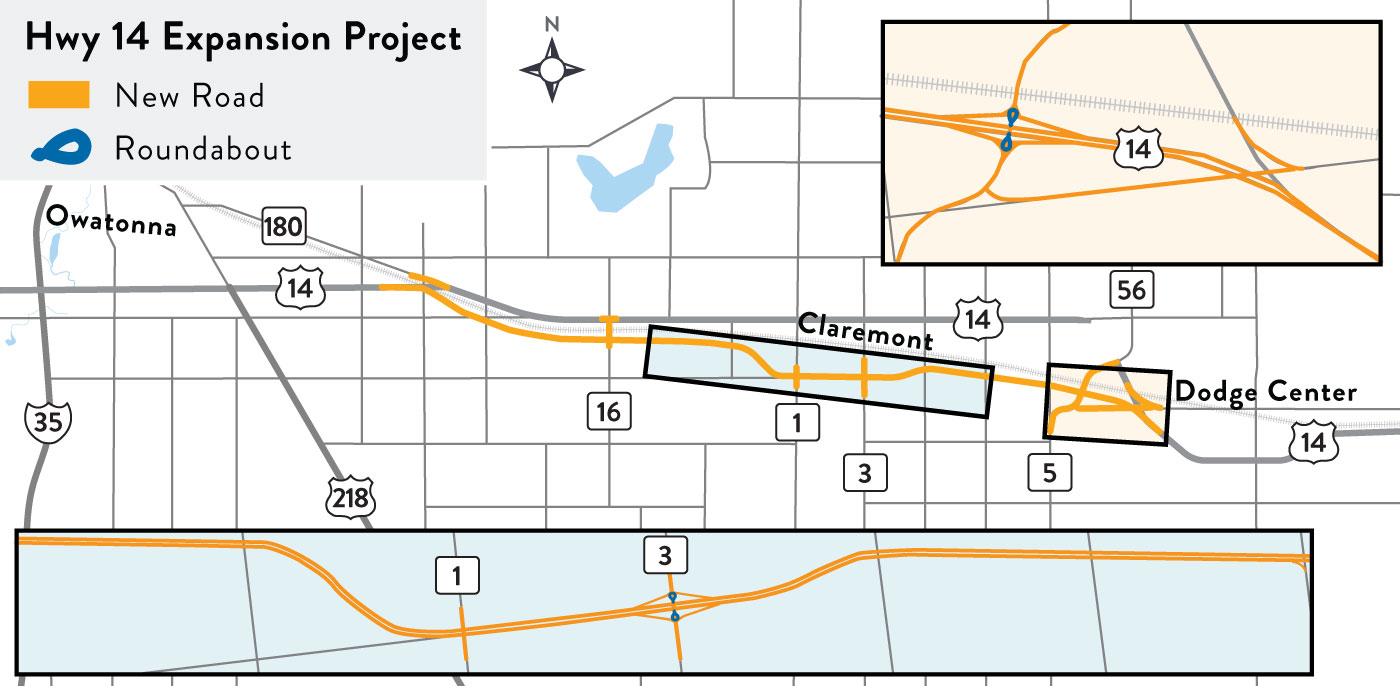 Update
Westbound Hwy 14 vehicles required to stop for at-grade railroad crossings, including buses and those carrying hazardous materials, will be detoured around the railroad tracks at Steele County Road 180.
The work is part of the Hwy 14 expansion project. Crews are working on the road area on the west end of the project and must close a lane. The detour is in place.
Detour
Westbound trucks and buses that are required to stop for at-grade railroad crossings will take Steele County Road 180 west to Steele County Road 43 south to return to Hwy 14
No detour is required for eastbound Hwy 14 vehicles
The detour will be in place until the new Hwy 14 route opens for traffic in fall of 2021
Motorists who use Dodge County Road H between Dodge County Road 5 and Dodge Center will need to seek alternate routes beginning June 4 when the road is closed.
The closure of the road near the underpass of existing Hwy 14 will be permanent on the west side of the underpass and the road will be changed into a cul-de-sac. On the east side of the underpass, the road closure will be a year-long and eventually redirect the road to connect with the old portion of Hwy 14 once the new route is completed.
Coming up in 2021
More paving will be completed along the remaining 12.5-mile new route.
Completion of the Dodge Co. Rd. 3 and Steele Co. Rd. 16 bridges.
Construction and completion of the Hwy 14 interchange at Hwy 56 and Dodge Co. Rd. 5.
Traffic is expected to be on the new Hwy 14 alignment in fall of 2021 with the project completed in 2022.
Summary of work
The project will expand 12.5 miles of Hwy 14 from two lanes to four lanes between Dodge Center and Owatonna to complete a continuous four-lane road between Mankato and Rochester. The project is intended to improve the capacity, safety, travel times and access between Rochester and Owatonna, as well as the I-35 corridor. The expansion area is a new route for Hwy 14, which will stay south of the railroad tracks on the west side of the project, travel south of Claremont and connect where the four-lane highway is west of Dodge Center.
Shafer Contracting of Shafer, Minn., is the prime contractor for the $107,997,119 construction project. Construction is scheduled to be completed by 2022. Traffic on the new Hwy 14 route is expected in 2021.