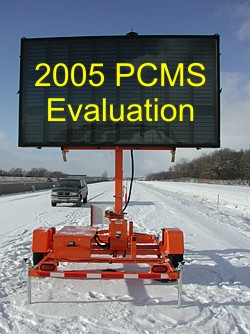 Work Zone Design Tools
Traffic Engineering Sites
Introduction

Mn/DOT's evaluation of trailer mounted portable changeable message signs was prompted by the decision of our Regional Traffic Management Center to purchase a minimum of ten of these devices. Aside from the possibility of bad weather late in the year, that provided a great opportunity to stage a review of PCMSs. The obvious lure of a large sale would attract vendors, and having the various devices at one site would provide an unique appraisal opportunity for Mn/DOT, and specifically the Office of Traffic, Security & Operations. For complete evaluation details, see the PCMS Evaluation Summary.

The MnRoad Facility was chosen for the outdoor review, and Arden Hills Training Center as the location for oral presentations of remote accessing capabilities of the units. This report deals with the outdoor portion only. MnRoad is ideally set up for this project. It has the enclosed loop, free of traffic, and a long straight section of 5800 feet (MnROAD Layout).

The outdoor evaluations were twofold: An opportunity for state procurement staff and equipment operators to appraise fabrication details, ease of programming, accessories, and generally "kick the tires", and secondly, an opportunity for the Office of Traffic, Security & Operations to assess and compare the legibility performance of the various units. The performance testing included legibility distance and angularity measurements. These results (Test Results) were compared to NTPEP testing results on the same models. For the legibility test, evaluators were given a form (Evaluation Form) and asked to drive slowly, starting at the 0 point, until the first display became legible and then write down the number on the next tube delineator (located along the route). We tallied between 56 and 58 responses for each device. Additionally, we took angularity readings to determine when the messages became illegible as the vehicle came alongside the displays.
Evaluation Documentation
PCMS Photos & Spec Information by Manufacturer and Model

Evaluation Documentation
PCMS Photos & Spec Information by Manufacturer and Model