Clear road markings are essential for safe driving, particularly at night.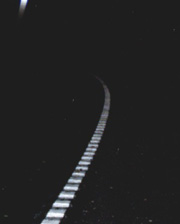 Rumble stripes at night
Rumble stripes are indentations milled into the pavement with pavement markings applied on top that provide improved visibility. They are also designed to alert inattentive or distracted drivers through—noise and vibration—and reduce the number of crashes. The pavement markings are also more visible in wet conditions.
[an error occurred while processing this directive]
Pavement Markings Contact
Pavement Markings Committee
Pavement Markings Design Tools
Pavement Markings Plan Sheets
Traffic Engineering Sites
What is a pavement marking?
A pavement marking is part of a communication system for road users – in addition to signs and signals, pavement markings communicate to drivers where to position their vehicles, warn about upcoming conditions, and indicate where passing is allowed. For more details about this communication system, please visit Learn About Pavement Markings.
As stated in the MnDOT Policy for Pavement Marking Operations, MnDOT's goal is to provide an appropriate pavement marking on all highways, 365 days a year. The hyperlinks included on this page connect to tools that are to be used by design and field staff from Traffic, Maintenance and Construction.
What's new about pavement markings?
Glass beads are normally used in pavement markings to reflect light back to the driver from the headlights. They work well when the road surface is dry, but when the surface is wet, the water can act like a mirror, reflecting light in a different direction—often creating glare.

The innovative and new pavement markings include glass beads and ceramic elements that reflect light back toward motorists to help them determine locations of driving lanes, edge lines and merge indicators when they are dry or covered by a thin film of water.


When wet-reflective pavement markings are grooved into the pavement, it promises better visibility when the going gets wet. More about the pilot project.