Geomorphology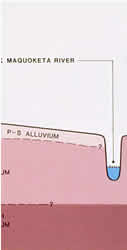 Geomorphology is a discipline that studies both ancient and present-day landscapes and how they evolved. Processes of deposition and erosion are particularly important for explaining the development of landscapes. These processes are also important for explaining archaeological site locations. Deposition of sediments by moving water or air can bury surface archaeological sites. Erosion, whereby water picks up and moves soil, can also move archaeological artifacts, washing them downslope.
Phases 1-3
Minnesota's river valleys contain deep layers of sediment that may contain deeply buried archaeological resources. To better understand where these resources might be found, MnModel included a geomorphic mapping component focusing on seven major river valleys and the Red Lake Bog of northern Minnesota. After the river valley models were completed, six upland quadrangles were mapped for comparison. The goal of the mapping was to provide a three-dimensional component to MnModel, culminating in models of Landscape Suitability for the presence of archaeological sites both at and below the soil surface.
The basic unit of mapping was the Landform Sediment Assemblage (LfSA). Mapping was done at a scale of 1:24,000. The characteristics of each LfSA was described at the surface, 0-1 meters below the surface, at 1-2 meters below the surface and at 2-5 meters below the surface. Landscape suitability ratings at each depth were calculated based on the energy level and age of the depositional environment. Unfortunately, the data were not ready soon enough to be incorporated into the archaeological predictive model.
At the end of Phase 3, a handbook for constructing a Landscape Suitability Model was developed.
Phase 4
In Phase 4, additional mapping has expanded the Landscape Suitability Models to include the Anoka Sand Plain, Zumbro River, and portions of the Mississippi River that were not mapped previously. Methods have been updated to incorporate heads-up digitizing using GIS software. A number of quality control procedures were automated in the GIS mapping. The LfSA map unit field code key has been updated to incorporate previously unmapped landforms. A field protocol for testing for deeply buried sites was developed, to be used where the Landscape Suitability Models indicate the potential for the presence of archaeological sites below one meter depth.