Disposal and recycling
Disposal and recycling of waste materials generated on MnDOT projects or at MnDOT operational facilities.
Regulated Material Management Program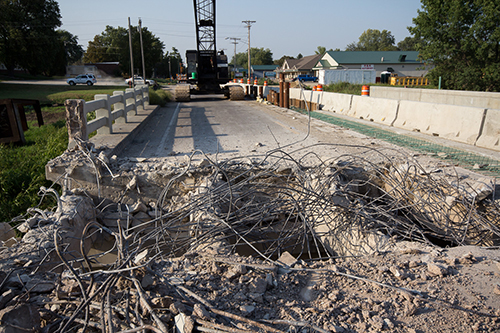 Methods used to dispose or reuse regulated materials expose the department to varying degrees of legal environmental liabilities. The MnDOT Office of Environmental Stewardship established the MnDOT Regulated Material Management Program to ensure that waste disposal and reuse practices comply with applicable federal and state regulations and to provide environmental liability protection for the department.
Use of contractors, end site facilities and general regulated material disposal/reuse handling information
Only contractors approved by OES can be used to complete structure assessment for regulated materials, abatement of asbestos and other regulated materials and abatement oversight. MnDOT approved contractors for these activities may be found at MnDOT Certified Contractors - Prequalified Contractors, 19.1-19.5 (PDF). All waste materials generated from MnDOT construction projects or from MnDOT operational facilities must be disposed of or recycled at facilities approved by OES, including landfills. These approved facilities may be found at MnDOT approved list of waste contractors (Word).
Some regulated materials may still be usable and of use to other parties. Ownership transfer of certain types of regulated materials must be documented with a transfer of ownership form to ensure proper reuse of these materials. This process also provides liability protection for MnDOT by documenting full disclosure of the waste material to the new owner. Completed transfer of ownership forms are retained for permanent storage.
All waste removal must be documented. Documentation provided by landfills and recycling facilities accepting waste (e.g., receipts, manifests, shipping papers) and hazardous waste contractors (e.g., hazardous waste manifests and land disposal restriction forms) will be provided to the MnDOT Project Manager within 10 days after waste is transported from the project site.
All waste materials will be transported directly from the project site to the MnDOT approved end site. Temporary storage of waste materials off-site shall not be allowed without the MnDOT Project Manager's prior approval.
Guidance on containerization, storage, labeling, transportation and documentation requirements on specific types of regulated materials may be found under "Waste Handling".
Types of regulated materials