About this project
This project will better accommodate freight movements through the I-35/I-535/Hwy 53 and Garfield Ave interchanges next to the Clure Public Terminal. The photo below shows the current interchange at I-35, I-535 and Hwy 53.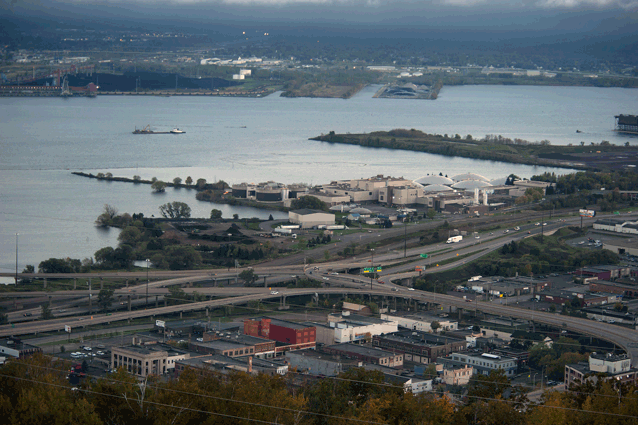 FASTLANE Grant selection
MnDOT submitted a Fostering Advancements in Shipping and Transportation for the Long-Term Achievement of National Efficiencies (FASTLANE) grant application to replace the I-35/I-535/Hwy 53 interchange and improve the I-535/Garfield Avenue interchange.
The Twin Ports Interchange project was not selected in 2016 for a FASTLANE Grant. FASTLANE Grant funding will be available for the next four years. MnDOT will continue to refine its FASTLANE Grant application by including additional survey work, drilling for contaminated material, noise analysis and utility location, including the identification of a major line that connects with the Western Lake Superior Sanitary District's wastewater treatment plant etc. and will apply again in 2017.
Monthly public meetings
You're invited to attend monthly meetings to offer comments and learn more about this project.
Lincoln Park Open House
MnDOT employees talked with many people at the first-ever Lincoln Park Open House on Saturday, October 15. Several people shared their ideas for the new interchange by jotting them on a large diagram of the existing interchange. The Minnesota GoMobile was also a big attraction at the open house. Parents and their children couldn't believe they could actually color on the van.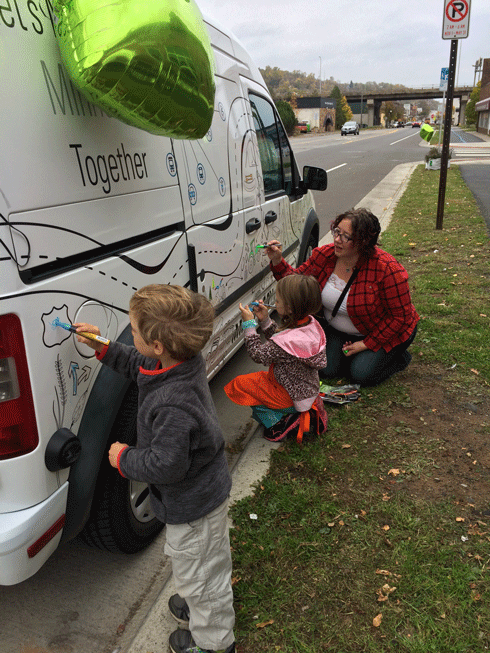 Next Meeting
To be announced
See Meetings for information.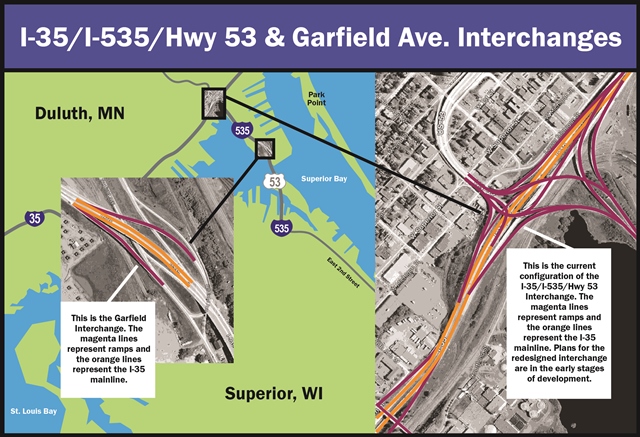 Summary of work
Replace 27 bridges (24 at the I-35/I-535/Hwy 53 interchange and 3 at the I-535/Garfield interchange) and reconstruct I-35/I-535/Hwy 53 interchange to improve safety by:
Providing a new conventional design
Relocating all exits and entrances to the right side of the roadway
Improving merging sight distance and eliminating merge conflicts
Eliminating weaving problems near the interchange
Providing lane continuity for through I-35 traffic
Freight connection
This project will provide direct access for overweight permitted loads.
Interchange traffic count:

Average annual daily traffic – 72,200
Heavy commercial average annual daily traffic – 3,450

25,000 heavy commercial loads generated per year with significant increases projected
First mile to the Clure Public Terminal, an intermodal facility with highway, rail and waterway freight connections
Traffic impacts
Detours during construction.