Background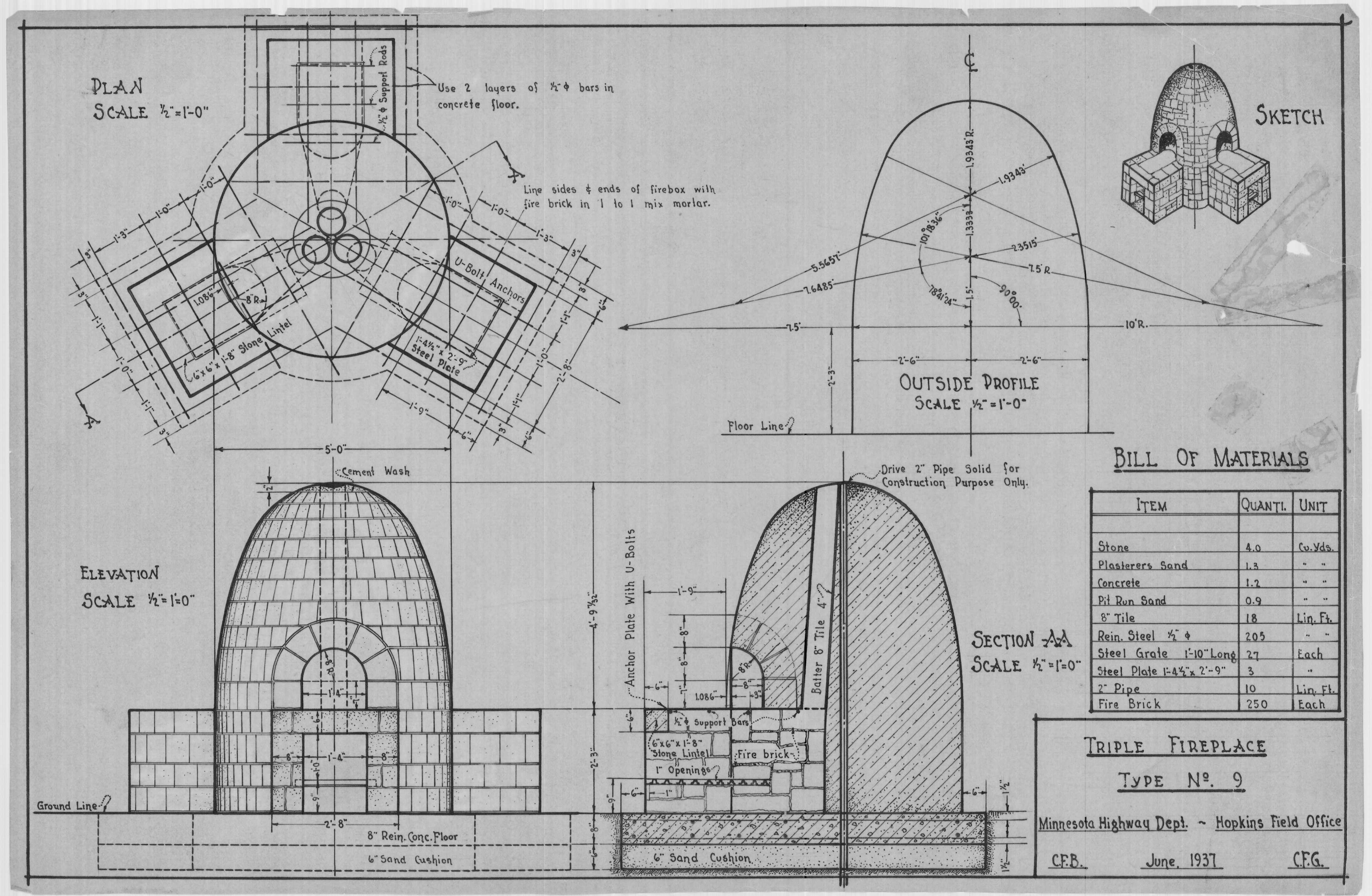 Between July 1996 and December 1998, MnDOT conducted a statewide inventory of its wayside rests on Minnesota trunk highways. The purpose was to identify roadside structures that were eligible for the National Register of Historic Places in order to streamline the environmental review process and save time during highway project design. The initial research report, Historic Roadside Development Structures on Minnesota Trunk Highways, was published and distributed in September 2000; a supplement that adds eight new properties and updates was completed in 2005.
The MnDOT Cultural Resources Unit completed another study defining the historic context for historic properties in the 1955-1975 era. This study was completed in 2016.
In 2018 the CRU began the most recent study to streamline all the previous reports and studies into one document. Minnesota Trunk Highways Roadside Properties, 1932-1975: A Cumulative Study was completed in 2020. This study was also the first to evaluate rest areas of all sizes and types and on interstates if constructed prior to 1975.
Most of the historic roadside facilities were built during the 1930s and early 1940s by unemployed Minnesotans under the federal relief programs of President Roosevelt's New Deal and led by the Minnesota Department of Highways as MnDOT was known at the time. The partnership produced roadside facilities built to meticulous standards with local materials. Many of these properties are state, regional, or local landmarks and are important to regional tourism services. They include features such as scenic overlook walls, wayside parks, stone picnic tables and fireplaces, interpretive markers, and small bridges.
Original historic plans
Historical roadside development sites are ranked by factors of historical and design significance, such as quality of craftsmanship, important designer, integrity of setting, outstanding scenic value and other criteria. This ranking process enables MnDOT to make more informed decisions about the long-term management of these resources.
Setting priorities
Fifty-six of the original 110 identified historic roadside properties were once considered eligible for the National Register of Historic Places.
There are currently 12 roadside properties Listed on the National Register of Historic Places, and 4 more in Listed Historic Districts which they are contributing to. Eight more sites are currently determined eligible for the National Register. The number has decreased significantly for several reasons. First, the 2020 study changed the "rules" for eligibility. Second, many projects have been "lost" to other agencies, sometimes when a highway is changed to a county road. Third, some have been lost to highway redevelopment and were razed or demolished.
Now that we know which sites are most historically significant, how do we decide which site to invest precious public funding in?  A set of criteria including Age/Significance, Urgency/condition are the main factors. After that we try to do our work efficiently and equitably. Rankings are updated annually for State Highway Investment Plans. The Details of this process are available on the Project Selection Page.
Next steps
The Historic Roadside Property Program completes several projects each year to preserve and repair deterioration or damage. New evaluations are completed by the Cultural Resource Unit as needed and in advance of projects. One area of research is also underway in the program, mortar testing research. In 2022 we installed a series of 12 different formulations and protection methods to panels on the Cascade River Wayside walls. These panels will help us to learn what types of mortar ingredients and protection practices will provide the most durable mortar. We will be monitoring these for the next two years and will use them in designs for a rehab of this site in 2025.
National Register Listed Roadside Properties
| Name | SHPO number | County | Road |
| --- | --- | --- | --- |
| Cascade River Wayside | CK-UOG-044 | Cook | MN 61 |
| Craigie Flour Mill Historic Marker | OT-OTT-001 | Otter Tail | MN 78 |
| Garrison Concourse | CW-GRC-001 | Crow Wing | US 169 |
| Graceville Historic Marker | BS-GRA-017 | Big Stone | MN 28 |
| Inspiration Point Wayside Rest | FL-CRL-011 | Fillmore | MN 16 |
| Kenney Lake Overlook | CW-GRT-003 | Crow Wing | MN 18 |
| Lake St. Croix / Stillwater South Overlook | WA-OHC-005 | Washington | MN 95 |
| Orr Roadside Parking Area | SL-ORC-005 | Saint Louis | US53 |
| Pine-Hickory Lakes Roadside Parking Area | AK-FIS-017 | Aitkin | US 169 |
| Preston Overlook | FL-PRC-041 | Fillmore | US 52 |
| Reads Landing Overlook | WB-PEP-012 | Wabasha | US 61 |
| Redwood Falls Retaining Wall | RW-RFC-032 | Redwood | MN 19/US 71 |
National Register Historic District Contributing Properties
| Name | SHPO number | County | Road |
| --- | --- | --- | --- |
| Gooseberry Falls Concourse | LA-SVC-046 | Lake | MN 61 |
| Marine on St. Croix Roadside Parking Area | WA-MXC-015 | Washington | MN 95 |
| Mantorville Retaining Walls | DO-MTC-038 | N/A | N/A |
| TH 301 Retaining Walls | N/A | Sherburne | MN 301 |
National Register Eligible properties
| Name | SHPO number | County | Road |
| --- | --- | --- | --- |
| Baudette Rest Area | LW-BDC-030 | Lake of the Woods | MN 72 |
| Burgen Lake Rest Area | DL-HUD-010 | Douglas | I 94 |
| Oak Lake Rest Area | PL-KNU-001 | Polk | US 2 |
| Ottertail Lake Rest Area | OT-OTT-003 | Otter Tail | MN 78 |
| Split Rock Lighthouse Overlook | LA-BBT-023 | Lake | MN61 |
| St. Paul Overlook [Burns Ave] | RA-SPC-2927 | Ramsey | US 61 |