Current projects
Graeser Park
Location: West of Hwy 100 between Broadway Ave and Bottineau Blvd, on Lakeland Ave in Robbinsdale, MN
Not Eligible for listing on the National Register of Historic Places (Previously eligible.)
Original Construction: 1940-41
Designed by: Arthur R. Nichols, Consulting Landscape Architect
Constructed by: Works Progress Administration (WPA)
Proposed Scope: Stone masonry repair or stabilization at the overlook wall, "beehive" oven, and rock garden trail at the E and of the rock garden and as needed where stones are loose. Replacement of disassembled stone picnic tables and benches from existing salvaged materials. Vegetation removals including trees impacting rock garden and invasive shrub removal. Interpretive sign and potential volunteer involvement with new plantings.
Construction Update: work has been completed in three different projects in the summer of 2021:
Tree removal: 4 "volunteer" trees growing in the rock garden were removed in March 2021. Two of these trees were growing in paths and 2 were growing close to a bench built in the embankment.
Stone picnic table restoration-Northern Bedrock Historic Conservation Corps. The Corps members worked with a technical expert from Advanced Masonry Restoration to repoint two picnic table pads, clean off another pad, and rebuild one picnic table from salvaged stone in the rock garden. They also did small repairs on the overlook wall. Work was completed in July 2021.
Stone Mason Contract- Environmental Associates Inc was the low bidder to do the contract to rebuild 10 tables, re-point 9 pads, and repair and repoint the beehive.  Work took place during the month of October 2021. Five picnic pads and rebuilt tables were completed. Work will resume and be completed in Spring of 2022.
Timeline: Summer 2021 and spring 2022
Additional information: This site is intended to be conveyed to the City of Robbinsdale after beehive repairs and reconstruction of tables (removed by MnDOT and salvaged) are completed. A full rehabilitation of the site and rock garden is not planned by MnDOT.
Highway Sponsorship potential volunteer partner has been identified.
Old Lilac Park, also known as "Rock Island" or "Monkey Island"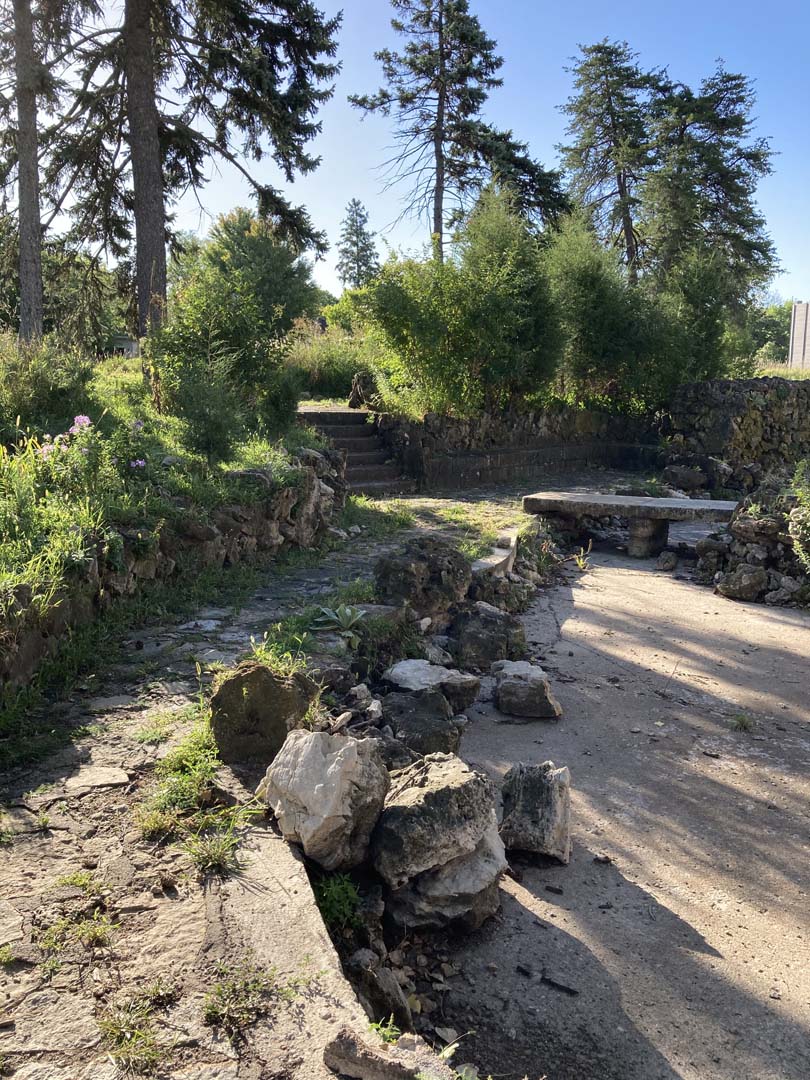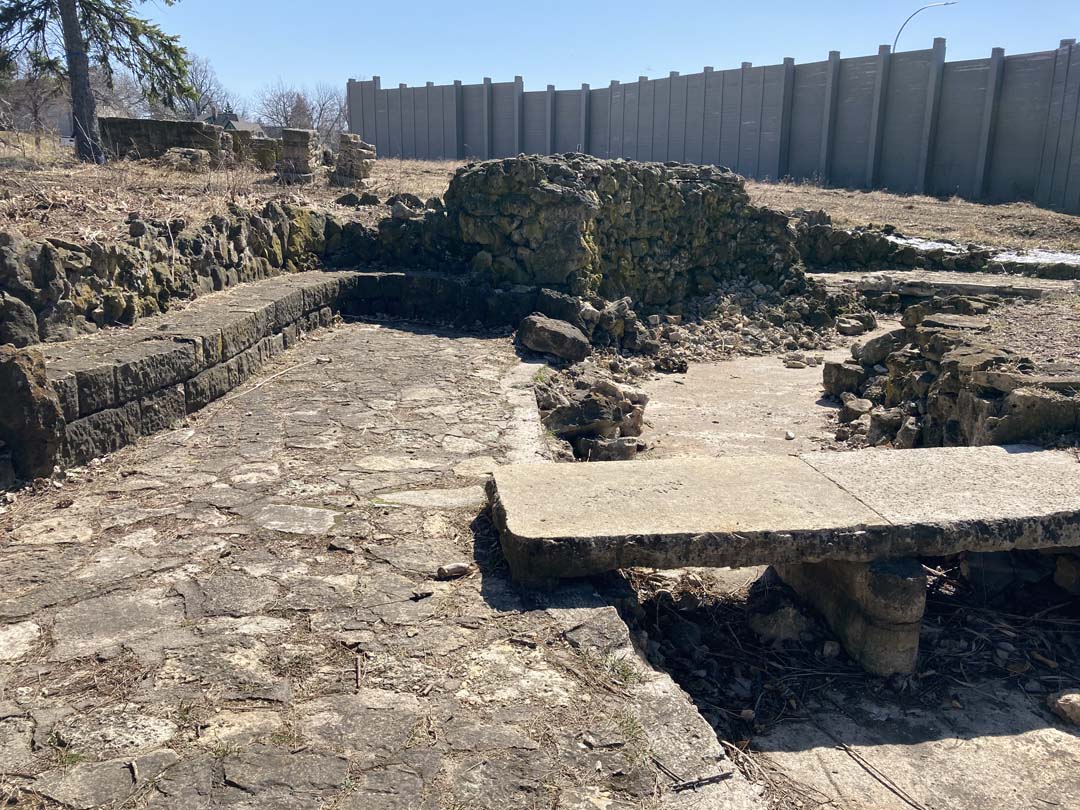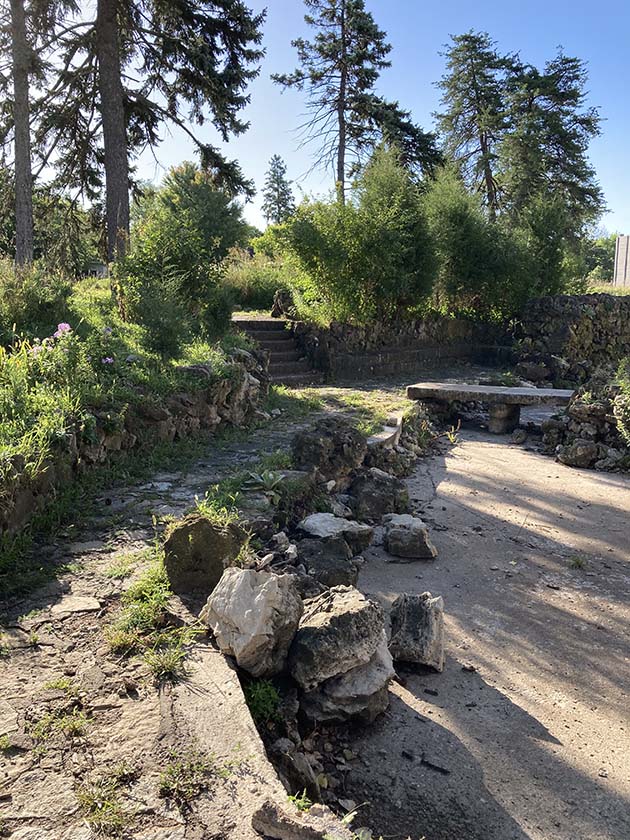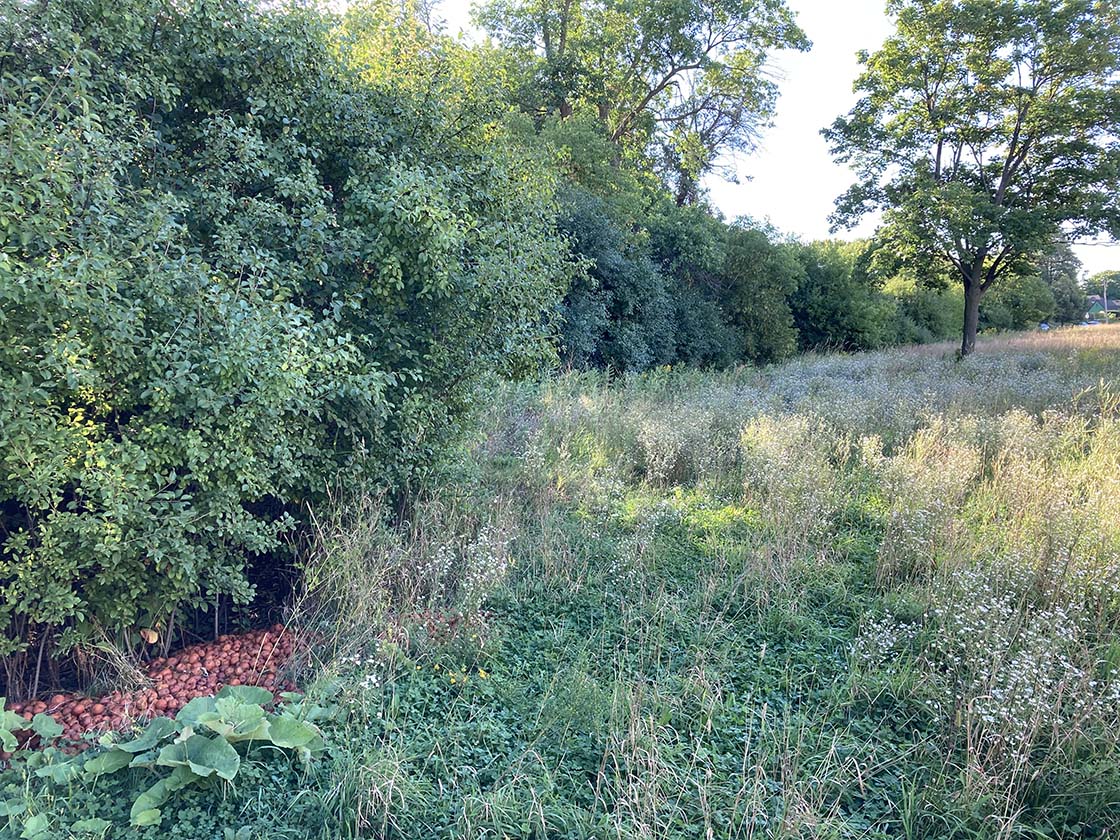 Location: Hwy 100 at Minnetonka Blvd (NE quadrant west of Toledo Ave and between West 28th Street and West 29th Street), St. Louis Park, MN
Not Eligible for listing on the National Register of Historic Places
Original Construction: 1938-39
Designed by: Arthur R. Nichols, Consulting Landscape Architect
Constructed by: Works Progress Administration (WPA)
Current Condition: This site has been substantially altered by several highway development and other projects. Most of the stone structures on the site were moved to the St Louis Park Roadside Parking Area at TH 100 and MN 7 (SE quadrant), which was re-named "Lilac Park." This included the beehive fireplace, as well as several stone tables. A small rock-lined round pond on the south end of the site was removed at an unknown date.
The site still retains a rock garden near the new sound wall north of W 29th St. and some loose segments of a former wall This rock garden is sunken into the ground and accessed via two stone stairs. A stone sheet waterfall once filled the stone lined concrete basin with water. The island has a concrete slab bridge to access it. The island once had a weeping willow growing on it. The garden is surrounded by low stone retaining walls and is surrounded with planting beds with stone edging. A stone bench built into the earth with a tall back offers a place to sit and view the garden and island.
Proposed Scope: A full rehabilitation of this site is not possible. Instead, minimal moves to support visitor safety and accessibility are planned along with ongoing vegetation management. Existing lilacs still grow along the Toledo and West 28th St corner of the park. These may be the only existing original lilac plantings of "Lilac Way."
Removal of diseased, damaged, volunteer and invasive trees and shrubs near the rock garden and in NE corner of site was completed in March 2021. Existing lilacs will be preserved. Modifications to path mowing may occur.
Supplemental shrub plantings may be added in the NE corner in the future. Enhancement of meadow with pollinator plants is also planned.
Masonry improvements may include: Repair of loose stone masonry in rock garden area for safety and to prevent ongoing deterioration. Reuse of stone wall segments. Add new concrete walk from existing trail to top of entry stairs for accessibility to view garden, add stone bench, interpretive signage.
Timeline: Tree and brush removal completed in March 2021, Stone repairs and accessibility work, TBD.
Additional Information: This project is on hold as discussions with the City of St. Louis Park are underway.
New Ulm Spring Roadside Parking Area Rehabilitation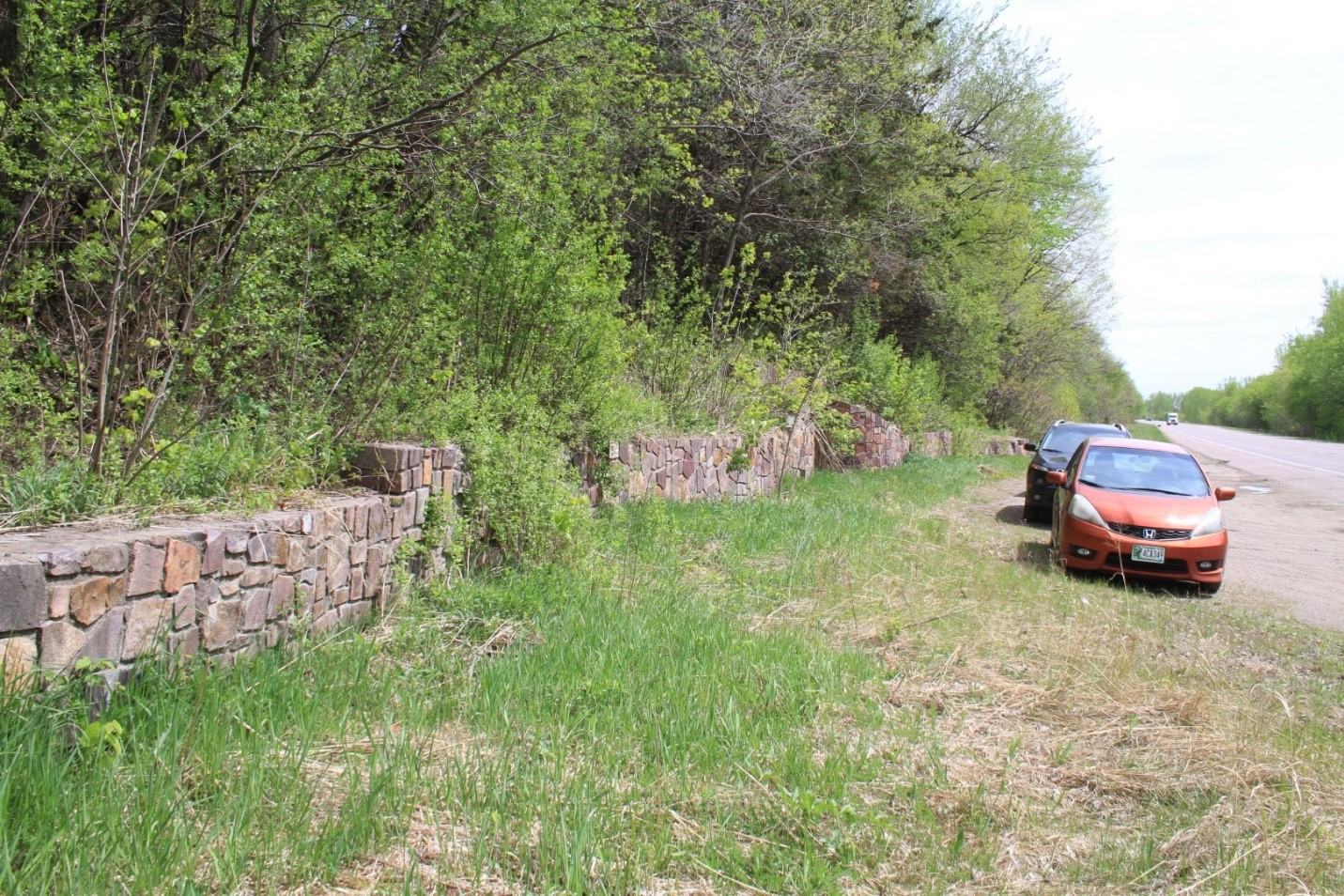 Location: TH 14 approximately 1 mile south of intersection with TH 15 on east side of MN river near New Ulm.
Not Eligible for listing on the National Register of Historic Places (Previously eligible. Goal of project will be to improve integrity to increase its potential for eligible status)
Original Construction: 1938-39
Designed by: Arthur R. Nichols
Constructed by: National Youth Administration, a federal New Deal work relief program during the depression.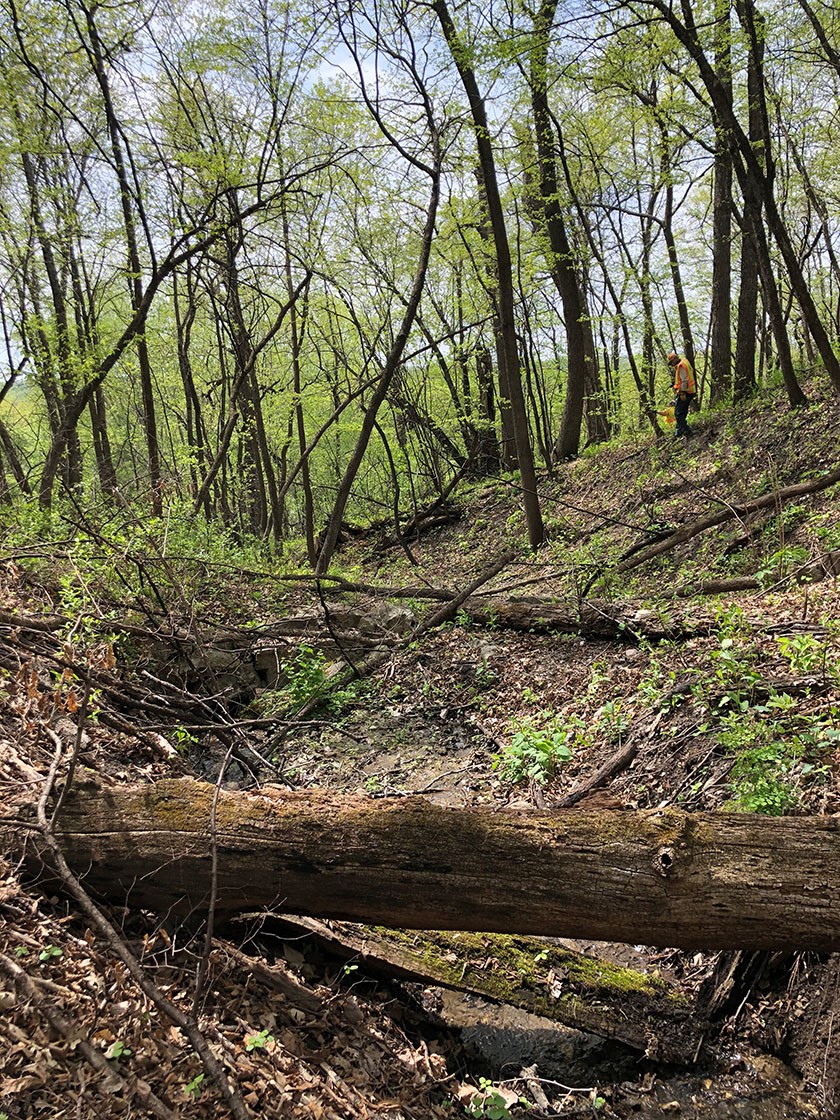 Project background: This project will rehabilitate the New Ulm Spring Roadside Parking Area (Class IV Rest Area), which is part of the Historic Roadside Property Program. In the late 1990s, the site was determined eligible for the National Register of Historic Properties, but in a 2014 reevaluation, was determined not eligible. The loss of eligibility was mainly for reasons of deterioration since the previous review. This project goal is to re-establish the integrity of the site and improve its potential eligibility. This is the only remaining WPA-era wayside in this part of the state (MnDOT District 7) and one of only 3 remaining sites in the Historic Roadside Property Program which were built around springs. All of them have been capped or disconnected. All work will follow the Secretary of Interior Standards for Treatment of Historic Properties.

Project Scope: Repair and repoint (removing and replacing mortar) the stone wall, replacing the gravel walk with a concrete walk, repaving the parking area, re-introducing the curbed island with  right in/right out one-way access. Repairing natural surface trails, stone steps and two picnic areas above the wall. Interpretation will be added and ADA accessibility improved by adding an accessible picnic table at the south end of the wall and curb ramps on the walkway. The spring outlet pipe will be stabilized, but water will not be restored due to contamination of the water source.
Vegetation management will include strategic removal of invasive shrubs such as buckthorn and invasive perennial plants such as garlic mustard, along with selective tree removal and pruning to open views of the river valley from the picnic areas on the hill.
Work will begin in spring of 2022. Work will be concurrent (but is a separate project) with road reconstruction on TH 14, called SP 5202-58. The site will be closed during construction as the TH14  construction will close the road.