About this project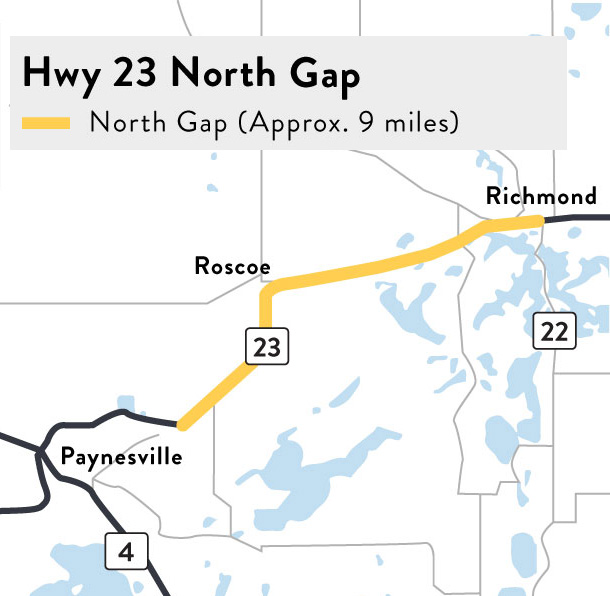 MnDOT will reconstruct and expand nine miles of Hwy 23 from two to four lanes between Stearns CR 33 in Paynesville and Hwy 22/Grant Ave SW in Richmond.
Summary of Work
Reconstruct and expand to four lanes (two lanes in each direction)
Replace pipe under CR 43
Realign and improve access to/from the following Hwy 23 intersections

263rd Ave
CR 12
CR 43
CR 114

Realign the highway curvature near Roscoe to improve sight distances
Reconstruct one mile of Glacial Lakes State Trail near Richmond
Glacial Lakes State Trail
Reconstruction of the Glacial Lakes State Trail near Richmond begins April 4
The trail will be closed from CR 12 to the river in Richmond from May 2 until May 23
Traffic impacts
Three detours will be required to complete this project. Access will be open to those who live, work or visit homes and businesses along Hwy 23; however, expect changes and use of alternate entrances. Hwy 23 will be a busy work zone. Watch for construction signs, lane closures, gravel surfaces, flaggers with use of pilot car, road crews and heavy equipment. Detours are as follow.
Hwy 23 North Gap main detour from Paynesville to Richmond (2022-2023). Detour is expected to run from mid-May through October 2022, and from May through October 2023. Hwy 23 will be closed from CR 33 in Paynesville to CR 12 (Maine St/CR 43) in Richmond. Detour uses CR 33 Payneville, CR 32, and CR 12 (Maine St) Richmond.
CR 43 Richmond detour (June through August 2022). Closed between Hwy 23 and Fellows Rd to replace a culvert. Detour uses Hwy 22.
CR 12 detour (Maine St) near Richmond (2 weeks in 2023, date to be determined).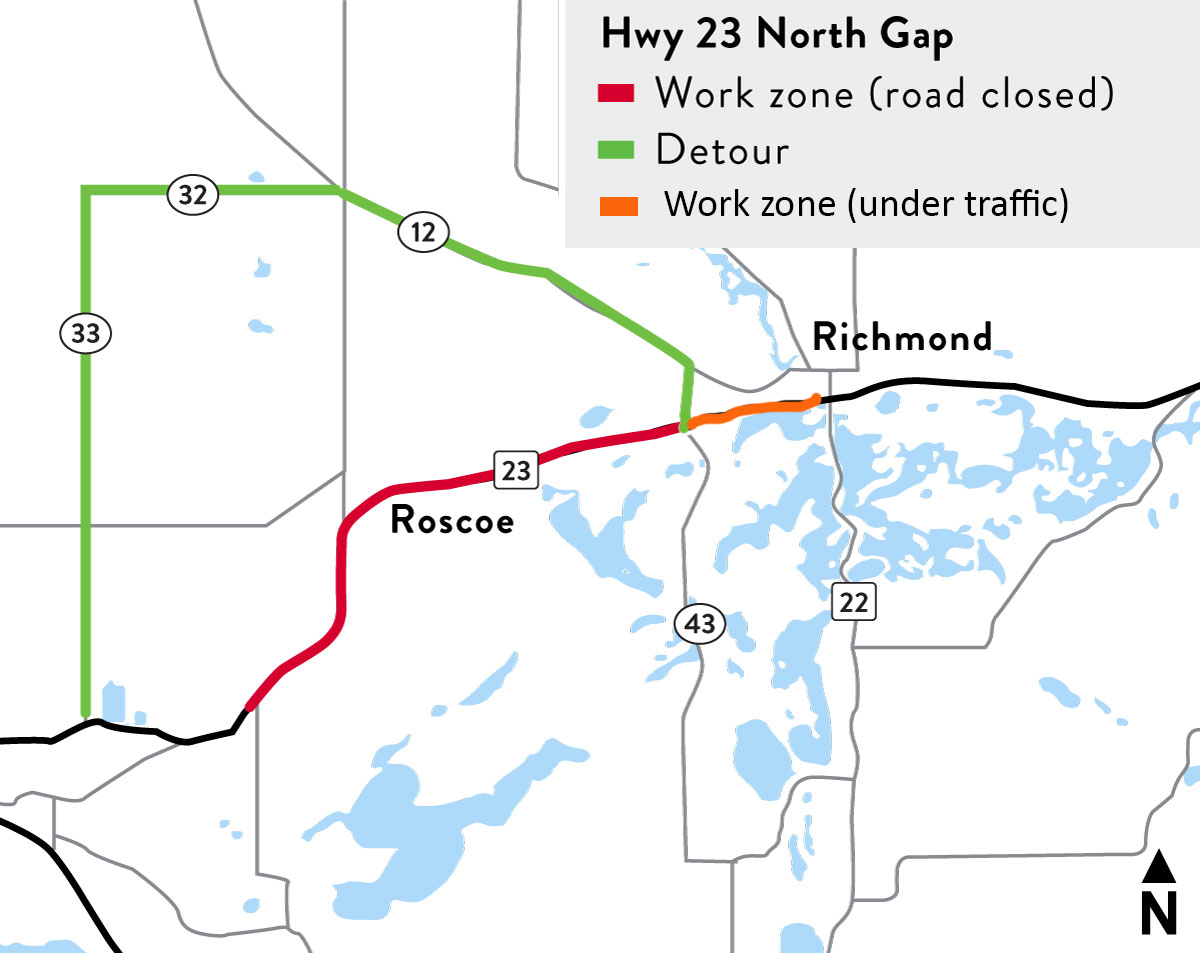 Project Update
Hwy 23 is closed between Paynesville (CR 33) and Richmond (CR 12).
Work is taking place throughout the length of the project
Background
Hwy 23 is an important interregional corridor that is a key artery for the economy in the region. It provides the primary east-west route connecting Willmar to Interstate 94 and beyond. The segment of Hwy 23 between Willmar and Interstate 94 is about 53 miles. All but 16 miles are a four-lane roadway.
Layouts
All current layouts can be found under the heading of current layouts, located on this page. The County Road 114/246th Avenue layout has been added as of Feb. 4, 2021. This change has been made to reduce the number of potential crash points at intersections that intersect with Hwy 23, to remove a horizontal curve on the county road realignment and reduce the length of county road realignment needed.
Project timeline
| Date | Description |
| --- | --- |
| Spring 2022 | Start of construction |
| May 31 - June 11, 2021 | Virtual open house |
| October 2019 | Public Open House #6 |
| May 2018 | Received $94.5 million in Corridors of Commerce funding for construction of North and South Gap projects |
| Dec 2017 | MnDOT issues Findings of Fact and Conclusion document |
| Nov 2017 | Public Open House #5 |
| Jan - Dec 2017 | Finalize environmental review and hold public hearing |
| Jan 2017 | Public Open House #4 |
| May 2016 | Public Open House #3 |
| Feb - May 2016 | Finalized preferred alternative |
| Dec 2015 | Public Open House #2 |
| Sept 2015 | Public Open House #1 |
| Sept - Dec 2015 | Prepare and analyze alignment alternatives |
| Summer 2015 | Gather data (surveys, field reviews, location studies, etc.) |
| June 2015 | Begin environmental review |