About this project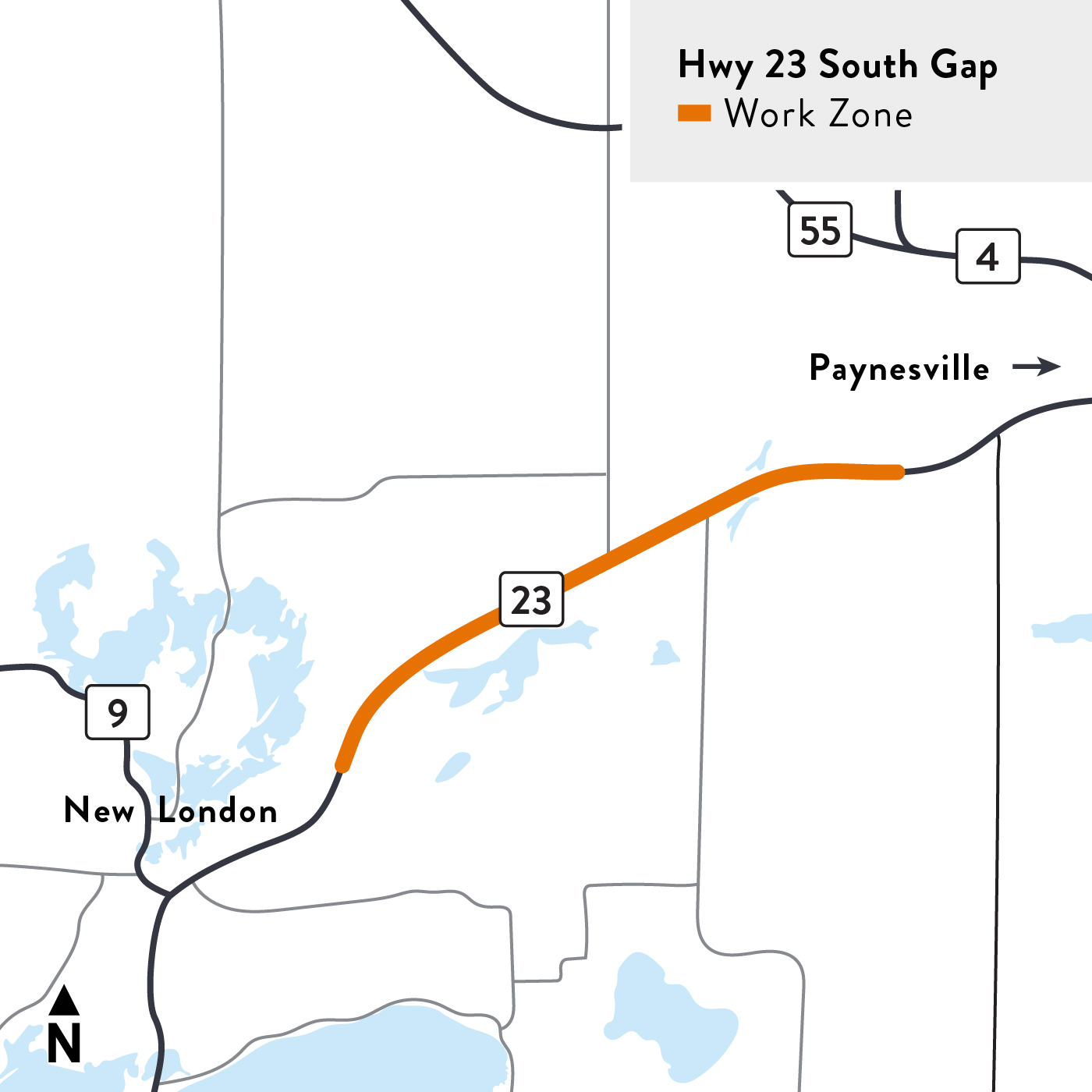 Expansion of Hwy 23 from New London to Paynesville from two-lanes to four-lanes.
Background
Hwy 23 is an important interregional corridor that is a key artery for the economy in the region. It provides the primary east-west route connecting Willmar to Interstate 94 and beyond. The segment of Hwy 23 between Willmar and Interstate 94 is a distance of approximately 53 miles. Of these 53 miles, all but 16 miles have been constructed as a four lane roadway.
Public meetings
You're invited to an in-person public meeting on Monday, July 25th from 5-7 pm at Peace Lutheran Church (100 4th Ave. SW) in New London. A project presentation will take place at 5:15 pm.
MnDOT is also offering a virtual meeting for those unable to attend the in-person meeting on July 25th.Click here to learn more about the Hwy 23 project.
Timeline
| Date | Description |
| --- | --- |
| Spring 2023 | Start of construction and detour |
| July 25, 2022 | In-person and virtual open house |
| Summer 2020 | Virtual open house |
| May 2018 | Received $94.5 million in Corridors of Commerce funding for construction of North and South Gap projects |
| June 2016 | MnDOT issues Findings of Fact and Conclusion document |
| May 17, 2016 | Public Open House #5 |
| November 2015-June 2016 | Finalize environmental review and hold public hearing |
| Jan. 28, 2016 | Public Open House #4 |
| July 28, 2015 | Public Open House #3 |
| February-June 2015 | Finalize preferred alternative |
| April 2015 | Public Open House #2 |
| January 2015 | Public Open House #1 |
| October 2014 - January 2015 | Prepare and analyze alignment alternatives |
| Late Summer/Fall 2014 | Gather data (surveys, field reviews, location studies, etc.) |
| August 2014 | Begin environmental review |