Sign up for project email updates
About this project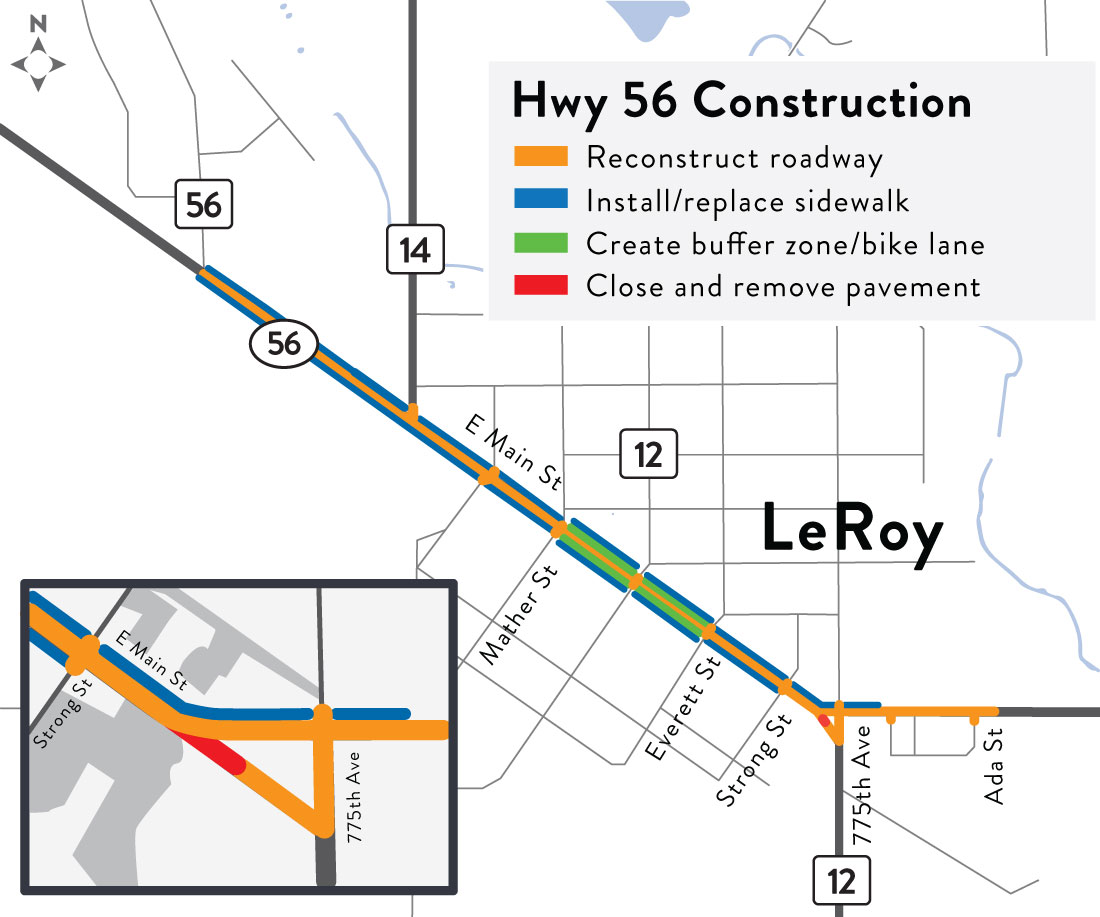 Learn more
Construction for this project will now take place in three stages in 2024-2025. Learn more in the traffic impacts section below.
Summary of work
A 1.2-mile stretch of Hwy 56 will be reconstructed in LeRoy to address deteriorating pavement conditions, improve drainage, enhance student crosswalk safety and make pedestrian improvements to meet current accessibility standards. At the same time, the City of LeRoy will replace aging city utilities underneath the road.
When planning this project, MnDOT engaged the community to get their input. Community members shared their concerns about safety on this stretch of Hwy 56 – particularly with vehicles going faster than the speed limit. Because of this community input and data analyzed by MnDOT, this project will reconfigure the Mower Co. Rd 12, Hwy 56 and Main St E intersection to make it safer without impeding traffic flow.
As a part of the planning process, MnDOT has identified several trees along Hwy 56 that will need to be removed. Because many trees are planted right next to the road, they will likely not survive construction. Many of these trees are located on MnDOT property. If any trees that need to be removed are located on private property, MnDOT will notify property owners and provide funds to replace them. Tree clearing work will begin in fall 2023. Tree clearing is done from November through March to protect the endangered long-eared bats that nest in southeastern Minnesota.
A map of which trees will be removed is available for review. Please note, trees marked with a red or green x will be removed.
Road construction is scheduled to begin in spring 2024. Construction is anticipated to be completed by fall 2024. MnDOT also plans to conduct additional landscaping work (tentatively in 2025), which would include adding new trees to boulevards.
The original project schedule was changed to allow MnDOT to absorb the increased cost of the project due to inflation, get necessary land access, and allow more time to collaborate with the city on the street design and other project elements.
Proposed work
Reconfigure Mower Co. Rd. 12, Hwy 56 and Main St. E. intersection to improve safety by reducing vehicle speeds while maintaining efficient traffic flow
Construct a cul-de-sac west of Mower Co. Rd. 12
Create a buffer zone between traffic and parking from Mather St. to Everett St. for biking
Improve school crosswalk safety by constructing a bump out at Mower Co. Rd. 14 and creating a wider school parking zone
Replace aging storm water, sanitary sewer and water main utilities underneath Hwy 56
Extend water main past Ada St.
Replace and install new curb and gutter
Replace and install new sidewalks
Landscaping, such as adding trees to boulevards (likely in 2025)
Details can be viewed on the project layout map.