Cost-effective management, programming and resource allocation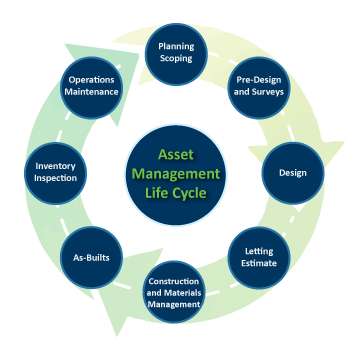 About Asset Management
Asset Management provides a solid foundation from which to monitor the transportation system and optimize the preservation, upgrading and timely replacement of highway assets through cost-effective management, programming and resource allocation decisions. It is a systematic process of maintaining, upgrading and operating physical assets cost-effectively throughout their life-cycle.
Asset Management provides a decision-making framework for handling both short- and long-range planning. The framework is guided by performance goals, covers an extended time horizon, draws from economics as well as engineering, and considers a broad range of assets.
It links user expectations for system condition, performance and availability with system management and investment strategies. (Source: FHWA Asset Management Overview, 2007 and AASHTO Transportation Asset Management Guide: A Focus on Implementation, 2013).