Prescribed fire for vegetation management
Healthy roadside vegetation is necessary for preventing weed infestations, controlling erosion, protecting water quality and keeping roadways safe. Fire is an important aspect of vegetation management because many types of plants actually need fire for ideal growth. It's used in combination with mowing, herbicide application, biological control and planting in MnDOT's Integrated Roadside Vegetation Management program.
How it works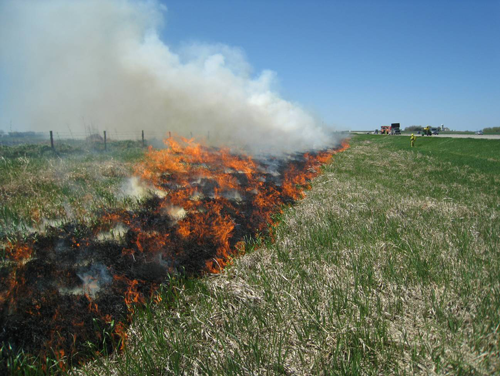 Detailed planning ensures that a fire can accomplish its goal while still being kept under control. Prescribed fires are intended to accomplish specific vegetation management goals. Detailed planning ensures that a fire can accomplish its goal while still being kept under control:

Weather conditions are chosen carefully
Necessary equipment and crews are coordinated
Fire breaks are mowed where needed to improve control
Authorities and nearby landowners are notified and DNR burn permits are obtained

MnDOT fire crew members have all been through a nationally recognized training for basic wildland firefighters. They are experienced in working with prescribed fires on roadsides and have all the necessary equipment to safely control the fire. View MnDOT's prescribed fire policy.
Where we use fire
MnDOT prescribed fire crews may be seen burning in the following areas.
Northwest Minnesota:
Hwy 59 SE Kittson County (from the Marshall County Line to Lake Bronson)
Hwy 75 Marshall County (from Warren to Stephen)
Central Minnesota:
Lake Wobegon Trail

Hwy 55 from Brooten to Belgrade
Hwy 65 in the Cambridge Area
St Cloud Travel Information Center on Hwy 10
Southeast Minnesota:
I-90 by Eyota

Hwy 218 between Austin and Owatonna
Hwy 56 from Rose Creek to Le Roy
Hwy 52 in the Harmony and Canton area
Hwy 14 west of Claremont

Wetland mitigation near Hokah

Wetland mitigation near Ellendale
Benefits
Better weed control: Simply spraying weeds does little to prevent repeat infestations. After weeds are controlled, there needs to be desirable vegetation that can fill in to prevent future weed problems. Fire promotes dense stands of native plants that can out-compete weeds and make it harder for them to get established.
Better water quality: Fire encourages dense native vegetation with deep root systems that prevent erosion and filter storm water runoff.
Better safety: Prescribed fire is used to control brush and small trees near the roadway, which would otherwise become safety hazards. Fire promotes tall native grasses and forbs that trap blowing snow and prevent it from drifting across the road.
How you can help
If you're driving by a prescribed fire in progress, treat the area as a work zone. There will be workers on the roadside, so concentrate on driving and follow any temporary traffic instructions. There is no need to report fires that are attended by a burn crew or when "Controlled Burn Ahead" signs are placed beside the road. If you have any questions, contact Ken Graeve at 651-366-3613.