Available District funds are awarded annually to approved partnership projects on a first come – first serve basis.
Desirable or approved projects may be downsized or deferred for a year if available funding becomes insufficient.
To be considered for approval, all projects must be submitted with a formal application.
An Application Manual includes guidelines, criteria, a project application, sample documents, and resources. The Application Manual can also be obtained from the State Landscape Partnership Programs Coordinator.
MnDOT District trunk highway funds are provided on approved projects to cover the cost of planting materials procured by the community partner.
Trees, shrubs, vines, perennial groundcovers, wildflowers, grasses, soil amendments, herbicides, edging, planters, tree grates, weed fabric, wood fiber blanket, mulch, rodent protection, staking and guying, and seedling shelters are considered planting materials eligible for MnDOT funding.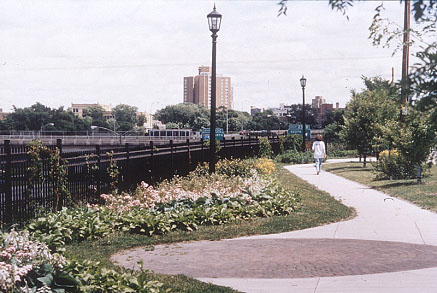 The community partner must install the landscape materials on MnDOT right of way using volunteers, employees, service organizations, contractors, or a combination thereof and must agree to maintain the improvements.
For purposes of this program, "communities" are defined as counties, home rule charters, statutory cities and towns. Applicants not defined as a community must be sponsored by a community, or other unit of government, capable of executing a binding agreement with MnDOT. Funds awarded under this program must be used for roadside landscaping located on state trunk highway rights of way with fee or easement title. Many areas of interstate freeways and high volume divided highways, with controlled access, are excluded from this program due to liability, safety and access problems. County State Aid highways are typically excluded since different funding mechanisms and procedural requirements apply to these projects.
To initiate a landscape partnership project, communities must submit a written request to the appropriate MnDOT District Engineer.
The state Landscape Programs Coordinator will assign a project manager for the proposed partnership project upon request from the MnDOT District Engineer. The project manager will provide design and/or technical assistance in developing projects and applications as their work schedules permits. In many cases, the plans are prepared by community representative with oversight by the project manager.
Completed applications must include a MnDOT approved Landscape Plan and they may be submitted for consideration at any time of the year. Submission of projects before July 31st will be considered for planting that fall. Project submitted before December 31st, will be considered for the spring planting season. Fall preparation improves planting and maintenance success.
In Minnesota, public requests for highway landscaping have continually increased. When local community residents are actively involved in their roadside planting projects, they are more satisfied with the outcomes. Resident involvement often provides the momentum, "community spirit" and resources needed for additional community support.
Landscape partnerships expand the network of responsibility, pride and ownership of highway landscaping while stretching MnDOT's available funding to cover more projects. Local community care and maintenance increase the protection of the landscape investments and the likelihood that the plantings will prosper.
Quick Links
Additional Links