Improvement and study information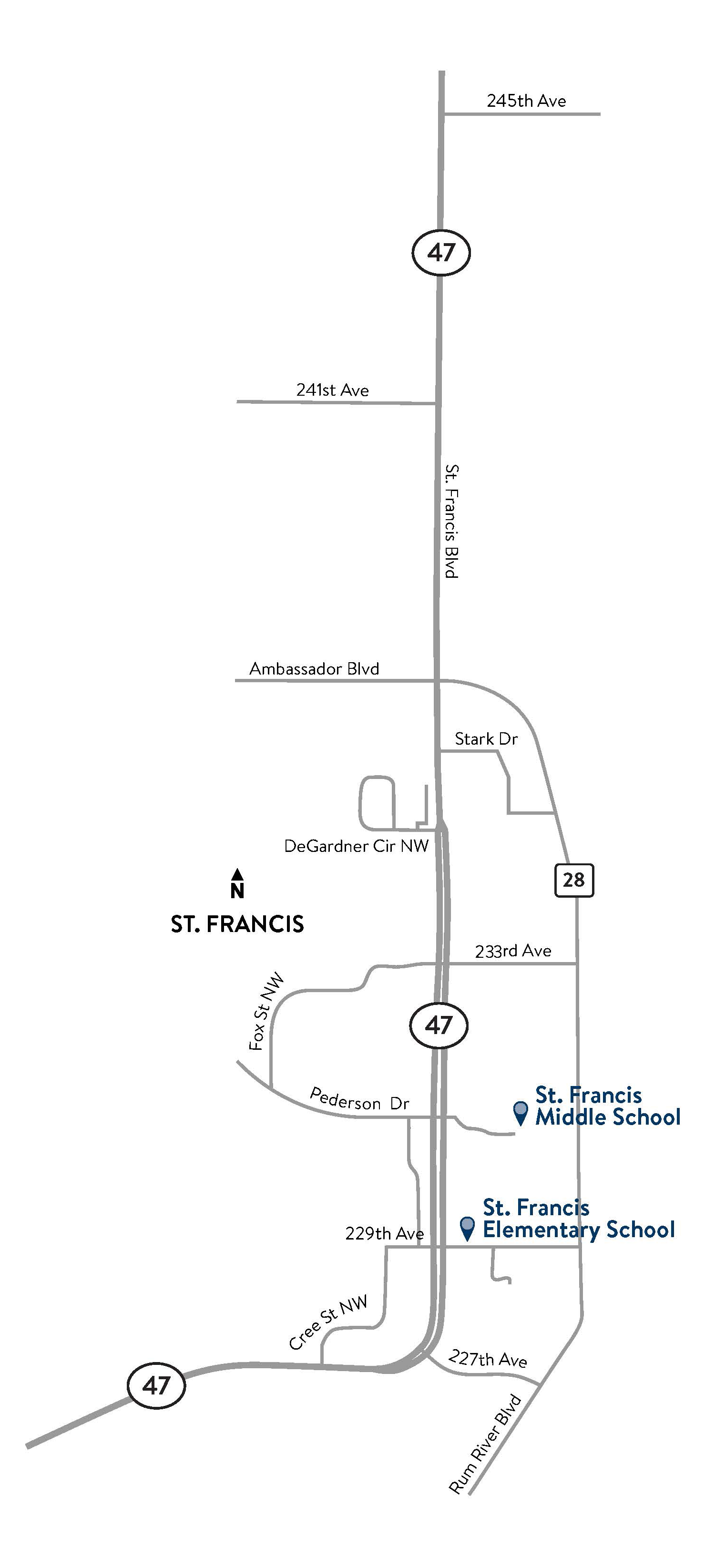 MnDOT, in partnership with Anoka County and the city of St. Francis, is making improvements to Hwy 47 in the city of St. Francis. The four-lane divided highway northwest of the Twin Cities metro area has safety concerns, most notably, at the intersection of Hwy 47 and Pederson Drive NW.
To immediately address these concerns, MnDOT is using the Minnesota Toward Zero Deaths program. Minnesota TZD is the state's proven traffic safety program that uses an interdisciplinary approach to reduce traffic crashes, injuries and deaths on Minnesota roads by combining education, emergency medical and trauma services, enforcement and engineering. 
In addition to immediate improvements, MnDOT is beginning a planning study of the Hwy 47 corridor to examine a range of alternatives to address pedestrian, bicycle and motorist safety, as well as road capacity, and access and mobility issues.
These efforts will develop short-, medium- and long-term solutions to improve safety for all users of the corridor.
Short-term solutions – December 2018 through February 2019
Completed Dec. 11, 2018: Install LED message signs at the entry points to the town of St. Francis. The messages will alert motorist not to exceed the speed limit on Hwy 47 and be cautious of pedestrian traffic.
Install flashing lights to alert motorists that the school speed limit is in effect.
Completed Dec. 19, 2018: Review the speed limit throughout the corridor. A speed study may determine the need to change the 50 mph speed limit zone and reevaluate the school speed limit.
Install "Your speed is" signs later this winter to provide speed information to motorists on Hwy 47.
Evaluate the lighting at the intersection of Hwy 47 and Pederson Drive NW to determine if illumination is adequate. Lighting improvements could be made to improve visibility and safety for motorists, pedestrians and bicyclists.
Make educational materials about safety available to community leaders, schools and businesses.
Work with law enforcement to perform targeted enforcement efforts.
Increase pedestrian warning sign and speed sign sizes for better visibility.
Begin a study of Hwy 47 within the city limits of St. Francis. The study will begin in early 2019. Information gathered during the approximately one-year study will be used to develop safety improvements along the entire Hwy 47 corridor within the city of St. Francis.
Medium-term solutions – March through September 2019
Install temporary traffic signal
Hold community listening sessions to seek ideas and feedback from the community. These meetings will help with engineering design and future construction.
Work with community to continue education and enforcement.
Long-term solutions – October 2019 through March 2020
Choose an engineering solution and identify funding for tentative construction beginning in 2021.
Work with community to continue education and enforcement.
Community solutions
Educate students and hand out MnDOT provided education.
Educate motorists on safety laws and pedestrian safety.
Fund a permanent crossing guard program at the intersection of Hwy 47 and Pederson Drive.
Parents of students could assist in the development of a Safe Routes to School program. A parent- volunteer would be needed to champion the efforts and fill out grant paperwork.
Safety tips
Pedestrians/bicyclists
Look before you cross
Make eye contact with drivers before crossing the street and show your intent to cross
Cross streets at marked crosswalks or intersections
Watch for turning and passing vehicles
Look across ALL lanes for moving vehicles before proceeding
Wear bright-colored or reflective clothing at night
Remove headphones and stay off cell phone while crossing
Motorists
Stop for pedestrians at every intersection, even those without crosswalks or stoplights
Leave room between you and the pedestrian when stopping
Look for pedestrians in all directions before proceeding through crosswalks
Scan the road and sides of the road ahead for pedestrians
Look carefully behind your vehicle before backing up
Watch for people in wheelchairs and motorized carts, who may be below eye-level
Eliminate distractions — Put down your cell phone