Vegetation
Watering
Planting dates
Specified planting times do not always line up with construction schedules, weather, and construction stormwater permit timelines. The following document explains how to apply the standard seeding and sodding dates and when to allow exceptions to them.
Seeding manual
Approved vendors
Blending MnDOT seed mixtures
Seed substitution tables to be used for blending mixtures when the required seed is unavailable:
Seed mix conversion table to update old MnDOT mixes to the current equal mixture:
Native seed species available from growers that have certified seed:
MnDOT Turf Grass Variety Approval Process
The New Turf Grass Variety Preliminary Information Form (PDF) should be used by vendors who would like to make a request for adding a variety to the approved list of turf grass varieties. The form also includes information on the timing for new variety requests and approvals as well as the type of field trial data that should be submitted to make approvals of new varieties.
Vegetation establishment recommendations: 2016-17
Recommendations updated the first quarter of the fiscal year (July-Sept)
Select the district letter from the state district map regions below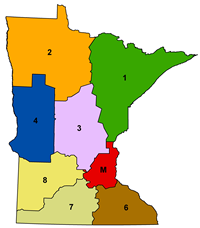 Specialty seed mixtures
Site specific specialty seed mixture design that should only be used when there is a requirement to provide beyond the standard mix design needs: