Traveling in the southwest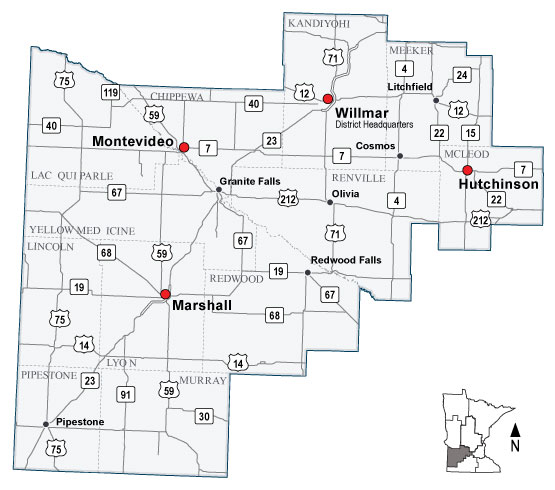 Traffic and roads
Traffic alerts
The southern passing lanes are now complete.  The detour between Pipestone and Holland will be removed by the end of the day today, Tuesday, August 23.  The traffic shift between Jasper and Ihlen will also be removed.  The speed limit in this segment will be changed back to the posted speeds prior to construction.  Shoulder rumble strips between Jasper and Iheln will be installed August 24 under traffic.
The detour (stage 1) from Raymond to Clara City will open this Friday, August 26. 
Work on the Nest Lake Bridge is complete. Hwy 23 is no longer be restricted and the two four way stops have been removed.
Motorists can anticipate short delays in Marshall starting Tuesday, Aug. 23, 2016 as two resurfacing (Hwy 19 & Hwy 23) projects will begin. Both projects will be done under traffic utilizing a pilot car with flagger. Both projects are expected to be complete Sept.9, 2016.
Hwy 14 SD state line to Lake Benton - Detour was removed the evening of August 18. Paving work will be done under traffic with a pilot car and flagger.
Hwy 23 Passing Lanes - Hwy 23 detour from Granite Falls to Cottonwood went into effect Wednesday, July 20.
Upcoming open houses
Hwy 23 Safety Assessment: Tuesday, Aug. 23 from 4:30-6 pm at the Marshall-Lyon County Library in the Community Room. Presentation starts at 5 pm. You can also view the presentation LIVE on the City of Marshall Facebook page. Not able to make the meeting? Not a problem. The presentation can be viewed anytime and materials will be available on the website.
News