Maintenance operations
Snow and ice control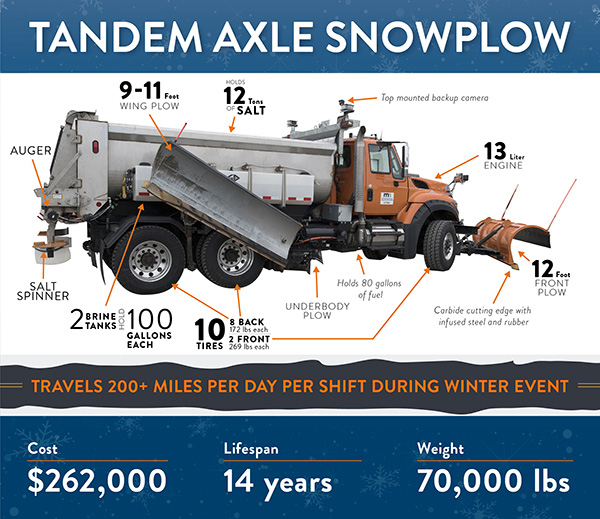 The area around a snowplow is considered a work zone. Please give crews room to clear the road.
Maintenance crew projects
Year round, MnDOT maintenance employees provide maintenance and preservation of Minnesota state highways. Projects include:
Snow & ice control (Anatomy of a winter storm)
Repairing potholes
Mowing along the highway
Guard rail repair
Removing debris from the highway
Paint striping
Patching
Shouldering
Ditch cleaning
Tree and brush clearing
Happenings around Southwest Minnesota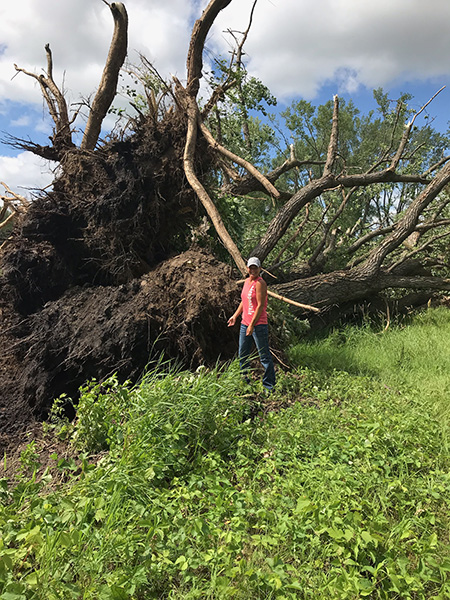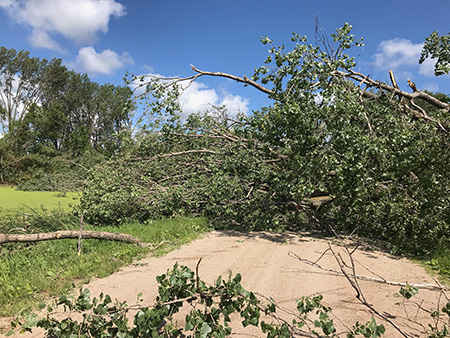 Crews cleaning up from tornado damage
A tornado uprooted this tree off Highway 22, just north of Biscay on July 28, 2019. It fell across a township road and kept maintenance crews busy with the removal.
Districtwide operations
Delineator post installations
MnDOT is installing delineator posts along all unlighted, four-lane rural highways. The statewide project is designed to aid traveler safety, especially during night and adverse weather conditions when pavement markings may be hard to see. The posts provide visual separation between roadways and the surrounding land through the use of a square-shaped reflector set on point at the top of each post. The project began Fall 2018 and will be completed at the end of Summer 2019.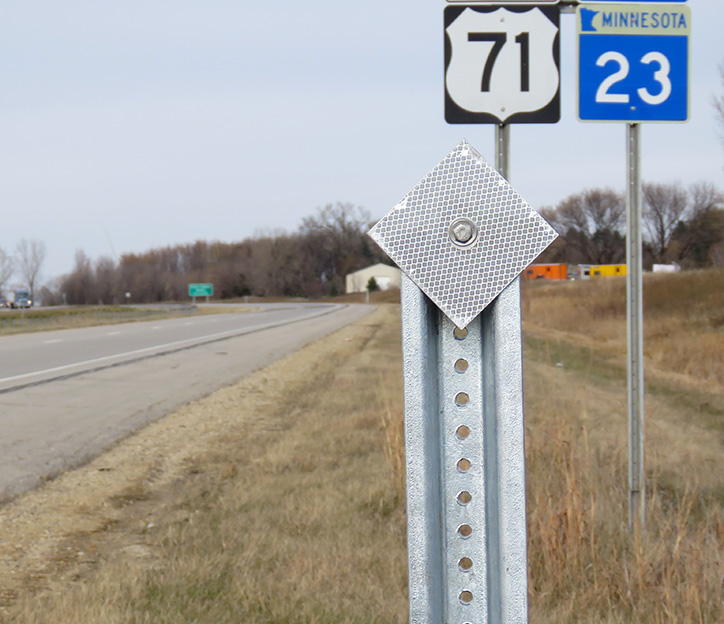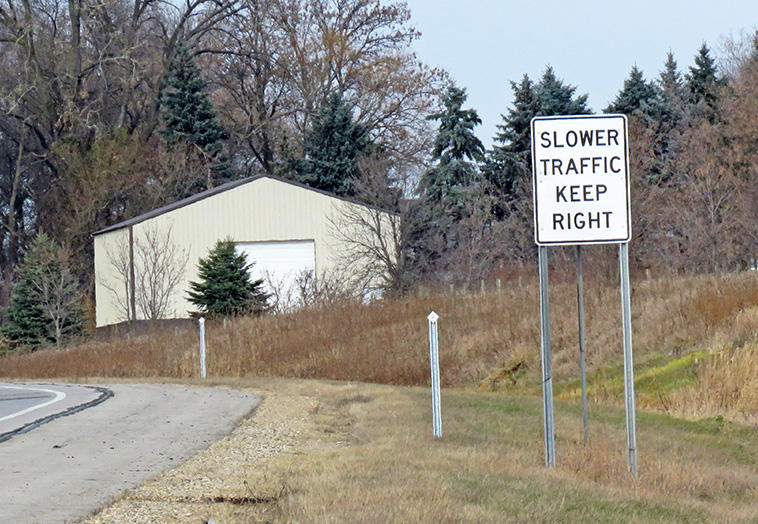 Posts are spaced 1/10th of a mile apart and will be installed on more than 1,300 miles of highways. In Southwest Minnesota, delineator posts are being installed along Highway 23 in Marshall and Granite Falls, as well as on US Highway 71 in Willmar, and along the four-lane portions of Highway 23 from Willmar to Paynesville. The posts will also be installed along US Highway 212 in Glencoe.
Districtwide striping
The Minnesota Department of Transportation (MnDOT) upgraded roadway striping to wet reflective markings on several highways throughout southwest Minnesota District 8, including Chippewa, Kandiyohi, Lac qui Parle, Lincoln, Lyon, McLeod, Meeker, Murray, Pipestone, Redwood, Renville and Yellow Medicine counties.
Striping operations for 2019 have been completed. Highways that received upgraded striping include (listed by county):
Chippewa/Kandiyohi - Hwy 7 from Clara City to Hwy 71
Kandiyohi - Hwy 71 from 0.5 m. north of Hwy 23 to 0.2 m. north of Hwy 9
Kandiyohi - Hwy 9 from 1st Ave. in New London to Hwy 104
Lac qui Parle - Hwy 75 from 1 m. north of Hwy 67 to 0.4 m. south of Hwy 212
Lincoln - Hwy 19 from SD state line to Hwy 75
Lincoln - Hwy 14 from SD state line to Hwy 75
Lyon/Redwood - Hwy 19 from 0.7 m. east of Hwy 23 in Marshall to 0.2 m. east of Hwy 67
Lyon - Hwy 59 from Hwy 14 to 0.3 m. north of Co Rd 6
Meeker/McLeod - Hwy 22 from Hwy 7 to W. Pleasure Dr. in Litchfield
Meeker/Renville - Hwy 4 from Hwy 19 in Fairfax to Northern Cross Ave. in Cosmos
Murray - Hwy 59 from Hwy 62 in Fulda to 0.25 m. north of Hwy 30
Pipestone - Hwy 75 from north Hwy 23 in Pipestone to 161st St.
Pipestone - Hwy 30 from SD state line to 8th Ave. SW in Pipestone
Pipestone - Hy 269 from SD state line to Hwy 23 in Jasper
Renville - Hwy 71 from 0.62 m. north of Hwy 19 to 0.7 m. south of Hwy 212 in Olivia
Yellow Medicine - Hwy 67 from 1.1 m. south of 240th Ave to 4th Ave. in Echo
Yellow Medicine - Hwy 68 from SD state line to Maple Ave. in Canby
Benefits of the project include enhanced safety. The project was estimated to cost $750,000. Century Fence was the contractor on the project.
Culvert repair projects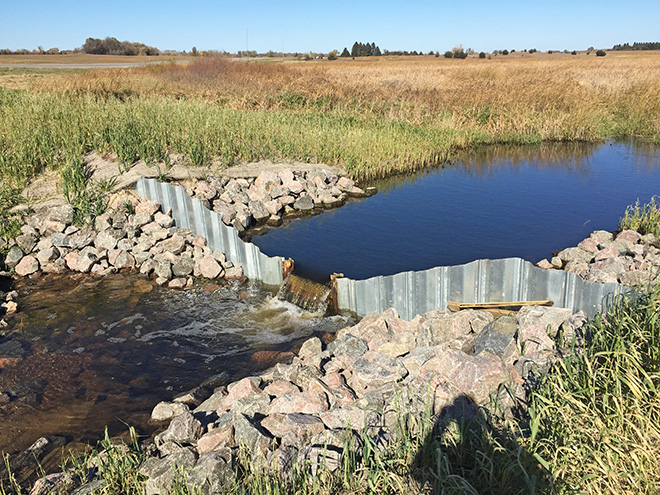 There were several districtwide culvert repairs during the summer of 2018. Here is a photo of a DNR water control structure along US Highway 71 N in Willmar. This project (also pictured below), will be completed in 2019. Seeding operations have been completed (2019).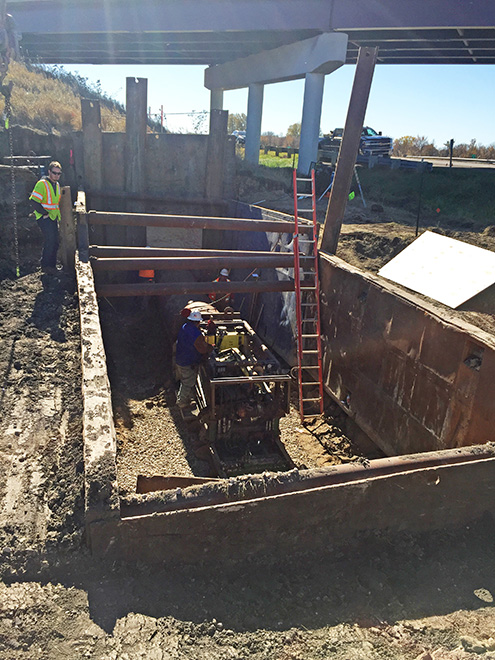 In this photo, the crew is in a trench box preparing the casing to push through the soil behind the boring/cutting head as part of the US Hwy 71 N in Willmar culvert repair project.