Project news
W. Nicollet to N. Mankato construction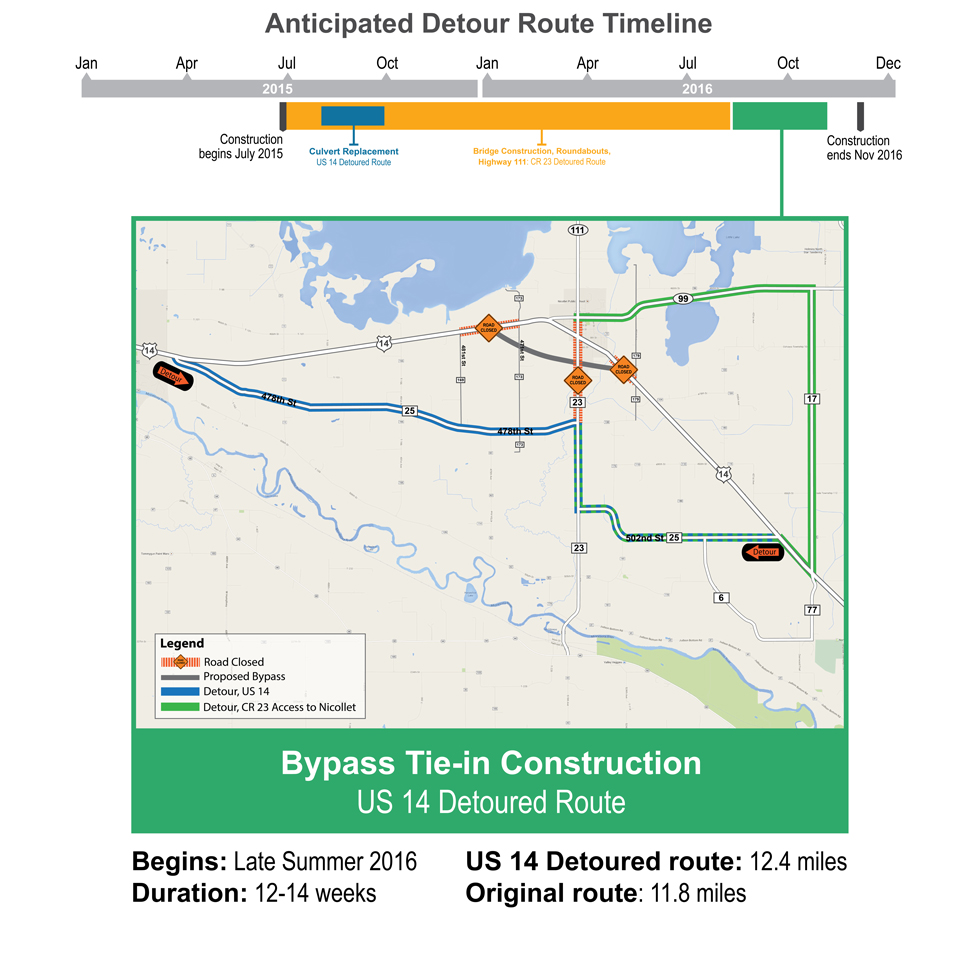 Hwy 14 Nicollet to N. Mankato detoured beginning July 25 (Weather Permitting)
Detour expected for 3 months
Weather permitting, Hwy 14 motorists from Nicollet to North Mankato are advised to prepare for a three-month detour beginning Monday, July 25 to build the connections between existing Hwy 14 and the new alignment south of Nicollet.
Hwy 14 detour consists of Nicollet County Roads 25 and 23.  Expect added stops at county road intersections.  As with any changes in routes and travel conditions, we advise added caution.
Hwy 111/County Road 23 (south of the new interchange) will be detoured to County Roads 25, 17 and Hwy 99. 
The duration of the detour has been increased from 2 to 3 months to assist construction that has been slowed by numerous rains.
This is the second year of construction on the expansion project.  This year work includes installing granular and aggregate bases then concrete paving, striping, signing, and erosion control.  The bridge for the new interchange was completed ahead of schedule, but rain after rain has slowed the earthwork by several weeks. The project is expected to be complete in November.
2016 Detour (JPG) for Hwy 14 Nicollet to North Mankato project (late-summer 2016 for about 90 days)

Nicollet County Rd 23 detoured until late summer 2016
Grade separated interchange (PDF) for Hwy 14 and Hwy 111 south of Nicollet
Minor access changes and access control purchased along corridor for improved safety

Nicollet CR 25 east of Hwy 14 closes March 28