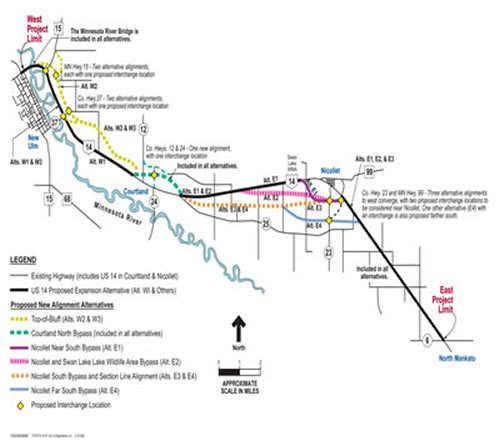 Quick Links
Overview
Status
Preferred route selected
Final environmental document complete
Interim safety measures underway
Four-lane expansion begins 2017-18
Location
Schedule
Interim safety project - fall 2012
Four-lane expansion from Nicollet to North Mankato 2017-18
New Ulm Minnesota River Bridge in 2018
Remaining unscheduled/unfunded
Description
Four-lane expansion
Bridge replacement
City Bypasses
Three phases to Hwy 14 improvements
The 2012 Road Safety AuditRoad Safety Audit (RSA)/(Road Safety Audit Summary)
confirmed that there is a problem on Highway 14 from Nicollet to North Mankato, particularly with head-on crashes. This information, along with performance data, indicates a need for a multi-pronged approach combining education, enforcement and a road solution.
It has been determined that Hwy 14 between North Mankato and Nicollet will be expanded to four lanes beginning in 2017 or 2018. In the meantime, MnDOT has taken steps to address the safety issues between now and 2017.
Increased Enforcement
The results of the RSA confirmed that roadway improvements alone will not address the safety issues along this corridor. The State Patrol continues with stepped-up traffic enforcement. This enforcement focuses on multiple driver behaviors: speeding, distracted driving, drunk driving and seat belt usage. MnDOT and the South Central Toward Zero Deaths Coalition will develop and implement education strategies. The goal of TZD is to eliminate deaths and injuries on all roads using a combination of four approaches: education, enforcement, engineering and emergency medical and trauma services.
Divided Two-Lane Highway
In the fall of 2012 MnDOT constructed an innovative roadway design for $2.5 million that will stay in place until the four-lane expansion project is completed. It includes an eight-foot wide buffer in the center of the roadway with lane separators and rumble strips between traffic lanes, which is intended to reduce head-on crashes. MnDOT will evaluate this design for use along other Minnesota highways facing similar risks. In addition to the safety benefits, this design adheres to the principles of MnDOT's new Corridor Investment Management Strategy program by deploying high return on investment approaches that meet regional priorities outside of performance-based criteria (e.g. roadway volume).

Four Lane Roadway from North Mankato to Nicollet
A four-lane solution for Hwy 14 is intended to meet the long-term needs of this section of the corridor. To maximize efficiencies, MnDOT will reuse as much of the existing pavement and materials as possible during construction. The four-lane project will be let in 2017 or 2018, construction will begin shortly thereafter and will take about two years. Estimated cost: $20-22 million to east end of Nicollet. $31-33 million if Nicollet bypass is included.
Final Environmental Impact Statement
The complete Final Environmental Impact Statement including the Summary has been reviewed by MnDOT and Federal Highway Administration. It documents the proposed project, potential environmental impacts, proposed mitigation and provides responses to comments in the Draft Environmental Impact Statement.
Preferred Route (W1 and E1)
Staying on the existing alignment, except for the expected north bypass of Courtland and a close south bypass of Nicollet is the preferred alignment for an expansion of Highway 14 to four-lanes from New Ulm to North Mankato.
Building four-lanes on the existing alignment west of Courtland (W1) creates some challenges, but the option of a new roadway on top of the bluff would be very costly to construct and maintain as well as cause significant impacts to farmland.
The north bypass of Courtland is the route the city has planned for several years.
The preferred route east of Courtland (E1) will require Mn/DOT to account for wetlands and coordinate with Swan Lake Wildlife Management Area, but dramatically reduces farmland impacts and better serves the city of Nicollet.
The preferred alignment is a consistent design (four lanes with limited access) with Highway 14 east of Mankato, improves travel safety by making the intersection with Highway 15 near New Ulm safer (a full interchange) and improves entrances to Courtland and Nicollet, and improves mobility to better serve increased traffic and the high truck count on Highway 14. Staying on the existing alignment minimizes impacts and reduces costs to maintain parallel routes.