Traffic impacts
Progress is picking up with the drier weather and the project should be complete in November. ATTN FARMERS: You can currently use a construction crossing at 490th St. until other crossings open permanently.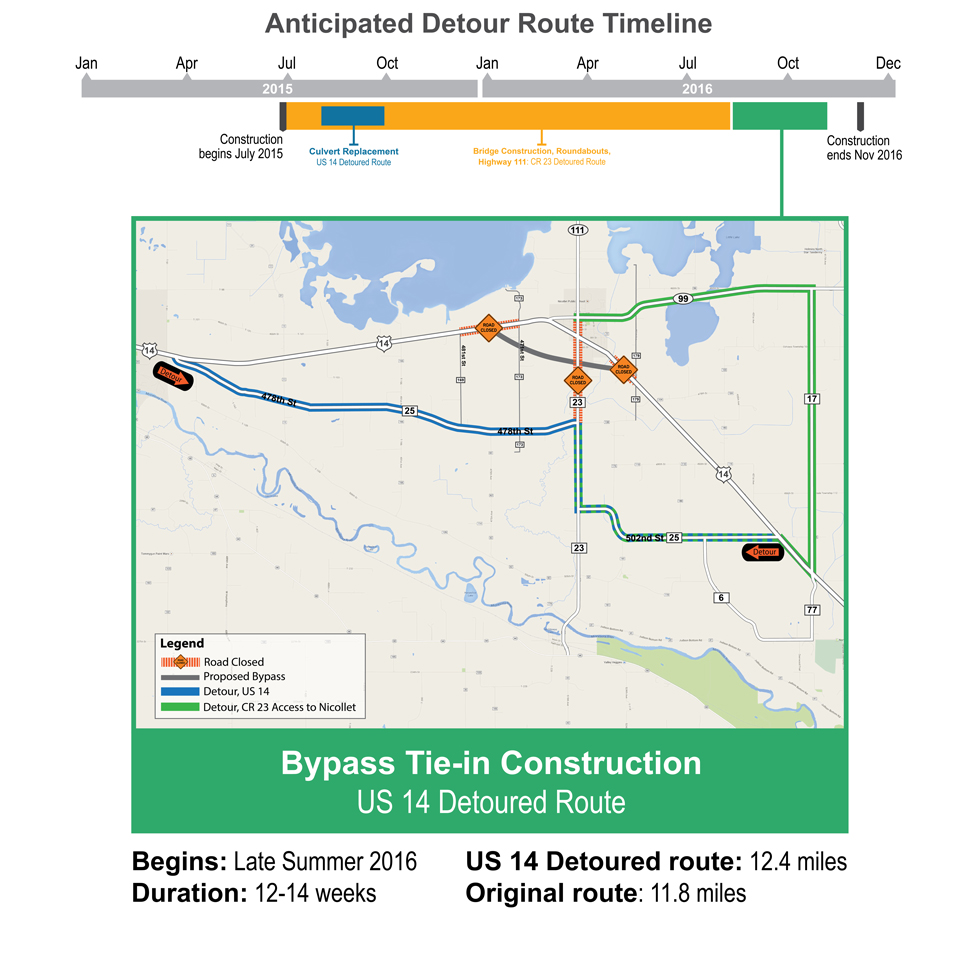 Hwy 14 Nicollet to N. Mankato traffic detoured
Detour remains in place
Westbound Hwy 14 carried on the new westbound outside lane and eastbound traffic will be carried on the existing Hwy 14 outside lane from the east end of the project to Nicollet County Road 25 for work in the median. This traffic change will stay in place until the project is complete in November.
The Hwy 14 detour (JPG) will remain in place until early November - Nicollet County Roads 25 and 23.
Hwy 111/County Road 23 (south of the new interchange) also continues to be detoured to County Roads 25, 17 and Hwy 99 until paving on the new Hwy 111 is complete.
October Construction Update:
Highway 14 Nicollet to N. Mankato project closing in on finish
Majority of paving complete

The past stretch of dry weather resulted in significant progress on the Highway 14 Nicollet to North Mankato project to the point where MnDOT can assure the public that it will open this fall.

MnDOT reports that the majority of concrete paving is done and that the asphalt paving is close to complete.

Friday's sunshine is allowing the workers to finish curb, gutter and sidewalk on Highway 111 at the new interchange with Highway 14. Asphalt paving is nearly complete on the shoulders and the crews will move to adjacent entrances.

This recent rain slowed some activities including turf establishment and the crews are still fighting some drainage issues. Other remaining activities include striping, signing and pond work.
Construction maps