Gateway New Ulm Project
Construction, detour underway
See the project for yourself! Work is underway on the Front Street Bridge and can be viewed live from the project web cam.
The Hwy 14/15 New Ulm Gateway project began in the December 2017 with preliminary work and the majority of the work in 2018-19. The project includes work on three bridges, 7th St. street scape, and landscaping. Work in 2018 and 2019 results in detours. This Handout - Summary with detour map will help you plan ahead as well as the following video highlights the project and detour for 2018. And if you have interest in the construction schedule check out the construction staging map.
Specifically, the project includes:
Detours
New Ulm to Nicollet designs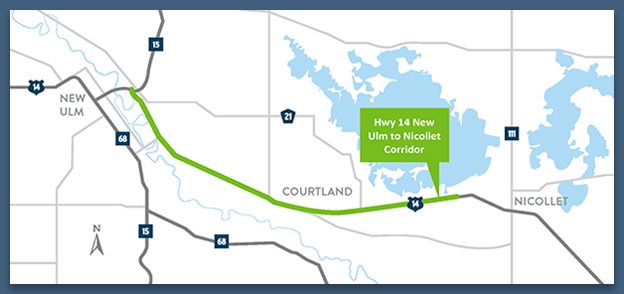 A Highway 14 New Ulm to Nicollet Task Force is charged with providing recommendations to MnDOT that make the best use of potential transportation funding.  The expansion of Highway 14 from New Ulm to Nicollet is currently unfunded, however, MnDOT is advancing the design and environmental processes to be prepared for potential funding from programs such as the Minnesota legislature's Corridors of Commerce.
Public input
MnDOT and the task force have hosted open houses in Courtland to get public input into the designs of a four-lane Highway 14 between New Ulm and Nicollet.
Interactive map (closed February 15)
Materials from February 22 open house follow and include draft maps and a preliminary recommendation from the task force: