Gateway New Ulm Project
Construction continues, new detour April 19
A new detour will begin April 19 consisting of Nicollet County Roads 5 (Fort Road), 12 and 21 until completion in Fall 2019. Map of Detour for 2019 (PDF)
You can watch the construction in New Ulm on this project web cam .
The Hwy 14/15 New Ulm Gateway project began in the December 2017 with preliminary work and the majority of the work in 2018-19. The project includes work on three bridges, 7th St. street scape, and landscaping. Work in 2018 and 2019 results in detours. The following video highlights the project and detour for 2018. And if you have interest in the construction schedule check out the construction staging map.
Specifically, the project includes:
Detours for New Ulm Gateway
Detour for 2018 (PDF) NOTE - THIS DETOUR REMAINS IN PLACE UNTIL SPRING 2019
Detour for 2019 (PDF) NOTE - THIS DETOUR WAS MODIFIED TO INCLUDE NICOLLET CR 21 DUE TO FLOODING ON NICOLLET CR 12 NORTH OF HIGHWAY 14.
New Ulm to Nicollet designs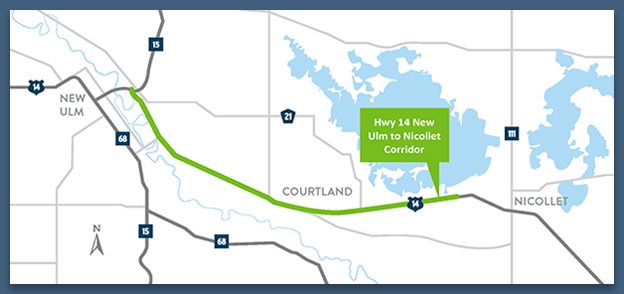 A Highway 14 New Ulm to Nicollet Task Force officially provided recommendations to MnDOT on June 19, 2018 that include: 
Interchange at CSAH 37/Hwy 14 – New Ulm south access
RCUTs (J-turns) at MVL High School, New Ulm Quartzite Quarries, and Jeremy Dr (ShadyBrooks subdivision) and a narrower section through this area to limit impacts
Interchange at an extension of CSAH 24/Hwy 14 north of Courtland – centered on town
Next steps include:
Request resolutions of support from cities and county
Continue to develop layout

  Gather survey info this summer for hydraulic designs & ponding
  Gather additional info on existing environmental impacts

  Meet with public
MnDOT's goal is to advance the project over the next year with design and environmental work so that if funding became available the project would be ready for right of way, final design and construction.
While the expansion of Highway 14 from New Ulm to Nicollet is currently unfunded, the recent selection of the Highway 14 Owatonna to Dodge Center for Corridors of Commerce funding moves this project farther up the list for future funding.
Public input
MnDOT and the task force have hosted open houses in Courtland to get public input into the designs of a four-lane Highway 14 between New Ulm and Nicollet.
Interactive map (closed February 15)
Materials from February 22 open house follow and include draft maps and a preliminary recommendation from the task force: