Future Projects
2016-2018 and beyond
More
District News
We invite you to view recent news, real-time traffic, hot topics, future and current construction projects.
Regional Information
Use this City Listing to find your MnDOT district. Or, click on a region below for more information.

District 3 — Central Minnesota
About us

The district encompasses much of central Minnesota, has two full service offices - headquarters in Baxter, with a second office in St. Cloud, including a lower level training center.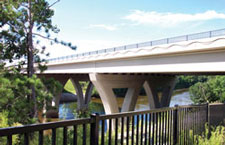 Hwy 371 Bypass bridge south of Baxter/Brainerd.
District 3
has the largest population base outside of the Twin Cities metropolitan area and continues to experience growth.

Services
MnDOT district employees plan, design, construct and maintain the state and federal highway systems. They also manage the aid and assistance given to county and city systems that qualify for state and federal dollars. District 3 provides transit, trail and rail transportation services as well.

If you are interested in public involvement with our transportation projects, please go to District 3's Area Transportation Partnership page for more information.

Counties Served

District 3 serves all or parts of Aitkin, Benton, Cass, Crow Wing, Isanti, Itasca, Kanabec, Mille Lacs, Morrison, Sherburne, Stearns, Todd, Wadena and Wright counties.

Twenty truck stations are strategically located throughout the district and staffed with experienced employees who keep the roadways safe and maintained.
District Supports
1,607 centerline miles (4,001 lane miles) of state, U.S., and interstate highways


423 bridges


367 miles of rail line


110 miles of paved trails


20 public airports


Eight transit systems

Northstar commuter rail line service

13 Park-and-Ride/Pool lots


Eight public rest areas, including two Travel Information Centers

718 Adopt-A-Highway groups

St. Cloud training/conference center

MnROAD (Minnesota Road Research Project) on Interstate 94


Major Projects
Highway 10, 15 St. Cloud/Sauk Rapids, reconstruct pavement, 2014-2015
I-94 Rogers to St. Michael, reconstruct and improve capacity, 2014-2015
Highway 24 Clearwater, replace the Mississippi River bridge, 2015-2018
Highway 25 Monticello, expand four lane segment to CR 106, 2015
Highway 25 Buffalo, reconstruct and improve capacity, includes Highway 55 intersection, 2016
Highway 371 Nisswa to Jenkins, expand to four lanes, includes new interchange at CR 11 in Pequot Lakes, 2016-2017
Highway 371B/South Sixth Street Brainerd, reconstruct roadway includes city underground utilities, 2017
Highway 10 Elk River, replace Lake Orono/Elk River bridge, 2017
Highway 210 Brainerd, replace the Mississippi River bridge, 2023
Highway 27 Little Falls, replace the Mississippi River bridge, 2024
Project dates subject to change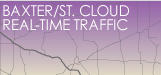 Quick Links
Statewide and District Investment Plans
Connect with us