Bicycling in Minnesota | Routes and Maps | U.S. Bicycle Route 41 | About the route
About U.S. Bicycle Route 41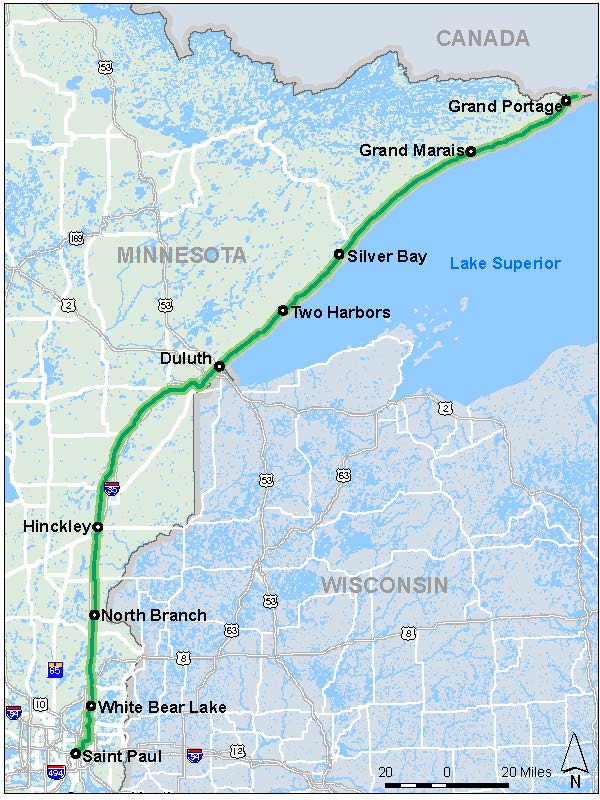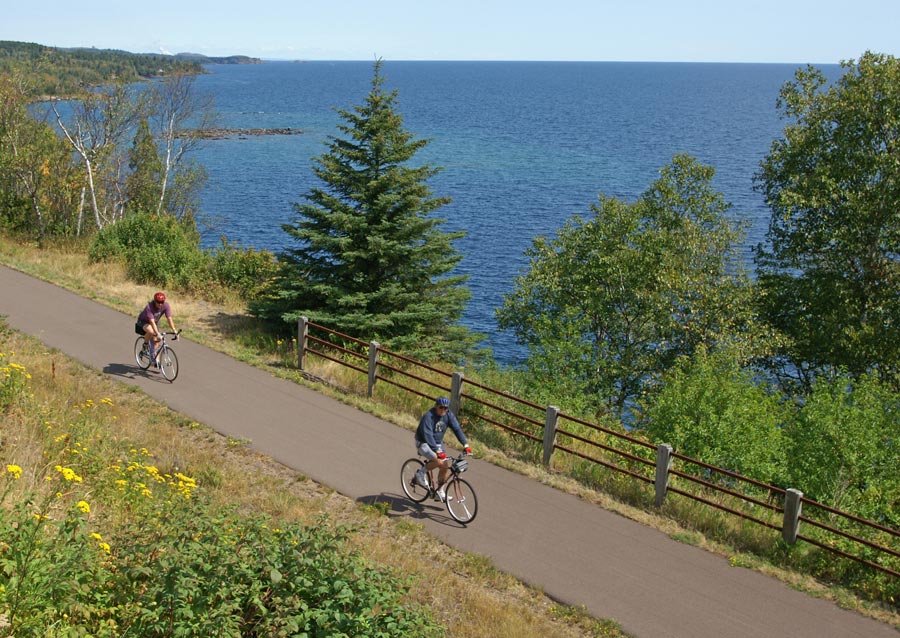 Location and length
USBR 41 travels northward 315 miles from its start in St. Paul at the junction of USBR 45, the Mississippi River Trail, to the end at Grand Portage State Park at the Minnesota/Canadian border. The route is located nearly half on state, regional, and local trails, with the remaining segments located on the shoulders of paved roads.
Bicyclist and route profile
With nearly half of USBR 41 on regional and state bicycle trails, there are segments suitable for all types of bicyclists. Bicyclists riding the entire route must be experienced and capable of sharing the road with cars and trucks. 
USBR 41 was developed for adult bicyclists with a driver's license and several years of bicycling experience. Most roads have no special provisions for bicyclists; you must assume responsibility for your own safety and practice defensive cycling. For young or less-experienced bicyclists, there are many miles of trail available for your skill level. 
Between St. Paul and Duluth
USBR 41 is largely on state and regional trails; when on roads, shoulders are generally 4 feet wide or greater. Shoulders may narrow at guardrails, bridges, rumble strips and right turn lanes. Posted road speeds range from 30 mph within cities to 55 mph between cities.
Between Duluth and the Canadian border
USBR 41 closely follows the North Shore of Lake Superior. The route is on nearly 10 miles of Duluth's city trails and approximately 30 miles of the Gitchi Gami State Trail, with the remaining miles on road shoulders.
USBR 41 is largely on Scenic 61 (Duluth to Two Harbors) and Minnesota Hwy 61 (Two Harbors to Canadian border). Road sections are mainly two-lane and part of the North Shore Scenic Drive. The posted road speeds are typically 55 mph; 30-40 mph within cities/tourist areas.
There are intermittent sections between Two Harbors and Cascade River State Park (panel map numbers 8-11) where the shoulder is narrower than 2 feet with a 55 mph posted speed. Shoulders may also narrow at guardrails, bridges, passing zones, rumble strips and right turn lanes. There are few options to travel off Minnesota Hwy 61 where the shoulders are narrower than 4 feet with high-speed traffic. Where practical options exist, they are listed in the panel map instructions.
Traffic volume: 2012 average daily traffic volumes on Hwy 61 near Two Harbors are approximately:

May: 7,500
June: 8,500
July: 8,500
August: 9,000
September: 7,500
October: 7,000
See the MnDOT interactive base map for traffic volumes and speed limit information.
Safety
On-road segments
Over time, agencies and advocates plan to build more miles of trail separated from motorized traffic. Until more trail is built, bicyclists on all road shoulders must be experienced, capable of sharing the road with cars and trucks, and bicycle defensively due to the traffic speeds, volumes, and separation from motorized traffic.
If you are not an experienced bicyclist, there are many miles of trail available that are better-suited for your skill level. USBR 41 panel maps indicate locations where shoulders are narrower than 4 feet and where trail exists. In the narrow-shoulder sections, maps will sometimes show an alternate route, although options will generally be on non-paved, gravel roads.
Rules of the road:
When traveling on roads, bicycles are a vehicle—a non-motorized one, but a vehicle nonetheless. Bicyclists are encouraged to "drive" appropriately:
Ride safely and abide by the rules of the road.
Ride single file with traffic.
Follow best practices and position yourself appropriately based on the road speed, volume and shoulder/lane conditions.
Use hand signals to indicate turns and movements.
Stop at stop signs and signals.
Be considerate about when and where your bike is parked and locked.
Off-road segments
The off-road segments on paths and trails are generally suitable for bicyclists of all abilities including bicyclists new to long distance touring (including younger family members). Keep in mind you will likely have contact with automobile traffic, but typically only at intersections and trail crossings and between the route and your lodging. While on paved paths and trails, you will be sharing space with other bicyclists, rollerbladers, pedestrians and families with small children. Make sure to alert them to your presence.
Grades and accessibility
Compared to bicycling in the Appalachian or Rocky Mountains, this route is relatively flat. This is especially true for those traveling the Bruce Vento, Gateway, Hardwood Creek, Prairie Sunrise and Willard Munger Trail segments.
Roughly half of USBR 41 is on regional and state bicycle trails that, wherever feasible, meet Americans with Disabilities Act grades. Some of the trails were constructed on abandoned railroad grades and are relatively flat and constructed with accessibility considerations important to a variety of the users. The Gitchi Gami State Trail between Gooseberry Falls and Beaver Bay (panel map number 9) includes some sections with steep hills and curves.  The area near Mount Josephine (near Grand Portage; panel map number 13) also includes hilly terrain. The USBR 41 panel maps include elevation profiles.