About U.S. Bicycle Route 45
Location, length and alternatives
Minnesota's Mississippi River Trail winds roughly 620 miles downriver from its source within Itasca State Park to the Iowa border. Located largely on the shoulders of paved roads and on low-traffic roads, the route also includes relatively long segments of scenic state and regional trails.

Bicyclists have two route alternatives between Cass Lake and Brainerd:
| Route Alternatives | Explorer's On-Road Route | Family Friendly State Trail Route |
| --- | --- | --- |
| River orientation | Parallels the river with terrific views | Does not parallel the river, focuses on connecting river cities via the Heartland and Paul Bunyan State Trails |
| Audience | On-road touring cyclists | Young people and adults new to bicycle touring |
| Length | 200 miles | 100 miles |
| Surface | Predominately asphalt roads and shoulders with approximately 7 miles of packed gravel roads (between Palisade and Aitkin) | All asphalt |
| Accommodations | Lodging and other services are limited between Grand Rapids and Aitkin | Broad selection of amenities and accommodations |
Throughout the 72-mile long Twin Cities Metro Area, the MRT is routed on both sides of the river - you can pick a side or ride both. The bikeway is located within the Mississippi National River and Recreation Area (MNRRA), an urban national park. Although much of the route is presently on-road, several off-road regional trails suitable for a wide variety of bicyclists are featured within this segment (local and regional planning is presently underway for several new off-road river-oriented trails with the eventual outcome being a continuous 144-mile off-road Metropolitan river loop).

Finally to the south, bicyclists can remain on roads below the Mississippi River Bluffs or ride the Apple Blossom Scenic Byway. The byway allows bicyclists a view of the Mississippi uplands, spectacular views of the river and adjoining bottom lands. It also offers access to Great River Bluffs State Park.
Grade
Compared to bicycling in the Appalachian, Rocky or Smoky Mountains, this route is relatively flat. This is especially true for those traveling the Paul Bunyan and Heartland State Trails between Cass Lake and Brainerd and other trails within the Twin Cities Metro Area which have a maximum sustained grade of 3 percent. The steepest climb of the road route is 578 feet and is located on the Apple Blossom Scenic Byway.
Route navigation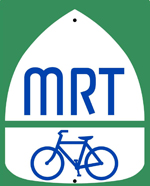 The MRT is signed from the Headwaters at Itasca State Park to the Iowa border, but there are a few locations where signs are not posted. While signs are helpful to navigate, they are not the only or the primary way to do so. Use a map to identify trail sections and connections.
Known areas with incomplete signs include:
Clearwater County (from the northern boundary of Itasca State Park to Becida/MRT Map A)
Aitkin County on County Road 10, also called Great River Road
Hennepin County

Dayton River Road (between Dayton and Champlin — west side of river/MRT Maps 3 & 4)
Marshall Avenue (between St. Anthony Parkway and 8th Av NE in Minneapolis — east side of river/MRT Map 8)
Minneapolis Park Board property (all parkland between 53rd Av N and northern boundary of Fort Snelling State Park — near E. 54th St/MRT Maps 7-10)
Riding safely
When traveling on roads, remember that you are a vehicle — a non-motorized one, but a vehicle nonetheless. You are encouraged to "drive" appropriately:
Ride safely and abide by the rules of the road
Ride single file with traffic
Use hand signals to indicate turns and movements
Stop at stop signs and signals
Be considerate about when and where your bike is parked and locked
While on paved paths, you will be sharing space with other bicyclists, rollerbladers, pedestrians and families with small children. Make sure to alert them to your presence. In some cases, bicyclists wishing to ride at higher speeds have the choice to ride on the road adjacent to the path.
Biking the Mississippi
Ride it all or just enjoy a segment or two. The Mississippi River Trail provides opportunities tailored for bicyclists of all types and ages to follow America's great river. 
Minnesota's portion of the ten-state bikeway starts at the river's source in Itasca State Park, where the water is just ankle-deep and a narrow small stream. From there, it grows and gains momentum until forming the bluff-lined valley to the south of Minneapolis and St. Paul. The route winds over 600 miles along the river and its various tributaries to the Iowa border — passing through valleys, bluffs, prairies, and woodlands. Minnesota's route primarily relies on road shoulders and low-traffic roads, but also includes relatively long segments of scenic state and regional trails. Minnesota's route, sometimes on both sides of the river, totals more than 800 miles. Download a printable map of the route, or view it on your phone.
In total, the bikeway—from its Minnesota source traveling downstream to the Delta Region at the Gulf of Mexico—is nearly 3,000 miles long. When traveling the Mississippi River at the pace and intimacy of a bicycle, you'll see what many tourists never will. Matching travel to your needs and desires, you will be immersed in the river's way of life and share with your family and friends a route filled with history, enchantment, and remarkable adventure! There's something for everyone. Come experience and enjoy the river!