January 2020 (CD available upon request)

PaveCool for Android 3.0

PaveCool for iPhone/iPad 3.0
PaveCool.exe (save this file to your desktop to run PaveCool 3.0 without installing it)
Download PaveCool 2.5 (For Windows 95, 98, NT, 2000 or XP)
This version includes an export button that will export old .pcl files to a .pc3 file that can be read by PaveCool 3.0
CoolTool.exe (save this file to your desktop to run PaveCool 2.5 without installing it)
PaveCool Final Report (PDF 1 MB, 146 pp)
Consideration of Hot-Mix Asphalt Thermal Properties During Compaction (ASTM), 1996 (PDF 500 KB, 15 pp)
About PaveCool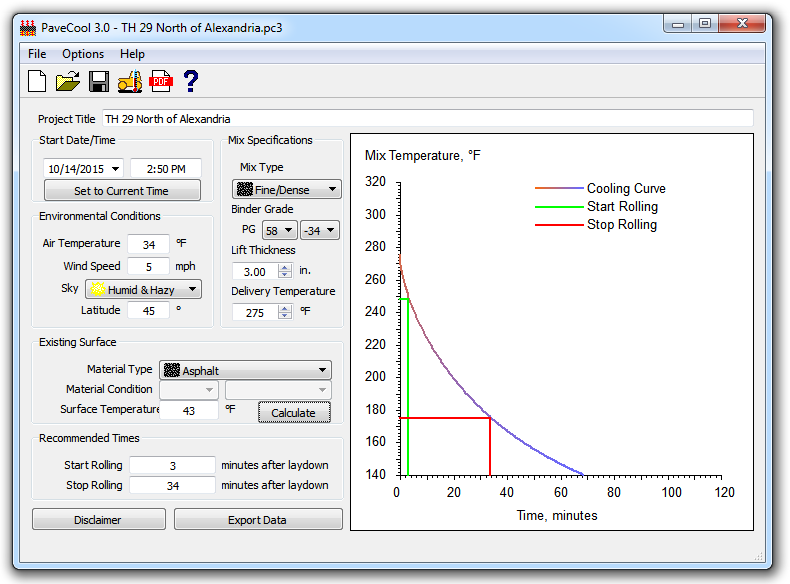 One of the biggest problems in Minnesota's bituminous pavements is a lack of in-place density due to late season paving practices. When bituminous materials are placed in cool weather, they are difficult to compact properly because the asphalt stiffens too rapidly.
A computer tool (PaveCool) has been developed to assist asphalt contractors, inspectors and engineers to make rapid decisions regarding cool-weather paving. The user enters the time of day, the date and the latitude of the paving job. Next, the type of mixture is entered along with the type of surface being paved.
The surface temperature, air temperature, wind speed, lift thickness and mixture delivery temperature are then entered. The final input is the amount of cloud cover.
A heat flow model is used to compute the temperature drop in the mat and the time it takes for the asphalt mix to cool from it's delivery temperature to 175 °F (80 °C).
If the user feels that there is an inadequate amount of time available to compact the mixture, options can be explored to extend the time. For instance, increasing the lift thickness or mix temperature will increase the window of time for effective compaction of the pavement.
Versions 2.4 and later enable the user to specify starting and stopping compaction temperatures according to agency or manufactures specifications.
Please send questions and comments to Bruce Tanquist at bruce.tanquist@state.mn.us
PaveCool Freeze is a modified version of PaveCool 2.4 that can be used to estimate the time it takes for a pavement to cool to freezing temperatures.
CoolToolF.exe (save this file to your desktop to run PaveCool Freeze without installing it)