News and events
Introducing the New Aeronautics Automated Weather Observing System NavAIDS Weather Location APP!

MnDOT Aeronautics has created an AWOS NavAIDS Weather Location App. This web page link to Minnesota airport locations that have AWOS weather updates from the ANYAWOS website.
New Aviation Trip Planning and In-Flight Tools!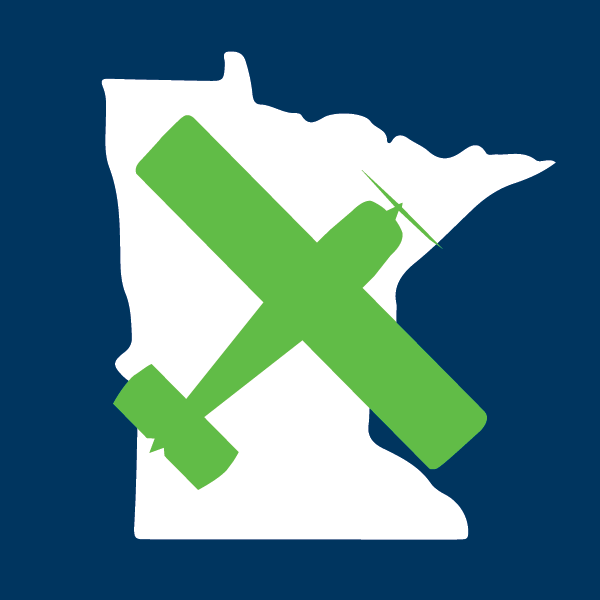 The MN Airport Directory and Travel Guide has gone digital with both a ForeFlight Content Pack download, as well as an interactive web map:
2019 Airport Directory ForeFlight Content Pack
Minnesota AirportFinder App
2020 Minnesota Aviation Art Contest Winners


" Flying Yesterday and Tomorrow"
It is time to get out your favorite artist supplies
and give free rein to your imagination to create
your work that combines the flights of the past
with the dreams of the future in this year's
"Flying yesterday and tomorrow" art contest.

2020 Minnesota Aviation Art Contest Winners



NOTICE | April 10, 2020
Crookston CKN Non-Directional Beacon (NDB)
PROPOSED DECOMMISSIONING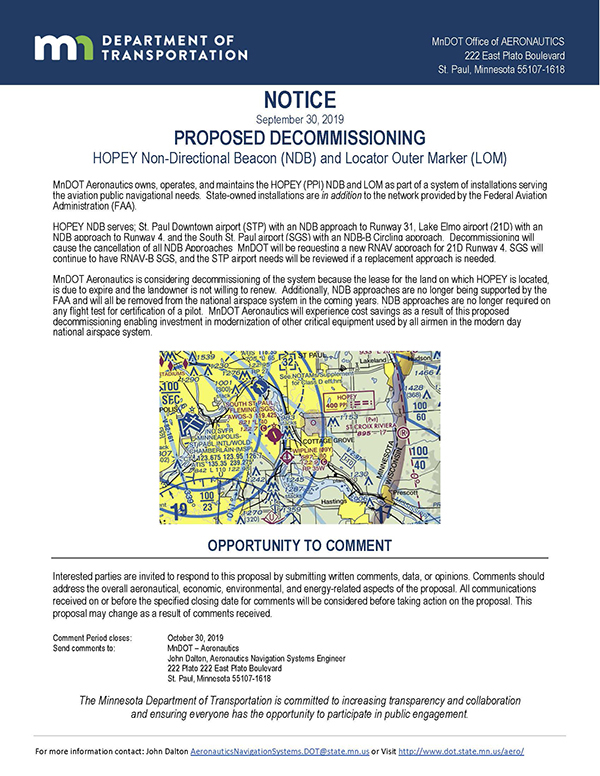 View Crookston CKN Non-Directional Beacon (NDB) public notice of proposed decommissioning (PDF, 204KB)

NOTICE | April 13, 2020
Saint James JYG Non-Directional Beacon (NDB)
PROPOSED DECOMMISSIONING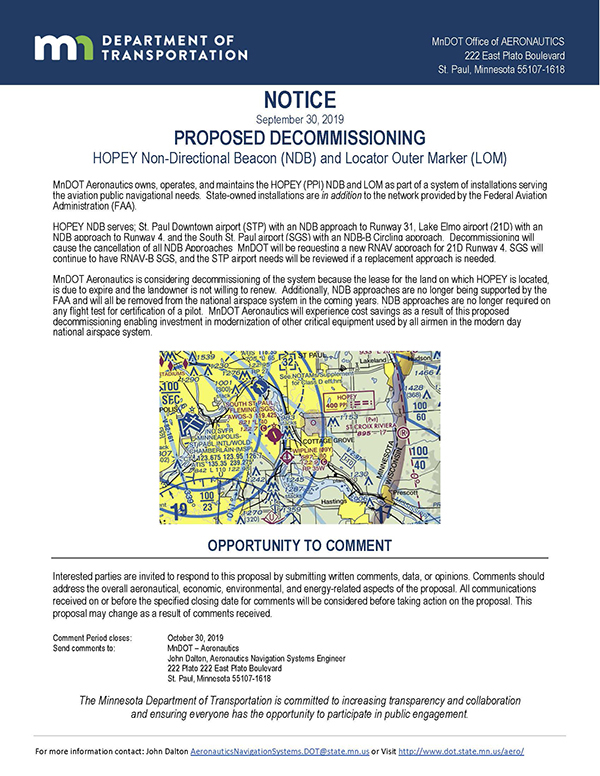 View Saint James JYG Non-Directional Beacon (NDB) public notice of proposed decommissioning (PDF, 230KB)
NOTICE | April 13, 2020
Silver Bay BFW Non-Directional Beacon (NDB)
PROPOSED DECOMMISSIONING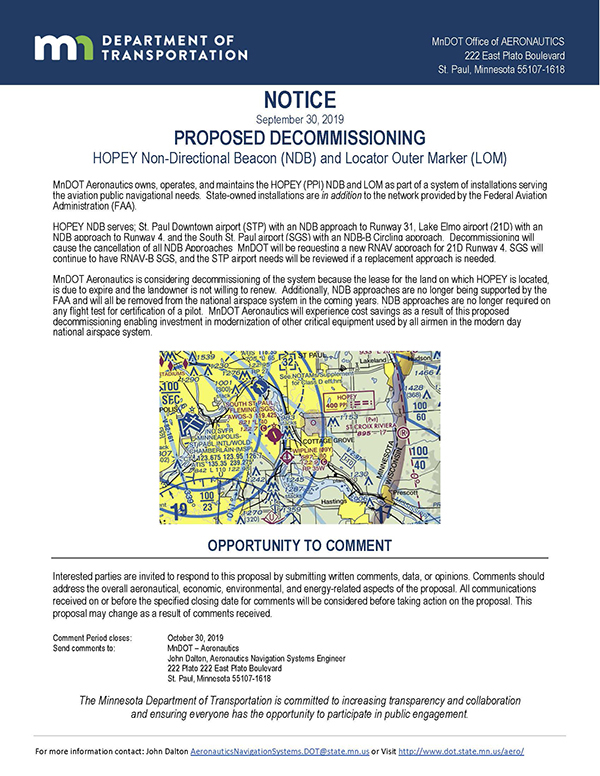 View Silver Bay BFW Non-Directional Beacon (NDB) public notice of proposed decommissioning (PDF, 230KB)
NOTICE | April 14, 2020
ORR ORB Non-Directional Beacon (NDB)
PROPOSED DECOMMISSIONING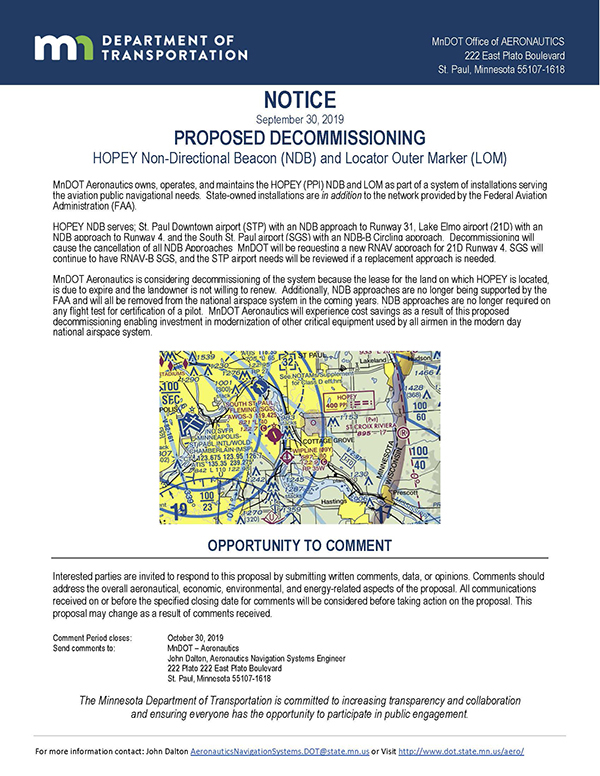 View ORR ORB Non-Directional Beacon (NDB) public notice of proposed decommissioning (PDF, 215KB)
NOTICE | April 16, 2020
Longville XVG Non-Directional Beacon (NDB)
PROPOSED DECOMMISSIONING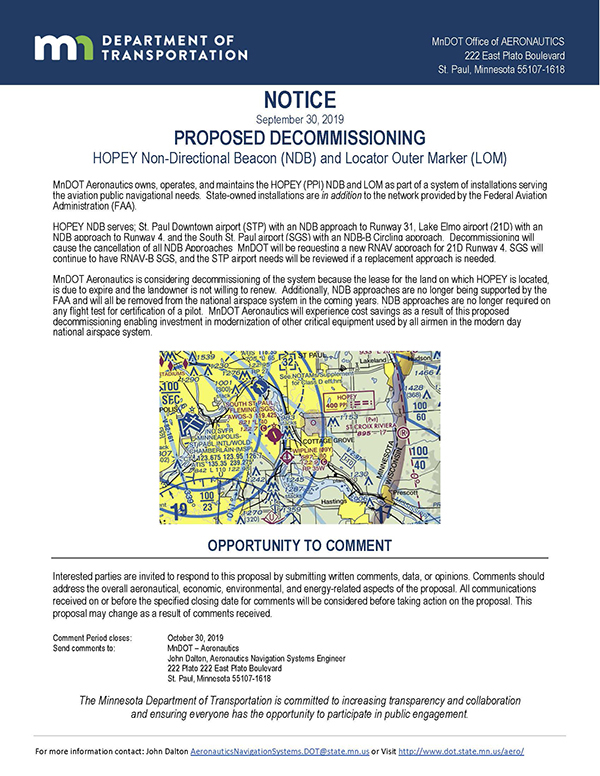 View Longville XVG Non-Directional Beacon (NDB) public notice of proposed decommissioning (PDF, 230KB)