Urban non-freeway/non-expressway pavement projects
MnDOT Metro District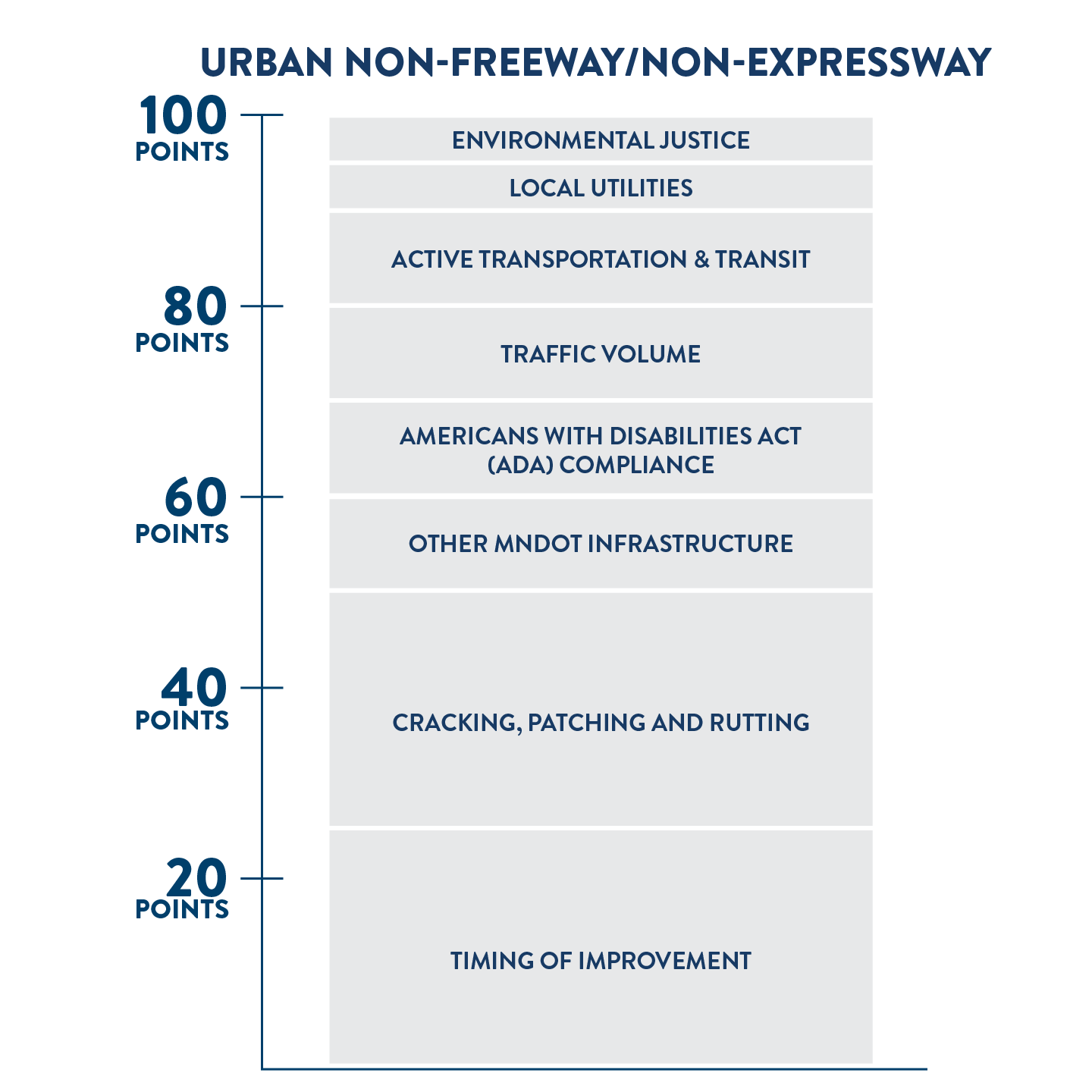 MnDOT scores stretches of highway based on a pavement need when selecting projects to include in the 10-year Capital Highway Investment Plan. MnDOT scores and prioritizes urban non-freeway/non-expressway pavement projects separately from the normal pavement scoring process, because of their complexity, utilities and other infrastructure and level of required local coordination and public involvement. In many instances, these roads function both as state highways and as city streets. These pavement projects can be on either National Highway System or non-NHS.
Freeways have full access control (no driveways, signals or at-grade intersections). Expressways have partial access control (limited or no driveways, few and widely spaced intersections, and may include some grade separated crossings). Both are high speed roads designed to facilitate longer trips.
For the purposes of this scoring category, MnDOT uses a flexible, context-based definition of urban. This includes areas with medium-to-high density adjacent development with small to medium setbacks, and in some instances no setback. This includes both residential, industrial and commercial areas. In some instances, the urban context may cover less than a quarter mile.
Urban pavement projects are scored and selected within each district. Potential pavement projects are identified by the Highway Pavement Management Application (HPMA) and by MnDOT District staff.
Once selected, MnDOT then identifies and evaluates alternatives and other needs, legal requirements, issues and opportunities in coordination with local partners, and considers public input. In the process, non-pavement work may be added to a pavement project or a pavement project may be combined with a nearby bridge project. The department follows a context-sensitive complete streets approach, which considers the needs of all users. The final project may address a substantial number of needs beyond the pavement need that precipitated the project. Projects may move years based on local coordination, project delivery, timing of other nearby construction projects, and funding shifts.
What's been selected?
Related Links