National Highway System pavement projects
MnDOT District 7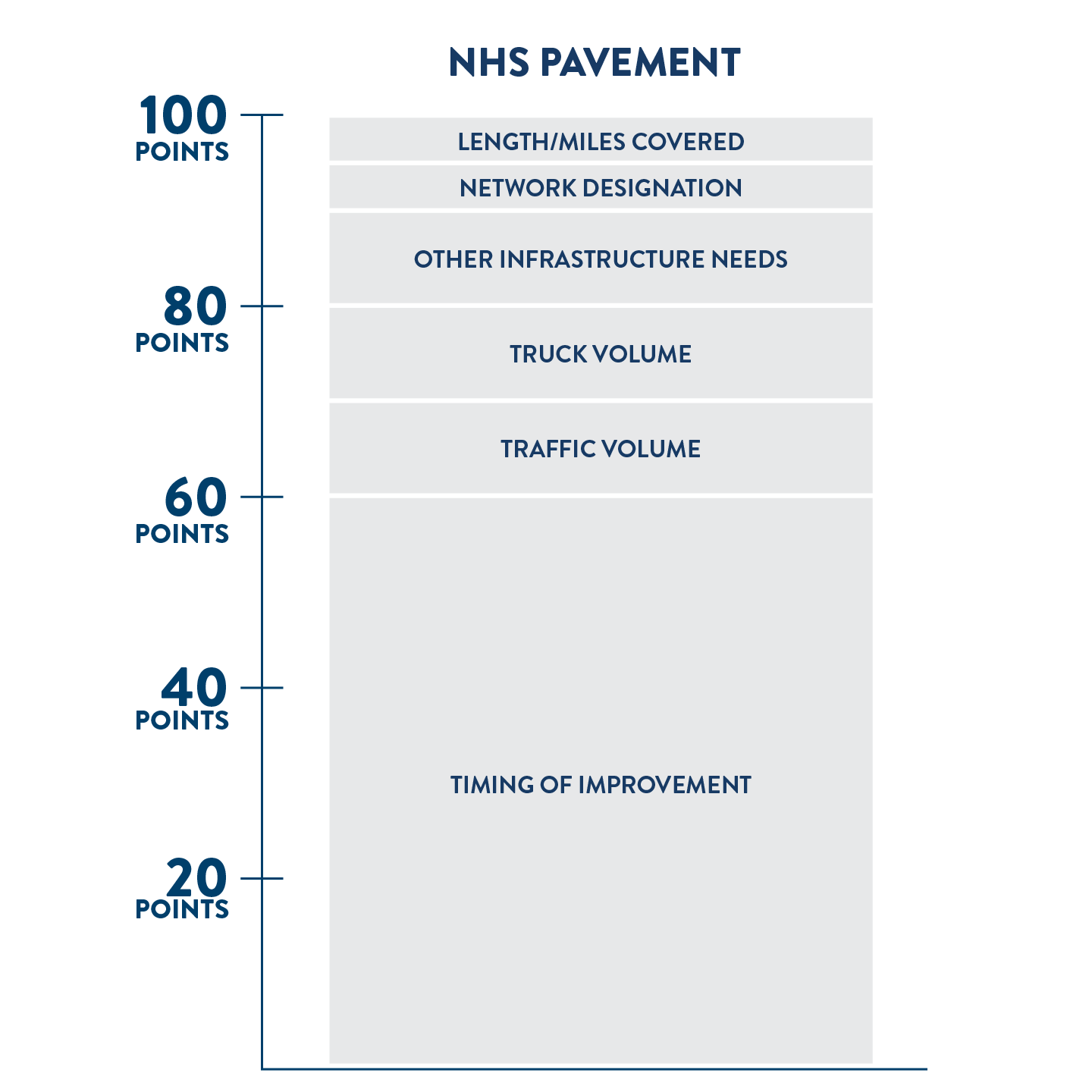 MnDOT scores stretches of highway based on a pavement need when selecting projects to include in the 10-year Capital Highway Investment Plan. Pavement needs on the National Highway System (NHS) are scored and selected separately from pavement needs off the system. MnDOT's approach to managing pavements follows the guidance and targets in the Transportation Asset Management Plan and the planned outcomes in MnSHIP.
Pavement projects are scored and selected within each district. Potential pavement projects are identified by the Highway Pavement Management Application (HPMA) and by MnDOT District staff.
Once selected, MnDOT then identifies and evaluates alternatives and other needs, legal requirements, issues and opportunities in coordination with local partners, and considers public input. In the process, non-pavement work may be added to a pavement project or a pavement project may be combined with a nearby bridge project. The department follows a context-sensitive complete streets approach, which considers the needs of all users. The final project may address a substantial number of needs beyond the pavement need that precipitated the project. Projects may move years based on local coordination, project delivery, timing of other nearby construction projects, and funding shifts.
What's been selected
Related links
How the projects scored
The construction costs shown on this list represent a very rough estimate based on limited information available at the time selection decisions were made. Actual construction and delivery costs will change over time as projects go from a concept through the project development process and are eventually constructed. View more detailed scores (Excel).
Last updated October 2021
| Score | Route | Description | High Level Cost Estimate for Planning Purposes | Year Planned (FY) | Comments |
| --- | --- | --- | --- | --- | --- |
| 94 | I90 | Medium mill and overlay westbound lanes from 1.4 miles east of MN60 to 1.4 miles east of Nobles County Road 13 | $6,060,000 | 2029 | |
| 94 | I90 | Major CPR and diamond grinding westbound lanes from Rock River to Rock County Road 4 near Beaver Creek | $8,130,000 | Not Selected | Not a district priority, will continue to monitor pavement performance |
| 94 | I90 | Medium mill and overlay eastbound lanes from Rock County Road 4 to Rock River | $4,580,000 | Not Selected | Not a district priority, will continue to monitor pavement performance |
| 93 | I90 | Thick overlay from 2 miles west of US 169 to MN 22 | $28,400,000 | 2026 | 2280-143 |
| 92 | I90 | Cold in place recycling and medium overlay westbound lanes from Jackson County Road 5 bridge to 1.54 miles east of MN 60 | $3,650,000 | 2029 | |
| 86 | US14 | Major CPR and diamond grinding from west of MN 22 to .15 miles east of the eastern junction with MN 60 | $9,800,000 | 2026 | 0702-128 |
| 85 | US169 | Major CPR and diamond grinding from Commerce St to Le Sueur County Road 28 in Le Sueur | $3,600,000 | 2030 |   |
| 84 | I90 | Thick overlay from South Dakota Border to County Road 4 at Beaver Creek | $5,790,000 | 2022 | 6780-124 |
| 84 | I90 | Medium mill and overlay eastbound lanes from County Road 13 near Rushmore to 1 mile east of MN 60 | $5,400,000 | Not Selected | Not a district priority, will continue to monitor pavement performance |
| 83 | I90 | Cold in place recycling eastbound lanes from MN 4 to MN 15 | $4,900,000 | 2022 | 4680-132 |
| 83 | I90 | Medium mill and overlay westbound lanes from east of Nobles County Road 13 to Minnesota Southern Railroad Bridge | $3,670,000 | 2026 | 5380-154 |
| 83 | I90 | Medium mill and overlay westbound lanes from MN 15 to MN 4 | $7,320,000 | Not Selected | Not a district priority, will continue to monitor pavement performance |
| 83 | I90 | Medium mill and overlay westbound lanes from MN60 to Jackson County Road 5 | $4,740,000 | 2029 | |
| 82 | US169 | Medium mill and overlay northbound lanes from Le Sueur County Road 28 to MN 19 | $3,900,000 | Not Selected | |
| 82 | US169 | Medium mill and overlay northbound lanes from Union St to MN 93 | $1,820,000 | Not Selected | |
| 82 | MN60 | Cold in place recycling and medium overlay from north of I-90 to southwest of Nobles County Road 24 | $1,500,000 | 2029 |   |
| 81 | US169 | Unbonded overlay from west junction of MN60/US169 to north end of Minnesota River (North Star) Bridge | $19,880,000 | Not Selected | |
| 80 | US14 | Unbonded overlay from west of Lookout Bridge to west of MN 22 | $19,540,000 | Not Selected | |
| 80 | US14 | Medium mill and overlay from County Road 37 at Smith's Mill to Waseca County Road 2 overpass | $11,900,000 | Not Selected |   |
| 80 | MN60 | Medium mill and overlay from east of Laclaire St to 2 miles west of US169 (Cray Corner) | $3,090,000 | 2030 |   |
| 79 | MN60 | Medium mill and overlay westbound lanes from County Road 47 to I-90 | $3,670,000 | Not Selected |   |
| 79 | US71 | Medium mill and overlay from Iowa Border to Riverside Dr in Jackson | $3,990,000 | 2030 | 3205-36 |
| 78 | MN15 | Cold in place recycling and medium overlay from Cottonwood St to 20th St S in New Ulm | $870,000 | Not Selected | |
| 78 | MN60 | Minor CPR and diamond grinding from west of Cottonwood County Road 47 to Watonwan County Road 5 near Butterfield. | $2,510,000 | Not Selected | |
| 78 | I90 | Cold in place recycling and medium overlay westbound lanes from MN4 to 2.5 miles east of MN 86 | $9,750,000 | 2031 |   |
| 78 | I90 | Cold in place recycling and medium overlay eastbound lanes from MN 86 to east of MN 4 | $10,500,000 | Not Selected |   |
| 77 | MN60 | Cold in place recycling and medium overlay eastbound lanes from Jackson County Road 24 to Alder St in Wilder | $2,430,000 | 2030 |   |
| 77 | I90 | Medium mill and overlay eastbound lanes from Rock/Nobles County line to Nobles County Road 35/Minnesota Southern Railroad Bridge | $2,600,000 | Not Selected |   |
| 76 | US14 | Medium mill and overlay from 2 miles west of MN111 to Lookout Dr | $8,140,000 | Not Selected |   |
| 75 | US14 | Rural reconstruction from MN 15 to 2 miles west of MN 111 | $39,800,000 | 2022 | Four-lane expansion project |
| 75 | MN60 | Unbonded overlay westbound lanes from 1.6 miles east of Blue Earth County Road 109 to MN 15 bridge.  | $14,800,000 | Not Selected |   |
| 75 | MN60 | Medium mill and overlay from 16th St to John Caldwell Dr/490th Ave | $5,120,000 | 2031 | Windom reconstruct |
| 74 | MN60 | White top overlay westbound lanes from .4 miles east of Cottonwood County Road 47 to .3 miles west of Cottonwood County Road 47 near Mountain Lake | $480,000 | 2028 |   |
| 74 | MN60 | Reconstruction from Blue Earth County Road 20 to northeast of Laclaire St in Lake Crystal | $15,580,000 | 2024 | 0708-47 |
| 74 | MN60 | Unbonded overlay from Blue Earth County Road 115 connecting with US169 and extending north to the Minnesota River Bridge | $7,310,000 | Not Selected |   |
| 74 | MN60 | Medium mill and overlay from Nobles County Road 4 to north of I-90 | $12,400,000 | Not Selected |   |
| 73 | US14 | Medium mill and overlay from Waseca County Road 2 overpass to Steel County Line | $10,070,000 | Not Selected |   |
| 73 | US169 | Unbonded overlay from Minnesota River to US14 | $8,680,000 | 2027 | 0713-81 |
| 73 | US169 | Medium overlay from 1 mile north of I-90 to MN 109 in Winnebago | $4,280,000 | Not Selected |   |
| 73 | US169 | Medium mill and overlay from Blue Earth County Road 13 to MN60 | $4,660,000 | Not Selected |   |
| 73 | US71 | Medium mill and overlay from MN30 to 120th St (Sanborn City limits) | $6,140,000 | Not Selected |   |
| 71 | US59 | Thick overlay from 27th St north to MN 62 | $10,990,000 | Not Selected |   |
| 71 | MN60 | Thin mill and overlay eastbound from Cottonwood County Road 27 to Watonwan County Road 5 | $1,090,000 | Not Selected |   |
| 71 | MN60 | Medium mill and overlay from .3 miles south of Jackson County Road 24 to .5 miles north of Jackson County Road 24 near Heron Lake | $1,590,000 | Not Selected |   |
| 71 | MN60 | Medium mill and overlay from Iowa Border to Nobles County Road 4 | $2,980,000 | Not Selected |   |
| 70 | MN15 | Medium mill and overlay from 1.2 miles south of Brown County Road 24 to Cottonwood St | $11,870,000 | Not Selected |   |
| 70 | MN22 | Reconstruction from Le Sueur County Road 102 to north end of MN River bridge | $7,880,000 | 2024 | 0714-35 |
| 69 | MN15 | Medium mill and overlay from 4th St to Goemann Rd | $260,000 | Not Selected |   |
| 68 | US14 | Unbonded overlay eastbound lanes from 1 mile east of MN111 to 520th St cul-de-sac. | $10,780,000 | Not Selected |   |
| 67 | US14 | Medium mill and overlay from MN60 to eastern junction of Blue Earth County Road 37 at Smith's Mill | $3,190,000 | Not Selected |   |
| 67 | US169 | Medium mill and overlay from  Faribault County Road 52 to .17 miles north of Faribault County Road 52 | $60,000 | Not Selected |   |
| 66 | US14 | Medium mill and overlay from Brown County Road 27 to Palmer Ave Roundabout in New Ulm | $4,910,000 | Not Selected |   |
| 65 | US169 | Thick overlay from Faribault County Road 12 to Blue Earth County Road 13 | $4,540,000 | 2022 | 0712-113; Concrete expected to deteriorate at the joints at an accelerated rate |
| 63 | MN15 | Medium mill and overlay from Goemann Rd to Brown/Watonwan County line | $5,790,000 | Not Selected |   |
| 62 | US169 | Medium overlay from MN30 to Blue Earth County Road 13 | $3,890,000 | 2022 | 0712-113; Concrete expected to deteriorate at the joints at an accelerated rate. Northern project limits are at southern city limits of Vernon Center |
| 62 | MN60 | Unbonded overlay from Watonwan County Road 5 to 1.4 miles west of junction with MN4 | $8,890,000 | 2028 | Westbound lanes only. |
| 61 | MN15 | Cold in place recycling and medium overlay from Martin/Watonwan County line to 360th St | $2,900,000 | 2023 | 8303-48; Aligning with bridge needs |
| 61 | US59 | Minor CPR and diamond grinding from Prairie Dr to 27th St N in Worthington | $90,000 | Not Selected |   |
| 61 | US71 | Thick mill and overlay from Riverside Dr to Prospect St in Jackson | $580,000 | 2030 | 3205-36; Pairing with adjacent project |
| 60 | MN22 | Reconstruction from Riverfront Dr to north end of Railroad Bridge | $3,350,000 | 2024 | 0714-35; Pairing with adjacent project |
| 58 | MN22 | Unbonded overlay from US14 to Blue Earth County Road 26 in Mankato | $4,830,000 | Not Selected |   |
| 58 | US59 | Major CPR and diamond grinding from I-90 to Prairie Dr in Worthington | $420,000 | 2027 |   |
| 58 | I90 | Thin mill and overlay from Rock River to Rock/Nobles County Line | $2,450,000 | Not Selected |   |
| 54 | MN60 | Diamond grinding from Nobles County Road 24 near Heron Lake to Jackson County Road 47 near Brewster | $2,130,000 | 2029 | Address this pavement with adjacent work |
| 54 | I90 | Medium mill and overlay westbound lanes from County Road 35/Minnesota Southern Railroad bridge to Rock/Nobles County Line | $6,510,000 | Not Selected |   |
| 53 | US169 | Medium mill and overlay southbound lanes from MN 93 to Jackson County Road 5 | $9,660,000 | Not Selected |   |
| 76 | MN15 | Unbonded overlay from west junction of MN 60 to east junction of MN 60 in Madelia | $17,460,000 | 2022 | 8304-118 |
| 48 | US169 | Medium mill and overlay from US14 to MN 99 | $8,900,000 | Not Selected |   |
| 45 | MN60 | Minor CPR and Diamond Grinding from Alder St to MN 62 | $2,940,000 | Not Selected |   |
| 44 | MN60 | Unbonded overlay 0.7 miles east of Caldwell Drive near Windom to 0.6 miles east of Cottonwood CR 8 east of Mountain Lake | $18,820,000 | Not Selected |   |
| 42 | US14 | Cold in place recycling and Medium overlay from US 71 to Springfield City limits | $4,640,000 | 2022 |   |
| 40 | US14 | Thin mill and overlay from Palmer Ave to Garden St in New Ulm | $1,720,000 | Not Selected |   |
| 35 | US169 | Thin mill and overlay from Leland Parkway/Blue Earth County Road 16 to north of I-90 | $770,000 | Not Selected |   |
| 35 | MN22 | Reconstruction from Railroad bridge to south of Blue Earth County Road 102 | $9,260,000 | 2022 | Project originally selected prior to project selection policy (in 2019-2022 STIP) Coordinating with another MnDOT project. |
| 34 | US169 | Thin mill and overlay from .7 miles north of I-90 to 1 mile north of I-90 | $350,000 | Not Selected |   |
| 34 | MN22 | Reclaim and overlay from Blue Earth County Road 26 to South of Riverfront Dr (Blue Earth County Road 57) | $1,370,000 | 2024 |   |
| 33 | I90 | Minor CPR eastbound lanes from Jackson County Road 5 to MN86 | $2,330,000 | Not Selected |   |
| 33 | I90 | Medium mill and overlay southbound lanes from MN 5 to 1.25 miles west of the eastbound Blue Earth Rest area | $5,940,000 | Not Selected |   |
| 33 | I90 | Medium mill and overlay westbound lanes from Jackson County Road 5 bridge to MN 15 | $10,260,000 | Not Selected |   |
| 33 | I90 | Medium mill and overlay westbound lanes from MN 86 to Jackson County Road 5 bridge | $6,380,000 | Not Selected |   |
| 33 | I90 | Medium mill and overlay eastbound lanes from County Road 35/MN Southern Railroad Bridge to 1.1 miles east of Nobles County Road 13 | $4,510,000 | Not Selected |   |
| 29 | MN23 | Thin mill and overlay from south I-90 ramps to Railroad Crossing in Jasper | $50,000 | Not Selected |   |
| 29 | MN60 | MN60 from 1.2 miles west of MN4 to .4 miles west of west MN15 bridge | $16,220,000 | Not Selected |   |
| 26 | MN15 | Medium mill and overlay from Minnesota Prairie Line Railroad to MN 19 | $160,000 | Not Selected |   |
| 25 | I90 | Medium mill and overlay eastbound lanes from MN 22 to west of MN 109 | $2,050,000 | Not Selected |   |
| 25 | I90 | Medium mill and overlay westbound lanes from MN109 to MN22 | $2,050,000 | Not Selected |   |
| 19 | US169 | Thin mill and overlay from Iowa border to Faribault County Road 52 | $3,050,000 | Not Selected |   |
| 19 | MN23 | Medium mill and overlay from Railroad Crossing to Rock/Pipestone County Line in Jasper | $8,810,000 | Not Selected |   |
| 18 | US169 | Reconstruction from MN99 to South Minnesota Avenue frontage Road in St. Peter | $3,260,000 | 2023 | Addressing pavements with intersection reconfiguration as part of safety and mobility project |
| 15 | US14 | Medium mill and overlay from Springfield City Limits to Railroad crossing on the east side of Sleepy Eye | $1,700,000 | Not Selected |   |
| 15 | US71 | Thin mill and overlay from 120th St (Sanborn City Limit) to US14 | $350,000 | Not Selected |   |
| 14 | MN15 | Medium mill and overlay from Watonwan/Brown County Line to 1.2 miles south of Brown County Road 34 | $2,400,000 | Not Selected |   |
| 14 | MN60 | Minor CPR and diamond grinding from Watonwan County Road 5 in Butterfield to 690th Lane | $50,000 | Not Selected |   |
| 14 | MN60 | Medium mill and overlay from Caldwell Ave near Windom to east of Caldwell Ave | $100,000 | Not Selected |   |
| 9 | US169 | Thin mill and overlay from County Road 52 to 10th St in Blue Earth | $260,000 | Not Selected |   |
Previous years