NRRA Newsletter: January 2018
---
Cold-weather Asphalt Cracking
By John Garrity and Dave Van Deusen
This is the first in a series of two articles.
Pavement engineers are often asked one, or both, of the following questions:
Q1) Why do new asphalt pavements crack?
A1) A new asphalt surface will crack eventually, and it will crack when the tensile strength of the asphalt mixture is exceeded.
Q2) When will new asphalt pavements crack?
A2) It depends on many factors, which we will explore.
The responses to either one of the questions are inter-related, and they depend on the type of pavement underlying the asphalt surface in question.
To answers these questions, it will help to make a distinction between new pavement and new surfacing on an existing pavement. For the sake of this article, let's broadly categorize asphalt pavements into two categories:
New pavement: A newly constructed or reconstructed section where we start with a clean slate – from the underlying soil support, aggregate base, to the surface asphalt. Low-temperature cracking occurs as pavement layers cool, contract, and become stressed. When the stress exceeds the strength of the asphalt mixture it will crack. In these cases engineers specify asphalt surfaces with Performance Graded (PG) binders designed to withstand the contraction anticipated from the cold weather at the project location.
Resurfaced pavement: An existing pavement that receives a new asphalt surface; this is typically done by removing a prescribed depth of the existing asphalt surface and paving new asphalt surfacing over it. Reflective cracking, where underlying cracking distresses reflect through the newly placed surface, are predominant in these situations. In a nutshell, existing distresses cause stress concentrations as the underlying pavement contracts producing differential movements. The new surface may not be able to overcome these movements and a reflective crack results. It is much more challenging to engineer a crack resistant pavement system for construction on top of an existing, distressed pavement. Resurfaced pavements abound in all manner of age, composition, and condition. And yes, you guessed it, resurfacing existing pavements constitutes the lion's share of what transportation agencies work on. To be fair, reflective cracking is also affected by traffic loading. But let's save this discussion for next month's article.
In 2016, MnDOT, in partnership with NCAT, constructed Cells 16-23, a series of eight new asphalt pavement sections at MnROAD. The objective is to develop laboratory performance test procedures that correlate with field cracking performance. Note that the critical cold temperature for the MnROAD site is -31°C. On half of the sections we purposely specified PG asphalt binders that are considered non-typical for Minnesota. In fact, with a low-temperature grade of -22°C (-8°F) they would be suitable for climates in southern Missouri or Illinois. To further seal the deal, we added additional amounts of recycled asphalt materials to the high crack-potential mixes. These are materials that engineers have come to know make asphalt mixtures brittle and therefore, more prone to low-temperature cracking. On the remainder of the sections the mixtures were designed to be more suitable for northern climates.
A summary of minimum air temperatures from October, 2016 through January, 2018 is shown in Figure 1. The sections are experiencing their second winter season. The first winter, 2016-2017, was fairly mild – the lowest recorded air temp at MnROAD was about -31°C (-24°F) occurring on December 18, 2016. No visible cracking was observed in the sections the following spring.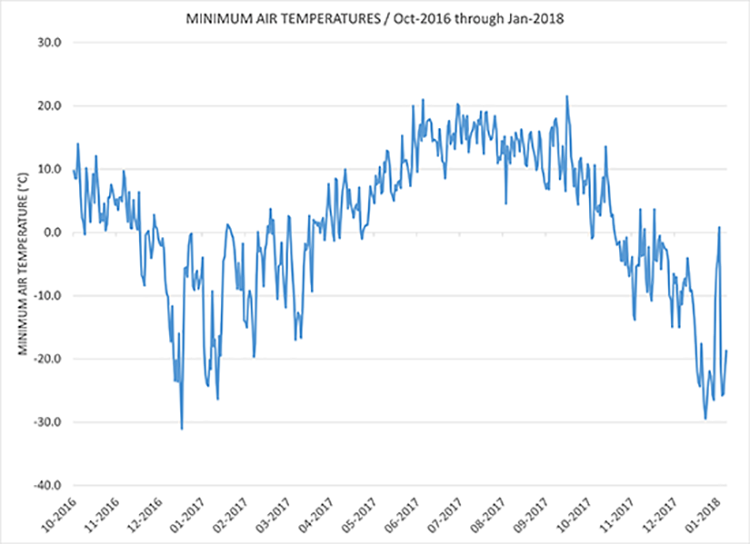 Figure 1. Minimum air temperatures (°C) from the MnROAD weather stations: October 2016 through January 15, 2018.
Table 1. Average minimum air temperatures (°C): actual (MnROAD) and historical (St. Cloud, MN).

MONTH/
YEAR

ACTUAL MEAN

HISTORICAL MEAN a

Dec, 2016

-10.4

-13.9

Jan, 2017

-10.7

-18.4

Dec, 2017

-12.2

-13.9

Jan, 2018

-18.6

-18.4
a Source: www.dnr.state.mn.us/climate
So far, winter 2017-2018 is off to a pretty good start. However, the lowest recorded temperature at MnROAD so far this season has only been -29°C (-21°F) occurring December 31, 2017. To date, no visible cracking has been observed.
We have come close to, and even fallen below the PG binder cracking temperature of these mixes. So why haven't these sections cracked yet? The difficulty in predicting low-temperature cracking performance on new asphalt pavements is a primary reason why MnDOT, like many other transportation agencies, is moving towards performance testing specifications. MnDOT is implementing the Disk-Shaped Compact Tension test as part of its asphalt mixture construction specifications to guard against low-temperature cracking in new pavements. The test method, and how MnDOT is implementing it, was featured in the May 2017 NRRA newsletter. A key advantage is that the test provides an indication of mixture performance and not just one component, such as the asphalt binder.
All eight of the mixtures used in the 2016 MnROAD/NCAT partnership project were subjected to DCT testing. The results indicate that five of the eight mixtures fall very near to, or below, the critical threshold of 450 Joules/m2. Four of these are the ones that used a low-temperature PG of -22°C (-8°F). The fifth utilized a -34°C (-29°F) binder. However, the aggregates used in this mix were limestone, which has shown to negatively impact DCT test results in some cases.
There are questions that remain unanswered:
Do cracks form after a one-time occurrence of a critical low-temperature?
Does it matter whether this temperature occurs in the first winter, or does it take time?
In the first generation of MnROAD sections, low-temperature cracks were observed early in 1996, about 4 years after they were originally constructed. The asphalt surfaces in those sections are typical of MnDOT practice prior to the PG system. The winter of 1995-1996, while not cold as a whole, had a string of days with record-setting lows in late January and early February. Past experience at MnROAD indicates that significant low-temperature cracking can occur when the temperature dips below the critical temperature.
MnDOT has been using PG specific binders for more than 20 years and the performance has been very good, especially on new pavement construction. Discuss this question with any old-timers around MnDOT, and they will likely tell you that, prior to implementation of the PG system, a 5-year period was generally the time for low-temperature cracks to appear in new construction. Crack spacing was typically observed to be 10 to 30 transverse cracks per 1,000 feet.
MnROAD personnel will continue monitoring the performance of the sections. There's still time for cracks to appear this season. Here's looking forward to a brutally cold remainder of the 2017-2018 winter.
Next month: Reflective cracking and how the National Road Research Alliance partnership is studying solutions to it. Stay tuned.
---
Autonomous Bus testing at MnROAD, prep for the Super Bowl
---
2018 Pavement Workshop: Save the Dates
The National Road Research Alliance 2018 Pavement Workshop will occur May 23 and 24, so please save the dates. The Conference will feature:
A tour of the 2017 construction/research projects at MnROAD
Four research tracks for concurrent sessions: Flexible, Rigid, Geotech and Preventive Maintenance
Keynotes, awards and networking with your peers
Workshops and a BBQ dinner at MnROAD
Please help us get the word out. As the conference develops and the agenda is finalized, all details for the workshop will be located on the Pavement Workshop page.
It's not too late to help us tailor the conference to your needs. If you have topics we need to cover, please forward them ben.worel@state.mn.us
---
NRRA Welcomes New Members
Welcome to our new members, All States Materials Group and Payne & Dolan, Inc. The Flexible team will have two new members from Payne and Dolan, while the Preventive Maintenance Team will include two members from All States Materials.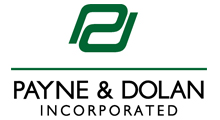 ---
MnROAD Summer Construction Updates
We have a video playlist of all our construction updates (18) on YouTube. Check them out.
---
Associate Profile: First State Tire Recycling
In terms of the building a greener future, the pavement industry continues to accelerate its innovation. Using discarded tires isn't new, but the research and case studies supporting the use of TDA (Tire Derived Aggregate) is building momentum.
NRRA Associate member First State Tire Recycling is on the forefront of the momentum. It has been doing projects using waste tires as an aggregate sub base for more than 25 years, and it wants more people to know about the advantages of TDA.
Cheaper
Using TDA as an aggregate for the subbase of a road is often cheaper than using virgin material. According to
Hwy 169 in St. Peter, MN--project used TDA in 2014
Monte Niemi, owner and president of First State, TDA is about $2-$3 a cubic yard. When tires are handled correctly, he says, they become a product that's actually better than other virgin aggregates.
Stronger
It's hard to argue with the importance of a strong subgrade when designing a road. The industry sometimes focuses too much on the top six to eight inches of bituminous or concrete, says Niemi, but the longevity of a road often depends as much on the sub base as it does on mix designs and formulas.
"Where the rubber meets the road is actually quite a few inches below the surface of the roadway, because that's where the strength of the foundation is," says Niemi. If there's a failure in the pavement "what's underneath there is what's causing the problems on the surface," he adds.
In one project on the Missouri river, there was a bike path sliding into the river. First State's TDA was used to stabilize the slope, and the "snowshoe" effect of the shredded tires created a lightweight foundation that supported the pavement. "It's been there for eight or nine years now and you'd never know there was a failure there," says Niemi. TDA also controls differential settlement, he says.
Dryer
The ability to handle moisture and storm water may be the most important benefit of TDA. As an aggregate, it has significant void space, so it can store a lot of water. It also slows the water down under the roadway, and that can help mitigate damage during flooding.
In terms of pavement life, the TDA holds onto the water under the roadway so that it doesn't wick its way back up to the surface and cause damage. As Niemi puts it, the water gets in the rubber and it stays there.
Greener
Converting tires from unwanted waste into a paving resource that's cheaper, dryer and stronger is an important innovative step forward. In addition, being able to say your paving project is greener can earn you points with your agency and with the general public. Says Niemi, "I think over the last 30 years the image of tires coming off our cars is 'I don't want it in my back yard. I don't want to see it. It's probably a real hazard.' I think the message needs to be 'These are our tires. What can we do with these tires that can actually solve problems cost-effectively and use them in everyday life?' They are inert. Rubber doesn't break down other than with ultraviolet light, and when used properly, with an engineer's design, it really has a positive impact on our environment."
For more information about First State, check out this video.
---
February Research Pays Off Webinar
February 20: MnDOT's use of the Paver Mounted Thermal Profile (PMTP) Method and Veta Software to Find Workmanship Issues in HMA Paving, Rebecca Embacher, Advanced Materials and Technology Engineer, MnDOT Office of Materials and Road Research.
Summary: This year the Minnesota Department of Transportation (MnDOT), in collaboration with local contractors and suppliers, is moving forward with the full implementation of the PMTP method as a quality control tool on asphalt paving projects.  MnDOT has used this technology on 156 projects to date and is monitoring the resulting measurements using Veta for identification of workmanship issues during paving efforts. Details will be provided to:
Highlight MnDOT's current requirements and deployment schedule
Demonstrate workmanship issues that have been identified using measurements from the PMTP system
Show a live demo of the features available in Veta and the use of Veta to identify workmanship issues
Explain the pooled fund TPF-5 (334) which provides a mechanism for further enhancements to Veta and is used to assist with deployment/technology transfer of both intelligent compaction (IC) and PMTP nationally
Connection information for Webinar*

*We are switching to Skype for Business this month. Details for connecting to the video and audio will be on the above website.
Playlist of previous 2017 Research Pays Off webinars
---
Follow NRRA on