Expansion joints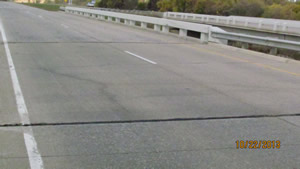 What is an expansion joint?
An expansion joint is between the roadway and approach panels to a bridge to absorb the expansion of the highway pavement. The joint is a foamlike material that can be compressed. Expansion joint material is glued to the approach concrete and the roadway concrete. Then the top is sealed with hot rubber sealant.
Why expansion joints fail
The freezing and thawing cycles breaks the glue's bond to the concrete and the expansion material floats to the surface (JPG). This is not a hard material, it is a foam material that can be compressed. When driving, these joints may appear to protrude from the road (JPG) and alarm drivers. "The joints will not harm your vehicle or its tires."
Reporting
Report protruding expansion joints by calling your local MnDOT district office.