Contacts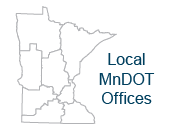 MnDOT is divided into eight regional district areas:
7 Greater Minnesota districts
1 Minneapolis/St. Paul Metropolitan district
Most of our day-to-day operations are managed at the district level, including highway construction projects, maintenance and highway right-of-way issues.
For questions about MnDOT road activities, contact your local MnDOT district office. Not sure which district you're in? Find your district by city.