About this project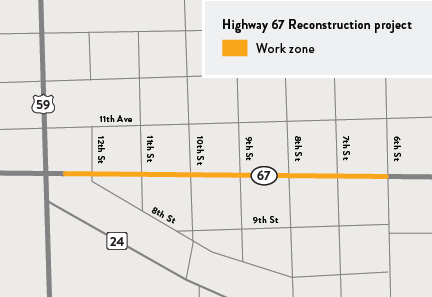 Summary of MnDOT work
MnDOT is planning a large roadway project,a total reconstruction of Hwy 67, from just east of the intersection of Hwy 59 to 6th Street in Clarkfield. Replacement of storm sewer is included in the project.
The reconstruction project DOES NOT include the intersection of Hwy 67 and Hwy 59 in Clarkfield.
Replacement of sidewalks and addition of pedestrian ramps to meet Americans with Disabilities (ADA) standards along the project area are also part of the reconstruction project.
Project update
The project received municipal consent. There have been two changes to the project layout since the June 2022 public meeting. A bump-out near the Post Office (Hwy 67 and 11th St.) was removed. Additional parking was removed between 12th St. and 11th St.
Detour
Work in 2024 will require a detour for the full construction season (approximately May - October)


Contractor
The contractor for the project will be determined after the project has been awarded