About this project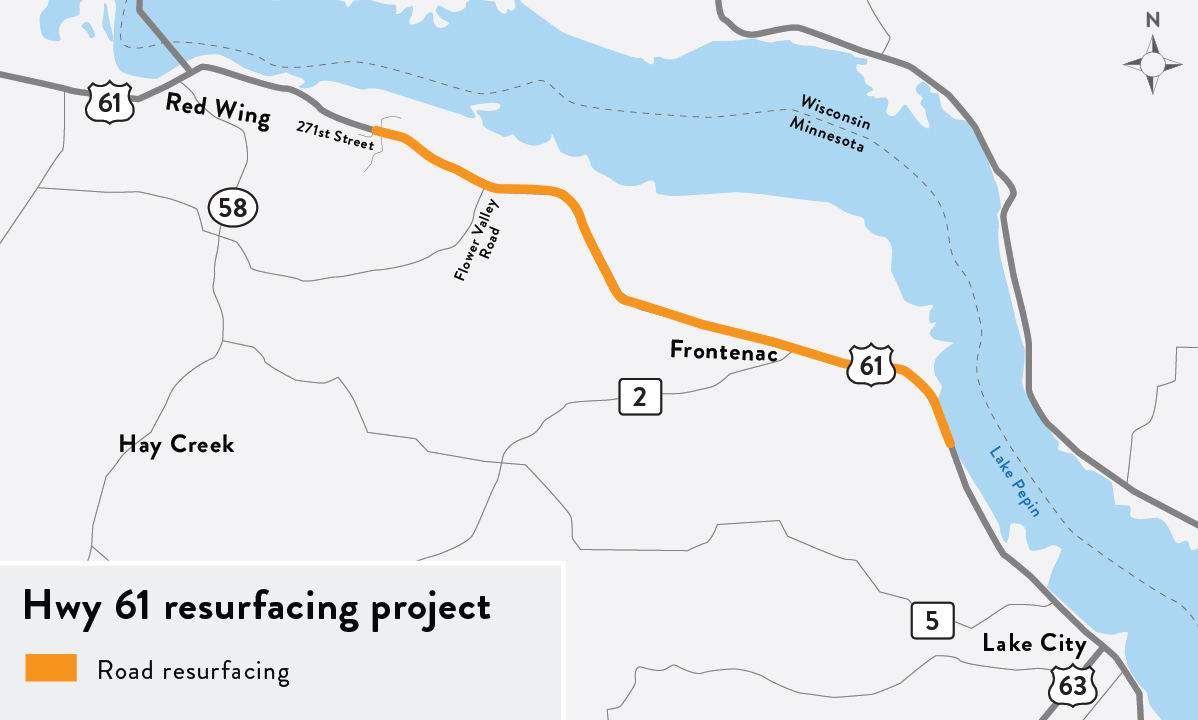 Update
Hwy 61 motorists between Lake City and Red Wing should be alert Feb. 6-10 for shoulder and lane closures while crews are cutting trees and clearing the wood in preparation for an upcoming summer construction project.
The tree-cutting work is scheduled from Feb. 6-10. Crews will be closing the shoulder of the road while cutting trees and then using lane closures with flaggers during the cleanup and removal of the downed trees. The clearing is necessary in select areas to make room for construction. The work is being done now so it doesn't disrupt nesting of northern long-eared bats in spring.
Public meeting summary
MnDOT hosted a public meeting on July 12, 2022 that highlighted five projects occurring along Hwy 61 through 2024. In the meeting summary, you can view materials that were at the meeting.
Summary of work
A project is being planned to resurface approximately 10 miles of Hwy 61 from Lake City to Red Wing. Each day approximately 8,000 drivers rely on Hwy 61 to travel to and from work, school and home and transport goods to regional destinations. The highway is in need of updates to restore the life of the aging road.
In a process called mill and overlay, MnDOT will remove (or mill) a 1.5-inch layer of pavement from the road and then repave it (or overlay) with a new, three-inch layer of asphalt. This process will provide a smoother road surface for motorists and restore the life of the aging highway. Pavement markings will also be updated, improving safety for both pedestrians and motorists.
The project will also include adding passing lanes near Frontenac to reduce congestion and allow an area for safer passing between Lake City and Red Wing. To create the bypass lanes, MnDOT will turn an intersection at the western end of 296th St. into a cul-de-sac.
MnDOT will also realign some intersections so that vehicles waiting to enter or cross Hwy 61 will have improved visibility, widen the road in multiple places to accommodate a bike lane, upgrade guardrails, and complete bridge maintenance.
A flyover video demonstrating the improvements planned for this stretch of Hwy 61 is available to view.
Proposed work
Resurface approximately 10 miles of Hwy 61 from Lake City to Red Wing
Add passing lanes in both directions near Frontenac
Turn the intersection at the western end of 296th St. into a cul-de-sac to accommodate the passing lane
Realign intersections to improve visibility
Widen the road in multiple places to accommodate a bike lane
Upgrade guardrails
Complete bridge maintenance
Update pavement markings to improve safety for both pedestrians and motorists